Jose Mourinho: Chelsea boss downplays seven-point lead
By Chris Bevan
BBC Sport at Villa Park
Last updated on .From the section Chelsea
Jose Mourinho does not feel Chelsea's seven-point lead at the top of the Premier League is a significant advantage in the title race.
"In another country, I would say it is fantastic," said Mourinho. "In this country, I would say it is nothing.
"There are 14 games to go and 42 points still to play for. Every game is difficult, and anything can happen."
Mourinho insisted he was not shocked to see City only draw 1-1 with Hull, who were in the relegation zone at the start of the day, but said he was happy that his side's title hopes are in their own hands.
"I am surprised with nothing here, in this country every team can take points so, no, I am not surprised," he explained.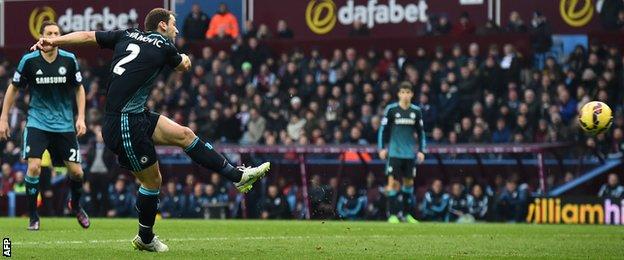 "But I didn't care about it. Somebody told me after the game and that's it - before the game I was not worried and during the game I don't even imagine their result.
"When you are top of the league, you don't need the other teams to lose points. If they lose, good, but if they don't lose then it is not a problem.
"We have to focus on ourselves. This was a very important victory. Now let's try to win the next game and, if we do that, we have a seven-point lead with 13 games to go."
Mourinho said he did not see the first-half disagreement between the two benches that brought an angry reaction from Villa boss Paul Lambert, who took off his coat and threw it into his dug-out.
There has been friction between the two managers since they clashed on the touchline at Stamford Bridge at the start of last season.
In September, Lambert called Mourinho disrespectful when he attempted to shake hands with him before the end of Chelsea's win over Villa.
On this occasion, however, Lambert says he was arguing with Mourinho's assistant Rui Faria.
"You are probably better off asking their assistant to be fair," Lambert said when asked what the disagreement was about. "I have no problem with Jose whatsoever. That was not about him."