Gareth Bale: Is Real Madrid star in midst of his first crisis at the club?
By Andy West
Spanish football writer
Last updated on .From the section European Football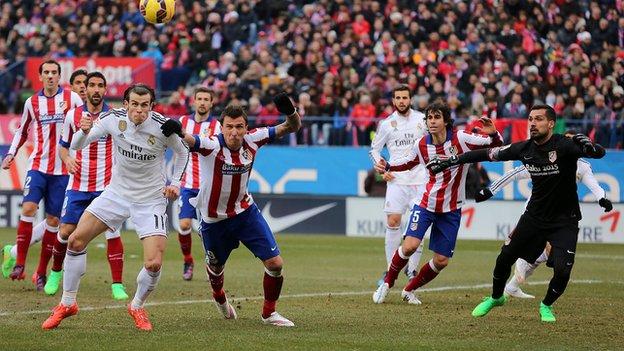 'Disaster'. 'Irrelevant'. 'Listless'. The Spanish Sunday papers did not make happy reading for Gareth Bale.
The performance of Bale and the rest of his colleagues will go down in infamy alongside an embarrassing 5-0 loss against Barcelona in November 2010.
After such an abysmal display even the usually-loyal Madrid media are on the attack despite the side remaining top of La Liga. Bale, signed from Tottenham for a world record £85m in September 2013, is one of their targets.
'He's just watching….a spectator'
Real boss Carlo Ancelotti was unsparing in his criticism of his team after their heaviest derby defeat since a 5-0 loss in 1947.
"It was bad. Very bad," he admitted. "Atletico deserved to win in every aspect: desire, quality, organisation, second balls, aerial balls. We didn't have a single player who had a good game."
That damning verdict was universally shared by fans and pundits after an embarrassingly one-sided encounter. The Champions League holders failed to register a single shot on target until the 81st minute.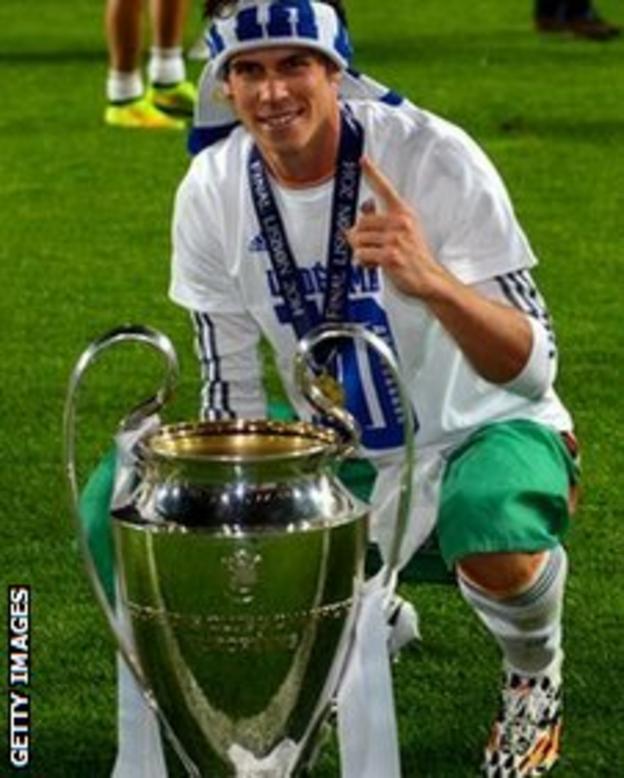 Bale received more than his share of the blame, with former Liverpool and Republic of Ireland striker Michael Robinson, who is now Spain's foremost television pundit, strongly criticising the Welshman after his opposing full-back Guilherme Siqueira set up Atletico's second goal.
"He's just watching….a spectator," lamented Robinson as the replays showed Bale ambling back while Siqueira skipped to the byeline without a care in the world and delivered a cross for Saul to acrobatically volley home.
To suggest his performance was ineffective would be an understatement. Bale had 44 touches of the ball, completed only 22 passes and had no shots on target. He made just one successful cross, conceded three free-kicks and - crucially against a combative team like Atletico - did not make any successful tackles.
He was described as 'a defensive disaster' by tabloid newspaper AS, who also said the Welshman was 'irrelevant'. Its writers could not bring themselves to hand him a rating in their match report. Only Toni Kroos, Fabio Coentrao and Nacho Fernandez were given the distinction of 1 out of 3, with every other player was simply left blank.
Another paper, Marca, was slightly more generous, giving Bale 4.5 out of 10 - making him the team's joint 'best' player alongside Kroos and Dani Carvajal. However Marca's writers also described him as 'listless' and left little doubt that this game did nothing to bolster Bale's reputation in Spain, which is currently somewhat in need of a boost.
Accusations of selfishness
More worryingly for Bale, this is not the first time in recent weeks that he has faced criticism.
The former Tottenham and Southampton man has been accused of selfishness on several occasions so far this calendar year after getting into good positions but failing to pass to colleagues.
Most noticeably, Cristiano Ronaldo showed his displeasure on the pitch after Bale shot wide when he could have teed up his teammate with an open goal during the latter stages of a home win over Espanyol in January.

That came a week after Bale's failure to pass to Karim Benzema was highlighted as a key moment during his team's loss against Valencia. He was similarly criticised for electing to shoot rather than pass in meetings with Sevilla and Real Sociedad.
A small section of Bernabeu fans whistled and jeered Bale following those incidents - although that is nothing unusual from a famously demanding and fickle set of fans. Former Real star Manuel Sanchis this week told Marca: "Bale has a lot of qualities but he sometimes loses credit because of his individualism."
Bale also missed an opportunity to stamp his authority on the team during Ronaldo's two-game suspension following a sending-off at Cordoba.
The absence of the Portuguese star was touted as a chance for the Welshman to step into the limelight and shine as the team's key figure. That scenario did not materialise as he delivered subdued performances against Sociedad and Sevilla, although manager Ancelotti strongly defended his record signing.
Short-term reprieve
La Liga stats this season

Bale
Lionel Messi
Neymar
Ronaldo
Games

19

21

18

19

Goals

10

22

15

28

Assists

5

10

4

9

Shooting accuracy

51.72%

64.56%

58.54%

71.08%

Touches

924

1,787

1,050

1,041

Times substituted

5

0

5

2

Stats courtesy of Opta
Fortunately for Bale, he is not the main man in the firing line following his team's derby day humiliation.
Long-serving goalkeeper Iker Casillas committed a terrible error for Atletico's opening goal, allowing a shot from former Chelsea midfielder Tiago to squirm through his grasp. This re-opened the debate over whether he should be replaced by Costa Rican international back-up Keylor Navas.
Perennial poster boy Ronaldo, who was subjected to merciless mocking whistles from the home fans throughout the encounter, has also been subjected to fierce analysis after another anonymous display.
Despite 28 goals in 19 league games this season, the Portuguese star has scored in one of his last four outings. He did not invoke sympathy after going ahead with his birthday celebrations despite the loss to Atletico on Saturday night. He was photographed cheerily singing with Colombian pop star Kevin Roldan in a Madrid nightclub.
Plenty of attention is also focussing on the defence which yielded four goals and many more chances against Atletico, with the absence of injured first-choice central defenders Sergio Ramos and Pepe a major cause of concern.
Bale's place in the team is further protected following an injury to Colombian star James Rodriguez, who is set for a two-month spell on the sidelines after breaking a metatarsal bone in his foot during the midweek victory over Sevilla.
Ancelotti has regularly insisted - most recently after Saturday's loss - that his 'BBC' frontline of Bale, Benzema and Cristiano will always start when they are all fit, and there is no suggestion that Bale is close to losing his spot in the starting line-up.
Longer-term danger
Bale earned himself plenty of credit during a strong first season in Madrid, notably with a sensational match-winner against Barcelona in the Copa del Rey final and a headed goal to give his team an extra time lead in the Champions League final against Atletico.
However, any voyage aboard the wild ship Bernabeu is unforgiving and unpredictable. The fact that even a national icon such as Casillas (nicknamed Saint Iker) is coming under heavy fire will alert Bale to the fact that nobody is immune to harsh criticism.
For now, Bale's place in the team is secure and he will continue to be relied upon by Ancelotti as Los Blancos attempt to bounce back from their derby day disaster - starting with next weekend's home game against in-form Deportivo La Coruna.
But there have been repeated reports that Borussia Dortmund star Marco Reus is on the radar of Real president Florentino Perez, and nothing can be taken for granted beyond the end of this season.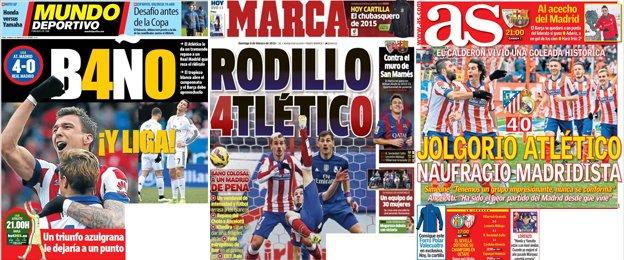 As Angel Di Maria and Mesut Ozil have discovered in the last two summers, Perez is always prepared to dispense with superstars when he believes they have become surplus to requirements - irrespective of whether the incumbent coach shares that opinion. Bale is seen as a commercially less important commodity than teammates such as James and Ronaldo.
It would be an overreaction to suggest that Bale's immediate future at the Bernabeu is in jeopardy, but there's no doubt that storm clouds have been gathering for some time.
He needs a big performance - and he needs it soon.