FA Cup: From Beckham's petrol money to the making of Moyes
By Gary Rose and Paul Fletcher
BBC Sport
Last updated on .From the section FA Cup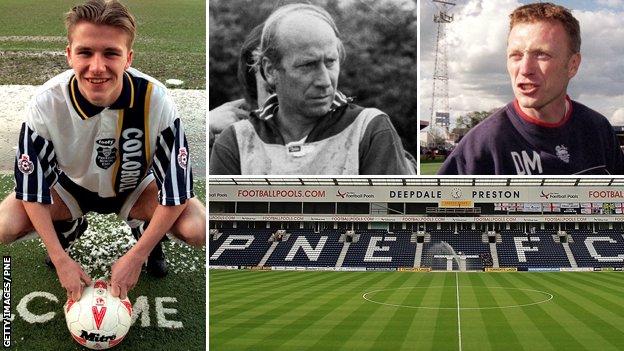 FA Cup fifth round on the BBC
Venue:
Deepdale
Date:
16 February
Kick-off:
19:45 GMT
Coverage:
Live on BBC One, on BBC Radio 5 live and online
Just 34 miles separate Manchester United and Preston but for the first time in 43 years the two will meet at Deepdale in a competitive fixture on Monday.
The FA Cup fifth-round tie brings together two sides who may not have shared the same pitch for a while, but elements of their respective histories are intertwined.
From David Beckham's Preston loan, David Moyes cutting his managerial teeth and an FA Cup hat-trick hero's near miss in the Munich air disaster, BBC Sport takes a look at some of the stories linking the two clubs.
From a near miss to FA Cup history maker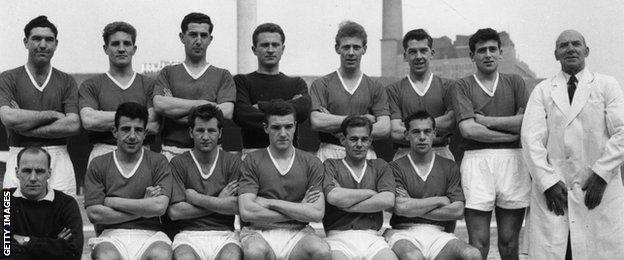 Alex Dawson played in FA Cup finals for both Manchester United and Preston, but only after fate prevented him from being involved in the 1958 Munich air disaster.
The Scotland-born forward began his career at the Red Devils and was one of a number of impressive youngsters starting to make an impression in the first team.
To gain experience, he had been involved in United's 1957-58 European campaign, travelling with the squad for away games, and had fully expected to be making the trip to Belgrade for the game against Red Star Belgrade.
"I'd got my passport and visa sorted," Dawson told BBC Sport. "United had just played Arsenal and we were waiting for a call from London, but the coach, Bert Whalley, came in and told us Matt Busby was leaving us behind. He needed cover at full-back because of a last-minute injury, so I missed out."
A few days later, the Manchester United team that travelled was involved in a crash that was to claim the lives of eight players.
When Dawson heard about it he had to phone his mum, who thought he had travelled for the game, to let her know he was OK before he and the rest of those players left behind had to start thinking about rebuilding.
Just 13 days after the crash, United were in FA Cup action, a fifth-round tie against Sheffield Wednesday.
The possibility of resigning from the competition had been considered, but Dawson and his team-mates were determined to continue.
"It was hard, just to think we would need to take some of those players' places," continued Dawson.
"Jimmy Murphy, who took charge of the team, was allowed to sign a couple of players, but we had a great reserve and youth team, so we all just said: 'this is it, we'll give the lot'.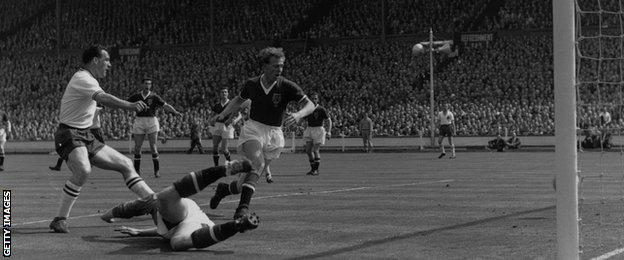 For that game against Sheffield Wednesday, 60,000 spectators packed out Old Trafford, a further 60,000 gathered outside.
"The entire country was behind Manchester United," recalled Dawson.
United won that game 3-0 and support from throughout England only became stronger as they progressed all the way to the final, where they were beaten by Bolton.
"I felt sorry for Bolton to be honest, they were the most hated team in British football then for beating us," Dawson added.
However, it was for his exploits in the semi-final win against Fulham that Dawson secured his place in history, the then 18-year-old scoring three goals. To this day, he remains the only player to score an FA Cup semi-final hat-trick.
"The goalkeeper had a good game, although he let a few slip through his legs," Dawson said.
"Jimmy Hill, who played for Fulham that day, said to me: 'you did me out of a cup final'. I just turned around and said: 'Jim you weren't good enough'. It shocked him."
Dawson left United in 1961 to join Preston and went on to become a legendary figure at the club, earning the nickname The Black Prince.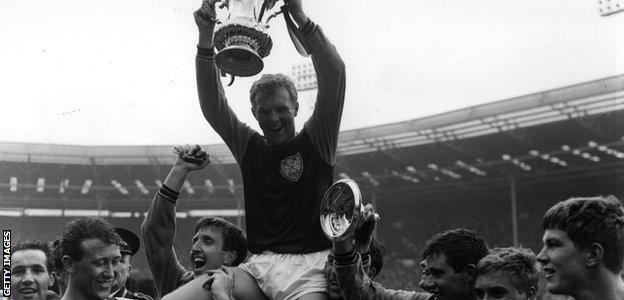 At the age of just 24 he was to play in his second FA Cup final in 1964, and although he scored he could not prevent Preston losing 3-2 to a West Ham side that included future World Cup winners Geoff Hurst and Bobby Moore.
"We had a good side when we reached the FA Cup final, a very good side," said Dawson. "Leeds were the big team then and we were in the Second Division, but Bobby Collins, who played for them at the time, told me their players were not worried about any other team but Preston.
"The current teams reminds me of that one, actually. Can they go all the way? Why not?"
Bend it like Beckham - the first sightings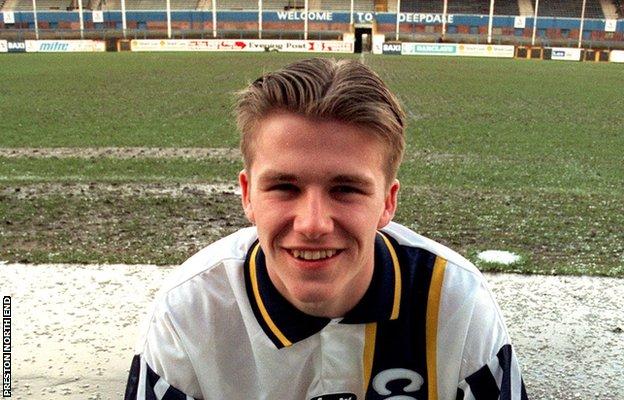 David Beckham spent just one month on loan at Preston after arriving from Manchester United at the end of February 1995 but the scrawny and quiet 19-year-old made a big impression.
"Frail but confident," was how team-mate David Moyes described him.
He came off the bench to score direct from a corner against Doncaster on his debut and struck a peach of a free-kick in a 3-2 win over Fulham on his first start - the core skills that underpinned his career were clearly already in evidence.
The record deals
Striker Jon Macken joined Preston from Manchester United in 1997 along with Michael Appleton and Colin Murdock for a combined fee of more than £1m. In 2002 he joined Manchester City for what was then a club record £5m.
In 2001, Preston paid what remains a club-record fee of £1.5m for David Healy. Northern Ireland's all-time record scorer scored 44 goals in 137 games before he was eventually sold to Leeds. He returned with Leeds eight days later - and promptly went into the wrong dressing room.
Beckham, with North End paying a portion of his wage and, apparently, stumping up the young midfielder's petrol money, played five games in total before Sir Alex Ferguson decided that a boy had become a man and recalled him to Old Trafford.
PNE missed out on promotion that year - a familiar story of play-off defeat - but the following season Beckham was in the stands at Leyton Orient, sat next to his father Ted, to see his old team-mates celebrate the 2-0 win that ensured they would be going up.
By that time Beckham had become a first-team regular at United and was a month away from winning the FA Cup, defeating Liverpool 1-0 in a stinker of a final, but he never forgot where it all started for him.
The last time they met
In 1972 the computer game Pong was released, cinema goers were enjoying The Godfather for the first time and Donny Osmond's Puppy Love was riding high in the music charts.
It was also the last time Manchester United made the trip to Deepdale.
Just as it has done this year, the visit of the Red Devils captured the imagination of Preston fans back then, with over 27,000 - 12,000 more than their average crowd for that season - packing out the ground.
Preston, then of the Second Division, certainly gave a United side featuring George Best, Bobby Charlton and Denis Law a run for their money, with the visitors needing two late goals from Alan Gowling to avoid an FA Cup fourth-round upset.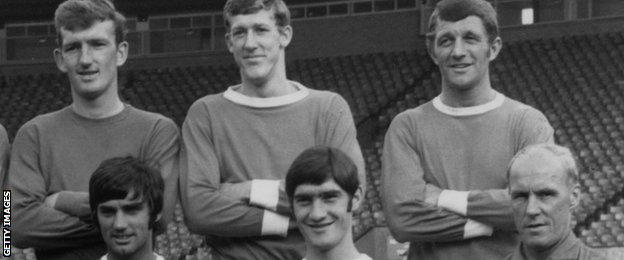 "It was a difficult match," Gowling, who finished his career at Preston, told BBC Sport.
"You go to clubs like Preston and you know it is going to be a battle. The crowd wanted an upset, particularly with a big side like Manchester United in town, and it made for a really great atmosphere at the ground.
"You hope your skills win out and, fortunately, that day they did."
United legends cutting their managerial teeth
Watching that game was a 15-year-old Mark Lawrenson. The BBC pundit and former Liverpool defender started his professional career at Preston.
His manager then was Charlton, who was in the Manchester United side in that 1972 game.
"I loved watching Bobby Charlton play that night, and a couple of years later when I signed for North End as a teenager he was the first manager I ever had," recalls Lawrenson.
"Bobby did not really enjoy being a manager, but he absolutely loved training with us kids and it was just fantastic for me as a 16 or 17-year-old to be coached by one of the best players ever.
"His ability was frightening and his balance and strength too. In the shooting drills he used to do at the club's old training ground at Willow Farm everybody would just stand there watching him bang them in. He would be hitting the ball with both feet and we would be saying 'my goodness, how good is this fellow?'
"Another United legend Nobby Stiles was Charlton's assistant and he was instrumental in my career.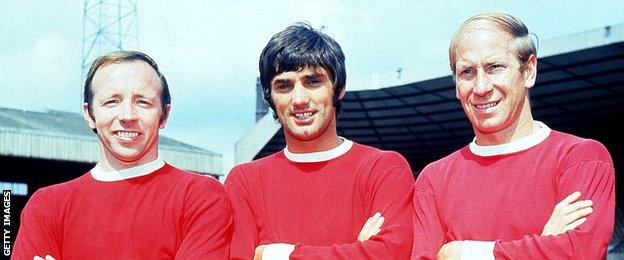 "Everything about Nobby was fantastic - his mannerisms and his modesty. He was fantastic with all the players he worked with and he really looked after us all.
"I lived in Blackpool at the time even though I was playing for Preston and I used to have to get a bus every afternoon after training into Preston railway station to get the train to Blackpool.
"Nobby lived in Manchester but would go 20 or 25 minutes out of his way to take me to the station to let me get the train back. He didn't have to do that.
"He was a massive influence on me - he turned me from a winger into a defender at half-time of a game against Aston Villa reserves. He said 'You know what, I want you to play there', and that was me sorted."
The making of Moyes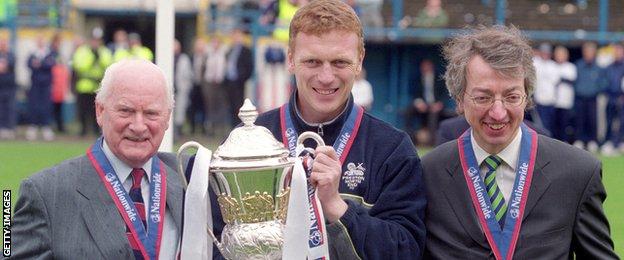 Underwhelming would perhaps be the best word to describe the appointment of player-coach Moyes, 34, as successor to Gary Peters in January 1998.
Many saw it as another appointment that lacked imagination or ambition; the cheap option by a club that had done nothing but rattle around the bottom two divisions for years.
But then again, the majority of fans who had watched the committed Scot battle manfully in the centre of their defence for the last five years had little idea that he had been preparing for an opportunity like this since he was 22.
"Long before I took him on as my assistant he had been taking notes, after every single session," explained Peters.
Another Manchester United manager link
Darren Ferguson, the son of Sir Alex Ferguson, managed Preston for a brief spell in 2010. He arrived in January and was sacked in December that year, with Preston bottom of the Championship.
After his departure, Manchester United recalled their three players on loan at Deepdale - Joshua King, Ritchie De Laet, and Matty James - while Tony Pulis also recalled two on-loan Stoke players. Preston, already struggling, could not cope with the departure of five key players, and were relegated that season.
Sir Alex Ferguson will be back at Deepdale for the first time since his son's departure on Monday.
If Moyes could look unsure and clumsy in possession, it soon become evident that on the touchline he was feisty, in control and hugely talented.
Team-mate Kevin Kilbane enjoyed working with him, saying: "He always listened and always focused on the little details that made you a better player."
Despite losing four and drawing three of his first seven league games in charge, he kept North End up that season. His team then won the third-tier title the season after and reached the Championship play-off final in 2001.
Nobody was hugely surprised when a Premier League team took a punt on the brightest young manager in the Football League and he left for Everton in 2002 with PNE eighth in the table, before moving to Manchester United when Sir Alex Ferguson retired in 2013.
But while Moyes moved on from Deepdale he remained a resident of Preston throughout his time as boss of Everton and United, only leaving his adopted city when he was appointed boss of Spanish side Real Sociedad late last year.