Newport County chairman Les Scadding to cut back investment
Last updated on .From the section Football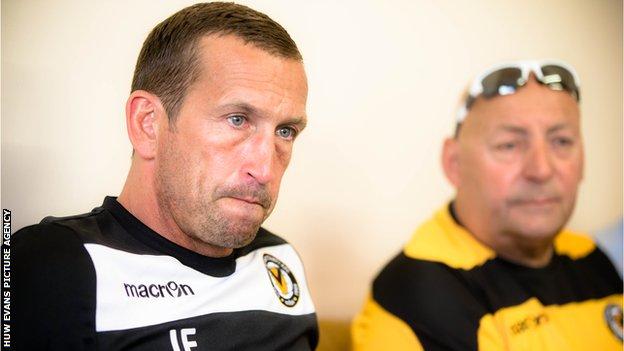 Newport County have been told by chairman Les Scadding he will stop bankrolling the club in the long term.
Scadding, who won a £45m EuroMillions jackpot with his ex-wife in 2009, has spent around £1.25m on Newport since becoming chairman in August 2012.
"It might have had a bearing on it [Edinburgh leaving]," said Newport director Howard Greenhaf.
It is believed Scadding does not want to continue investing at such significant levels as his long-tern desire is for the club to become self-sustainable.
Edinburgh was told that Scadding's continued investment was set to end and the County manager's budget for next season would be cut to around £900,000 down from around the current annual mark of almost £1.4m.
"I'm not sure whether it would have informed his decision to move on, his budget will drop - but that's not the reason he has given me," said Greenhaf.
"He has got the opportunity to manage a League One club with the infrastructure and they'd obviously have a bigger budget than Newport County - and they are closer to home.
"Les has always said he wasn't going to bankroll the football club and that remains the case, Justin knew what Les was about.
"If the new manager comes in and wants a new player, all I can say is that Les has always helped."
It is believed County are dealing with a monthly deficit in the region of £30,000 to £40,000, a figure is currently covered by Scadding.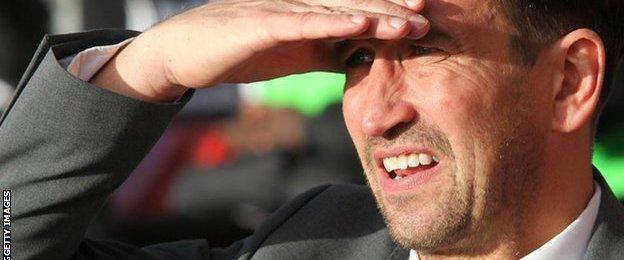 The club hope the former lorry driver will continue to plug the financial shortfall until the end of the season when many of the contracts of County's top-earners expire.
"The good thing for us as a football club next season is that all of the players are out of contract, there's only a few left," admitted Greenhaf.
"So whoever is there will have a clean slate. Justin was aware of that and was really looking forward to starting again with another new squad.
"Fans shouldn't worry, it's business as usual. We are doing well and have aspirations to be in the play-offs so we're looking to take the next step. There's nothing to worry about at the County.
Scadding and Edinburgh guided Newport back into the Football League after 25 years in 2013, and County are now chasing another promotion.
Despite four successive league defeats, they are still in the League Two play-off places.
Edinburgh ended almost a month of speculation by leaving Rodney Parade to take the managerial vacancy at Gillingham and succeed Peter Taylor.
County did get compensation from the League One club but Newport had to compromise e as the Gills did not pay the full £100,000 in Edinburgh's contract.
Edinburgh's assistant Jimmy Dack and first team coach Wayne Hatswell will be in temporary charge for the "foreseeable future".
But that is only likely to be until the end of the season when a summer of change in the playing staff is expected.
Dack, who lives south of London and nearer to Gillingham than Newport, is set to join Edinburgh at the Kent club in the summer so the long-term successor to Edinburgh at Rodney Parade is uncertain.
"Jimmy is doing the job until the end of the season, unless we find somebody else - but if he starts winning games we're not going to shift him." said Greenhaf.
"He has a long way to travel, he used to share the travelling with Justin and now he'll be driving back and fore on his own so maybe it's not an option for Jimmy at the end of the season."
The BBC understands the compensation for Edinburgh will be used to plug this season's financial shortfall rather than appoint a permanent replacement - but Greenhaf insisted: "We're going to start to interview new managers and we'll see where that takes us.
"We're looking for some experience, somebody who has managed in League One or League Two.
"There's lots of managers looking. We've probably had 10 applications before the manager went and there's some real experience out there so we will have a choice."