Man Utd attack 'predictable and lacks pace', says John Hartson
Last updated on .From the section Man Utd

Former West Ham striker and MOTD2 pundit John Hartson expands on his TV analysis of why Manchester United's forwards struggled before snatching a last-gasp draw against West Ham at Upton Park.
Manchester United got out of jail with Daley Blind's late equaliser in Sunday's draw with West Ham but it does not change the fact they are underperforming in attack.
With the talent that United manager Louis van Gaal has got in forward positions, I was expecting a lot more from them in front of goal this season.
But, as we saw against the Hammers, the dynamic is not working at present.
Part of that is down to the system that Van Gaal is using, which does not get the best out of his players.
We have seen a few different formations from Van Gaal this season, but he seems to be sticking with playing four at the back, a diamond in midfield and two up front.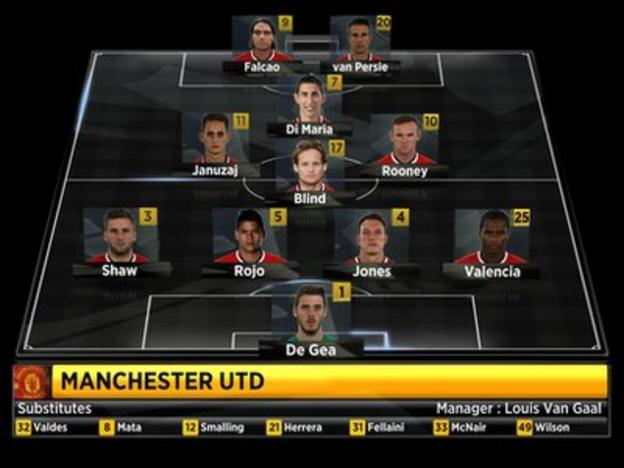 It is a very narrow set-up for the five players who are furthest forward, and the width is expected to come from the full-backs.
Both Luke Shaw and Antonio Valencia are getting in decent areas but they are not putting balls into the area with any real quality.
The great United teams I played against in the 1990s would swamp you down the wings and put lots of crosses in for their strikers.
This team does not do that, and it means the two front men, Radamel Falcao and Robin van Persie, have to do a lot of work outside the area.
The only time that changes is when United are behind and chasing the game, as they were against West Ham, when Van Gaal's Plan B is to bring on Marouane Fellaini and aim long balls towards him inside the box.
Yes, it worked at Upton Park but United are bypassing players like Wayne Rooney and Angel Di Maria and just hoofing the ball. I have never seen a United team do that before, ever.
Di Maria fails to sparkle
Di Maria played at the tip of United's midfield diamond against West Ham but I don't think playing centrally suits him.
He had one of his best games for United when they used that system against QPR in September, but he was playing on the left of the diamond, behind Juan Mata. Rooney and Van Persie were up front.
Against West Ham, Di Maria could not use his pace or his crossing ability. The middle of the pitch was very congested and he was continually crowded out whenever he tried to run with the ball.
Average position of Man Utd players vs West Ham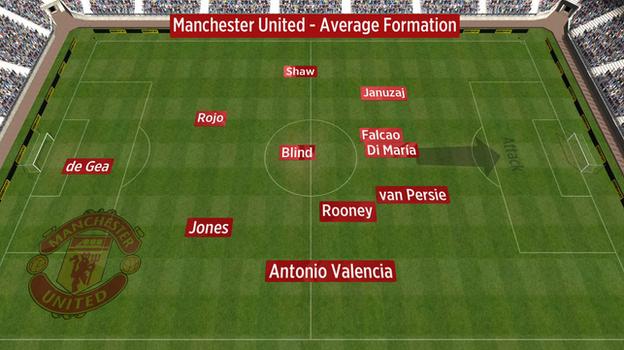 I would like to see him playing out wide again, where there is more space and he can run at defenders who are isolated and do not know whether to back off or try to challenge him.
Rooney wasted in deeper role
Van Gaal is using Rooney on the right of midfield as part of his diamond but you cannot tell me that you get the best out of him in that deeper position.
I still love watching him play but I really want to see him as a centre-forward. He is being used in a role that saves his energy but there is no need to do that because his legs have not gone yet.
Wayne Rooney's touches vs West Ham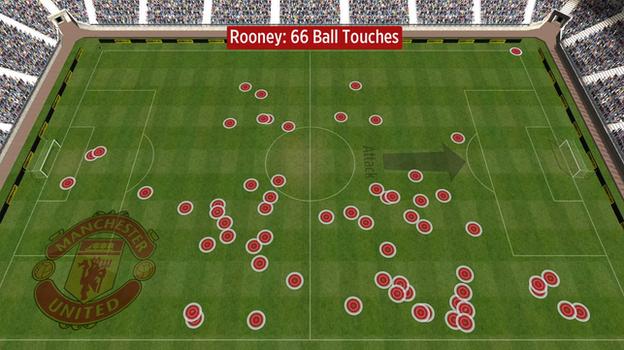 Yes, he can pick his passes from midfield but he can bring more to the team when he is playing up top.
I want to see Rooney marauding around the pitch, being strong and being angry. At the moment, he seems to be playing within himself, trying to be a more measured player, especially with him having the responsibility of being United's captain too.
He is less effective for it, and he is better off just getting on with his football.
Falcao and RVP have not clicked up front
Part of United's problem is their tempo - their passing just does not seem to be quick enough and they do not come forward with enough pace.
With Falcao and Van Persie leading the line, United's front two is not the quickest and I also do not think they are suited as a pair.
They only linked up on a couple of occasions of any note against the Hammers and, when Van Persie played in Falcao with a neat touch, the Colombian missed the target when he really should have taken his chance.
Radamel Falcao's first-half touches vs West Ham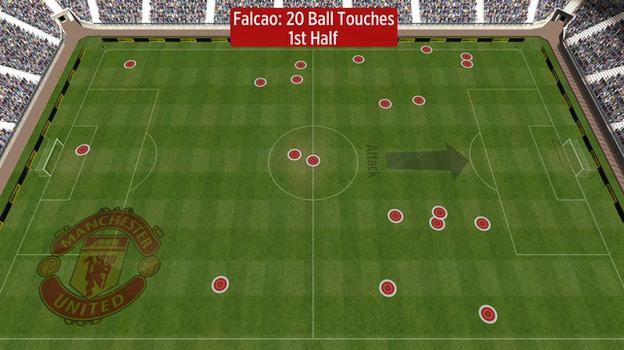 There is no question that Falcao works hard, even in the first half when he was not getting the ball in areas where he could hurt West Ham. But I think he is using that to try to make up for the level of his performances at the moment, because I have not seen the sort of quality he has shown down the years.
Van Persie always plays within the width of the 18-yard box and usually likes to be the finisher.
I see a partnership between Van Persie and James Wilson working but I would go back to the Van Persie and Rooney pairing which has done so well in the past.
I like Falcao a lot but I think signing him for the season has hampered the partnership that Rooney and Van Persie had, and which is proven to work.
Work to do for Van Gaal
United are not losing very often - they have only been beaten in one of their last 17 games in all competitions - but they seem to be stumbling to wins rather than ever looking really convincing.
Defensively, they have not conceded many goals but going forward they are not playing with the style we are accustomed to seeing, or the way I would expect with the players Van Gaal has to choose from.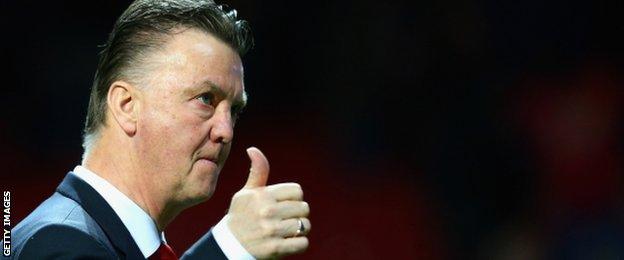 The way he uses Fellaini is a great example of the fact that this is just not the United we used to know.
If United are winning, we do not see him. If they are losing, he is brought on like he was at West Ham to win headers, so someone else can react the quickest and get the second ball.
The idea is to nick an equaliser like they did on Sunday but it is really boring to watch and United's attacking play is becoming very predictable.
I would like the 75,000 or so United fans who turn up at Old Trafford for every match to tell me that they are enjoying the football they are watching. I am sorry, but I just do not see that they can be.
The fact that Van Gaal has got United into the top four is the only thing that is saving him from a lot of criticism, and I think they have got a lot of work to do to stay there.