Arsenal: Arsene Wenger not sure when Jack Wilshere will return
Last updated on .From the section Football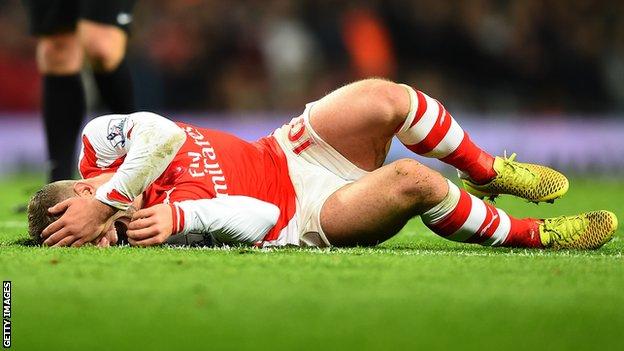 Arsenal manager Arsene Wenger says he has no idea when Jack Wilshere will return to full fitness.
The England midfielder, 23, has not played since November when he damaged his ankle ligaments in the 2-1 Premier League defeat by Manchester United.
He was ruled out for three months and is scheduled to return to training.
But before Tuesday's match at home to Leicester, Wenger said: "We have to monitor him daily. I don't know when he'll return."
Here is the best of the rest of Wenger's news conference:
On the return of Alexis Sanchez
Wenger said 18-goal top-scorer Alexis Sanchez "will be back in the group" for the Leicester game and that there were no injuries from the 2-1 defeat in the north London derby at Tottenham
"We had a very strong run before Saturday so we just want to continue that. We need to respond strongly," he said.
On criticism after losing
"The criticism is always there but we have to focus on our performances," Wenger said.
"I don't take criticism personally. What I take personally is losing games."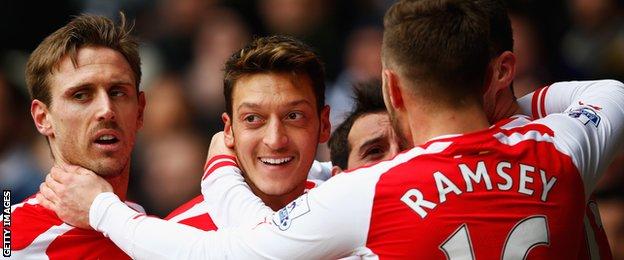 On an 'important period'
Defeat at Tottenham leaves Arsenal in sixth place in the Premier League. After facing Leicester on Tuesday, they host Middlesbrough in the FA Cup, followed by a London derby at Crystal Palace in the league and a Champions League round-of-16 tie with Monaco.
"You focus on how you can put your team in a position to respond well and quickly," Wenger said. "This is a very important period."
On Alex Oxlade-Chamberlain
The winger has not featured since limping off with a groin injury in the 2-0 win at Manchester City last month.
"He's not back," said Wenger. "He's got at least two more weeks."
On Nigel Pearson's future
Asked for his thoughts about the speculation surrounding Leicester City boss, who was falsely reported to have been axed, Wenger said: "I don't know more than you, I don't know what to think about that because I'm not well informed."