Lee Power: Swindon chairman plays down tax bill concerns
Last updated on .From the section Football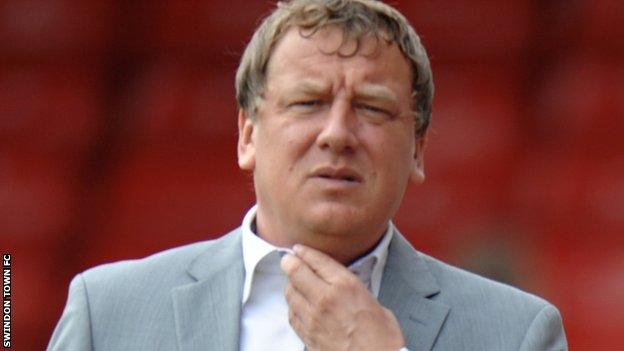 Chairman Lee Power insists there are no concerns about Swindon's finances, despite a recent winding-up petition against the League One club.
However, Power reassured fans at the weekend that the tax bill has now been paid in full.
"It's nothing to worry about. It's all done now and it's been put to bed," the 42-year-old told BBC Wiltshire.
The club released a statement on Saturday saying they were in process of having the petition set aside.
Power said the issue arose because of the financial complications he inherited after his takeover of the club from former chairman Jed McCrory, which was legally approved in the summer.
"We've had HMRC in since I became owner in August. They've been looking at activity that has gone on in the club, previous to me coming in," said Power.
"There were some discrepancies found which we paid and then there was a small amount which we disputed, which was left over, and we were surprised they went with the winding-up petition.
"As soon as they did we paid it. We've had acknowledgement it's been paid, but obviously it's caused a stir.
"Since I came in, I can't keep count of the number of demands and the mess we've had to sort out. I'm hoping this will be the last one and we're finally getting there."