Derby County lock up 'inner chimp' with no swearing protocol
Last updated on .From the section Football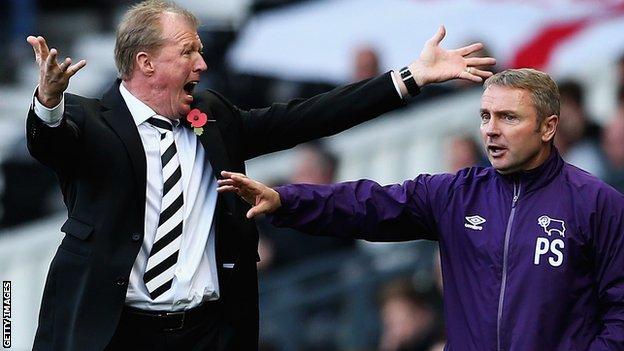 Derby County's success under Steve McClaren this season can be partly put down to a refusal to conform to the 'potty-mouth' footballing stereotype, according to coach Paul Simpson.
The Rams are second in the Championship on goal difference and Simpson told BBC Radio Derby the ability to stay calm has "definitely" helped their cause.
He said: "If you're ranting and raving and swearing, you haven't got control.
"We say you are losing it so you may as well come and sit in the dugout."
First-team coach Simpson joined McClaren at Derby when the former England boss was appointed as head coach in September 2013.
"It was a surprise to me when we all came in here," said Simpson. "When we arrived I realised that Steve has turned over a new leaf and very rarely swears.
"We have realised that when you swear at people, it doesn't get the reaction you want.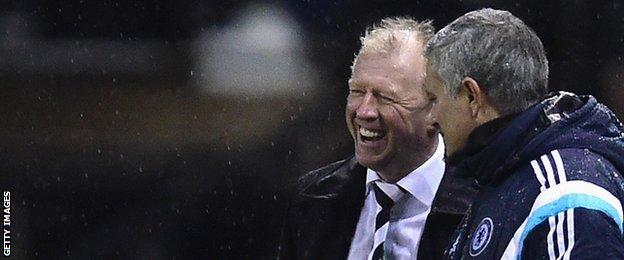 "We try not to swear if we possibly can, and we certainly don't use foul and abusive language in the technical area when we are talking to officials - which seems to be the common trend."
Simpson said the crackdown, which he described as "refreshing", was motivated by a respect for officials, opponents and team-mates.
But he believes it has also helped the team improve as they look to control the "inner chimp" which sports psychiatrist Dr Steve Peters talked about in his book 'The Chimp Paradox'.
Peters, who has worked with Liverpool, the GB cycling team and many other sports stars, including snooker's Ronnie O'Sullivan, uses the term to describe the section of the brain that deals with emotion and sets out the theory that people can learn skills to manage those emotions in order to achieve success.
Simpson continued: "We are always talking to the players about keeping control of your chimp and not let it take over your head and rule your decision making during a game.
Who is Dr Steve Peters?

Has degrees in mathematics, medicine and medical education (Masters level). Also postgraduate qualifications in sports medicine, education & psychiatry

Teams he has assisted include the GB Olympic cycling team, Team Sky, England's football and rugby union sides and Liverpool FC

His book The Chimp Paradox explains how the human mind operates and how people can learn skills to manage it

Has helped sports stars including Ronnie O'Sullivan, Steven Gerrard, Craig Bellamy, Sir Bradley Wiggins, Sir Chris Hoy and Victoria Pendleton
"The days of ranting and raving and swearing at each other are long gone and we need to be a bit calmer about the way we go about things, and that's what we are trying to do."
The former Rams winger said there was no zero-tolerance policy at the club, but swearing was certainly frowned upon.
"It's like when you bring your kids up. You have to just say something to them or sometimes just a look is enough and it tends to nip it in the bud," he added.
"Whatever walk of life you are you in, if you are ranting and raving and swearing at people, you haven't got control of yourself."