David Moyes: Real Sociedad boss on Danny Ings and life in Spain
Last updated on .From the section European Football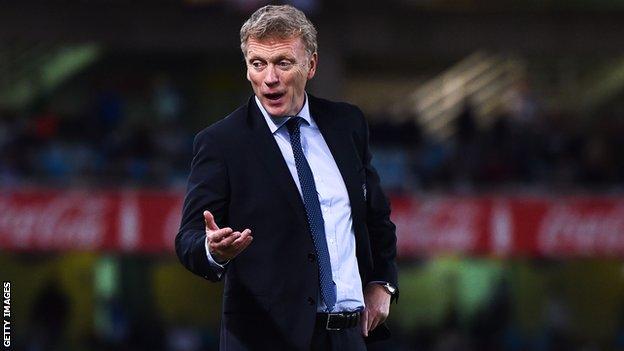 Real Sociedad manager David Moyes says Burnley's Danny Ings is a striker "anyone would like to have" as he urged more British players to move to Spain.
Moyes did not comment on rumours Ings has signed a pre-contract agreement with Sociedad but admires the player.
"Danny is someone who I think has done really well, and who anyone would like to have," he told BBC Radio 5 live.
England Under-21 international Ings was also linked with moves to Liverpool and Tottenham during the January transfer.
Moyes, appointed Real Sociedad manager in November 2014, questioned whether he could lure Ings to Sociedad but believes more players should take the opportunity to play in La Liga.
"Would we be able to attract him here? I don't know," Moyes added.
"There's players there who I think it would help them, it would help their profile and it would be great for many of them to come and play in Spain."
Moyes on managerial cultural differences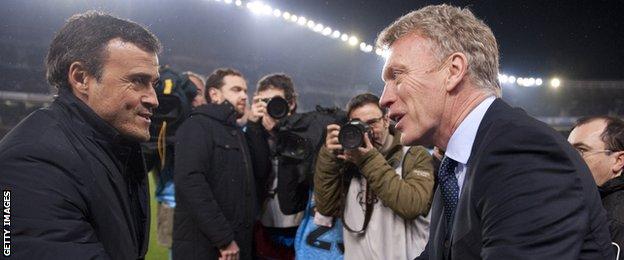 Moyes, 51, was used to having a drink after matches with opposition managers in the Premier League, but has found his colleagues in La Liga less inclined to want to stay for a tipple.
He said: "I've asked a few managers, like we do in the Premier League, to go for a glass of wine or a beer after a game. Back in the Premier League, the managers spend 20 minutes having a chat, and it's not always football.
"But at the moment I'm not getting much joy. There's nobody coming into my little room to join me.
"From what I've seen so far from my time the communication between managers here is very limited. It's a difficult job being a manager and it's sometimes nice to speak to someone who is in a similar situation."
Moyes on B-teams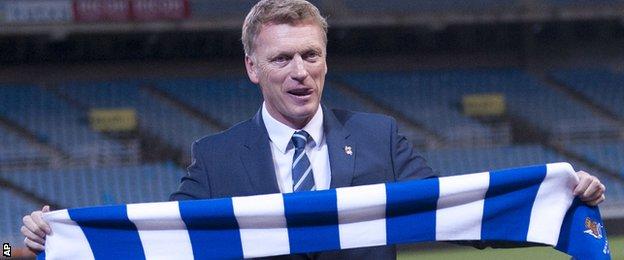 Moyes, who was sacked by Manchester United in April 2014 just 10 months into a six-year contract at Old Trafford, believes the B-team system in Spain is more beneficial for young players at top clubs than reserve team football in England.
He said: "I would say the B-team is better than the average reserve team games you have back home. The players come into the first-team squad from the B team and they are more developed and are slightly older around 22.
"Our boys here are playing in the third division. The boys are playing against a men's team and it helps them develop.
"It's something in the long term that could help young players develop, albeit I'm a supporter of the lower leagues who has played and managed clubs in them."
Moyes on language difficulties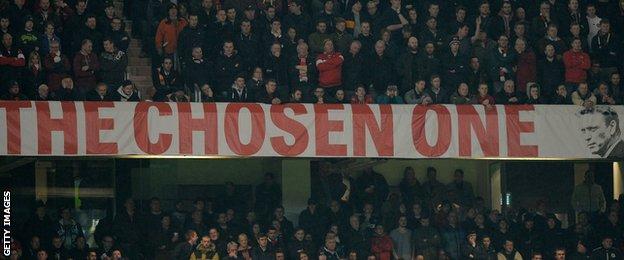 The Scot, who appointed former Watford boss Billy McKinlay as his assistant at the Anoeta Stadium, admits he is is still getting to grips with Spanish.
"It's something which I'm desperately keen to improve, my Spanish," Moyes said.
"I have offered to do more, but my Spanish teacher, who is English, is saying to not go faster because I won't pick it up. It is difficult to communicate sometimes.
"It took Mauricio Pochettino a bit of time in England to get to grips with the language. I'm the same in Spain. Although I'm fortunate that I have eight or nine players who speak English."
Moyes on La Liga v Premier League
Ex-Everton boss Moyes, who masterminded Real Sociedad's 1-0 win over Barcelona at the beginning of January, believes despite the quality of La Liga's top teams the Premier League is a stronger domestic competition overall.
He added: "The players in England are equally as good as those in Spain. Of course Real Madrid and Barcelona are incredibly good. Spain has the best two or three teams in Europe along with Bayern.
"But I would say the bottom half of the Spanish league is not as strong as the Premier League. I would come back and say sometimes we put ourselves down at home, knock the British managers, and I have seen there is little difference between them."
David Moyes's journey
Started his playing career at Celtic and finished it at Preston, where he played alongside young loan signing David Beckham between February and March 1995
Ten months after guiding Preston North End to the Division One play-off final, Moyes took over at Everton, replacing Walter Smith in March 2002
Handed Wayne Rooney his Premier League debut in August 2002 before selling him to Manchester United two years later for an initial £20m
Steered Everton to a fourth-place finish in 2005 and a place in the qualifying stages of the Champions League
Took Everton to the FA Cup final in 2009, where they lost 2-1 to Chelsea
Appointed Manchester United manager in May 2013
Leaves Old Trafford in April 2014 after United missed out on a Champions League for first time since 1995-96
Appointed Real Sociedad manager in November 2014