Rangers: Dave King critical of board over EGM venue decision
Last updated on .From the section Football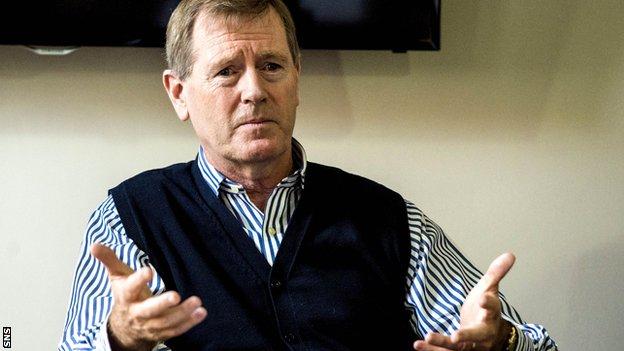 Dave King insists the decision to hold Rangers' extraordinary general meeting in London is "simply outrageous".
King made his assessment before it was revealed the Millennium Gloucester Hotel would not now host the meeting.
Another venue in the "London area" is now being sought.
King said moving the meeting to a hotel that holds 500 at "greater cost to the club and small shareholders," was "simply outrageous by any standard of respect or corporate governance."
And the Rangers shareholder, who called the EGM in the hope of ousting the current board, added: "What is truly disappointing, albeit unsurprising, is the board's continued bitterness and antagonism towards the club's shareholders and supporters.
"The board's defiance of its own fans, customers and shareholders is clearly a matter that invokes passion in any Rangers supporter.
"The fact that the fans continue to demonstrate by vociferous but peaceful means is a credit to the fans collectively and to the club as a whole. It is truly humbling to evidence how fans have rallied round the club in this time of need."
Rangers revealed on Monday night that they have been forced to search for an alternative venue in London ahead of their EGM on 4 March.
The club insisted "complaints and false information" led the Millennium Gloucester Hotel to fear "disruption to guests and neighbours".
Rangers stated that: "The board apologises for any inconvenience."

The EGM date was announced shortly after Rangers agreed to accept a loan from Newcastle United and Sports Direct owner Mike Ashley needed to keep the Scottish Championship club in business.
But actions of the current regime have led to protests from Rangers fans as well as shareholder opposition.
London was a surprise choice for the meeting by the Glasgow club, who usually hold such events in their home city.
Now Rangers have announced that, "due to matters outwith its control", the proposed Kensington venue "is no longer available".
"The hotel management at the Millennium Gloucester has taken advice from different quarters and concluded that the GM cannot be managed without significant disruption to guests and neighbours," said a website statement.
"The hotel management felt it necessary to take this position after receiving numerous complaints and false information from individuals purporting to be shareholders.
"The board is concerned the situation was exacerbated by irresponsible and inaccurate media coverage.
"An alternative venue is currently being sought in the London area and will be announced as soon as possible."
Nobody at the Millennium Gloucester Hotel was available to comment other than to confirm that the event had been cancelled.