Hearts' Robbie Neilson 'example of good coaching' - Mark Wotte
Last updated on .From the section Football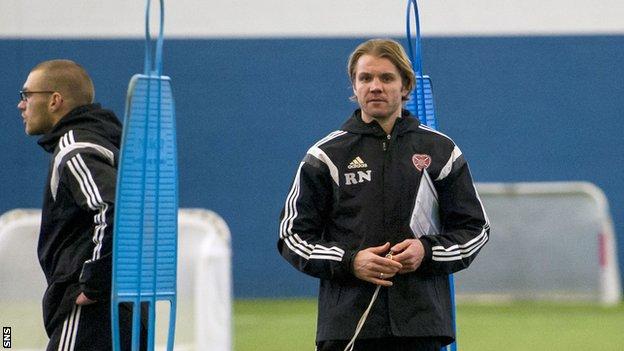 Scottish coaches should follow the example of Hearts' Robbie Neilson, according to former national performance director Mark Wotte.
The Dutchman, who quit in October, believes too many coaches concentrate on winning games rather than skills.
"Robbie Neilson is one that has recognised that he has to improve his players," Wotte told BBC Scotland.
"But I'm so afraid that, for a lot of coaches, it's all about the winning and not about the individual development."
Hearts head coach Neilson, whose side lead the Scottish Championship, has earned a reputation for tailoring training to improving the skills of individual players.
Wotte praised the 34-year-old for the way he has embraced "the philosophy" implemented by Craig Levein, who helped hire the Dutchman while Scotland head coach but who is now the Edinburgh club's director of football.
"I think that there is an example that should be followed, but I'm pretty sure that a lot of coaches are working individually with their players," he said.

Wotte helped establish Scottish FA performance schools around the country but thinks club academies have been more resistant to change.
"The performance schools are a great tool for kids from 12 to 16 years to develop their individual skills," he said.
"But, when I visit club academies, I see a lot of team sessions to improve the team and teamwork and prepare them for the next game.
"It is just - how can you win the next game? For me, that's the wrong point of view.
"You should not worry about winning the next game as a youth coach. You should be worried about 'how can I improve the players'?
"And, if you improve the players one by one, you will have a better team. And, if you have a better team, you will win more games."
Wotte does see hope for the future, particularly among younger coaches.
"Not to be disrespectful, but a lot of young coaches, they get it and know they have to develop the players first," he said.
"And, if a senior coach is used to a certain way of working with his teams, it is difficult for him to change.
"For me, a good youth coach is the coach that improves his players on a daily basis and is working hard on the individual skills of the player."