Premier League set to announce record £4.4bn TV rights deal

By Dan Roan
BBC sports editor
Last updated on .From the section Football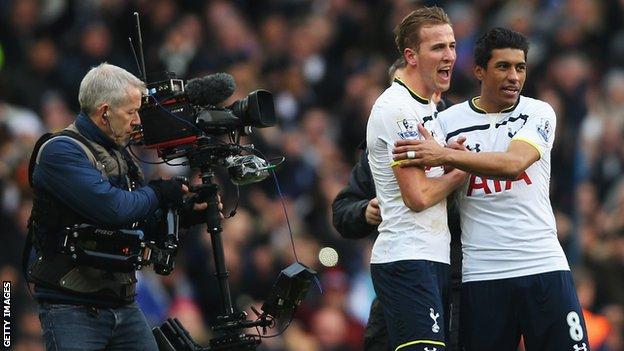 "It's fantastic," enthused Jorge Mendes.
His assistant was getting frustrated, frantically signalling to him off-camera to wrap up our conversation.
It was the evening of transfer deadline day earlier this month, and Mendes had people to see, clients to call, a dinner to attend.
His three phones, each registered in a different country, had been buzzing and vibrating almost constantly for the duration of our 40-minute chat.
But before being ushered out by his bodyguard, Mendes had something else he wanted to tell me.
The rising cost of Premier League rights
2011-13:
£1.77bn
2014-16:
£3bn
2017-19:
£4.4bn (predicted)
"The way you put matches on at midday to suit the Asian market. We should do this in Spain. It's fantastic," he purred in admiration.
"The Premier League is doing a brilliant job. You have clubs at the bottom of the league earning £80m a season. That's what the very top clubs in Portugal earn."
I had put it to Mendes that football's ability to generate ever more value could not go on forever. That the TV money that had turned him into a multi-millionaire must soon reach a limit.
The Portuguese laughed. He was having none of it.
"Listen, football is the number one sport in the world," he insisted. "You have others like Formula 1 and NBA, but football is number one. People ask if we've reached a limit. They'll be asking the same thing in three years from now."
On Tuesday, it should become clear why Mendes is so optimistic about football's ability to extend its golden age, when the Premier League announces its latest bumper domestic TV deal.
Experts predict a 45% increase on the current £3bn contract, with the cost totalling a remarkable £4.4bn for the three years from 2016 to 2019.
With multiple bidders across the seven packages of live matches on offer, a second round of the auction has been triggered.
Current broadcast partner BT is understood to be slightly more relaxed than they once were about adding to the two packages of matches they currently have - given that they have acquired exclusive live Champions League matches from next season.
It may also have a little less to spend after the recent multi-billion-pound acquisition of mobile group EE.
However, both BT and rivals Sky, which last week announced pre-tax profits of £527m in the six months to the end of December, are desperate to retain what they have, and there is growing expectation that US-owned Discovery Network (owners of Eurosport), and Qatar-based BeIn Sports may also have entered the race, fuelling the tension - and inflating the values.
Who will win the broadcast battle?
"Predicting which companies will be battling it out for Premier League rights can leave you looking a little stupid. It would be difficult to the point of impossible to imagine that BT and Sky will not lodge major bids in their attempt to become - or remain - the 'home of football'."
Read more from BBC business editor Kamal Ahmed
The flagship Sunday 16:00 slot is thought to be the subject of particularly strong competition between the bidders. Secrecy surrounds the process and there could be a big surprise, just like last time when BT came from nowhere to replace ESPN.
The way we watch television is becoming more fragmented and we consume more content online. So live sport - and its ability to retain large audiences - is becoming more important for broadcasters, telecoms providers and advertisers.
With the BBC already having paid £204million to retain the Match of the Day highlights package, the total cost of rights - including overseas, near-live and internet rights - is likely to far exceed the current figure of £5.5bn.
That will make it the second most valuable league in the world behind the NFL which last year sold the live rights to show eight Thursday night matches to CBS - for $300m. Overall, the NFL earnt $5.5bn last year from its deals with CBS, Fox, NBC, ESPN and Directv.
For many, the fact that English soccer has almost as much appeal to television viewers as American football, is something to celebrate and admire.
All 20 teams now feature in football's 40 highest-earning clubs, with even the relegated teams pocketing around £60m in broadcast revenue.
How does the Premier League distribute rights money?
50% divided equally between the clubs.
25% awarded to clubs based on their final league position.
25% distributed to clubs as "facilities fee" for televised matches.
The Premier League has become a cultural phenomenon. Its cosmopolitan mix of drama, competitiveness and unpredictability keeps attracting audiences around the world. A wonderful British export generating wealth and tourism and jobs. A triumph for Premier League chief executive Richard Scudamore and the way the product has been marketed and sold.
This, the Premier League insists, is what enables the clubs to attract the best talent, to compete with their rivals in Barcelona, Madrid, Munich and Paris, and to maintain its popularity across the world.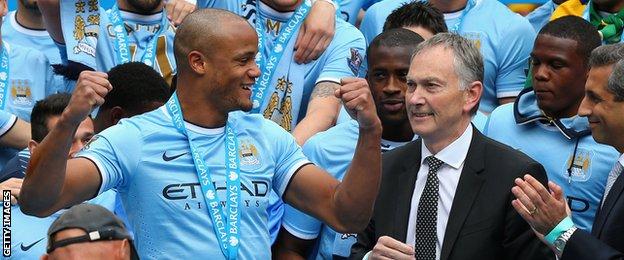 However, Tuesday's record TV deal announcement will also spark renewed calls for a fairer distribution of the bounty.
Especially when the Premier League clubs spent over £950m on transfers last year - a new record, according to Deloitte - and the average Premier League player earns £31,000 a week.
Especially when the Premier League spent £115m on agents fees last season, and when Chelsea are the only top-flight club committed to giving all ground staff and suppliers the £7.65-an-hour "living wage".
And especially so close to an election, at a time when ticket-price rises continue to outstrip inflation, and grassroots facilities suffer from more cuts to local authority sport and leisure budgets.
Who can buy the rights to which matches?
There are seven packages (labelled A to G) of 12 or 26 matches up for sale. Each package represents a specific time slot in which matches can be broadcast (eg package A is 26 matches on a Saturday at 12:45). No single broadcaster can purchase all seven packages.
Read more on Premier League broadcast rights
At a time when the effects of the economic crisis are still being felt by many up and down the country, another record TV deal will lead to a fresh concern over "obscene" player wages and a culture of greed.
The Premier League points to the hundreds of millions of pounds the industry gives to HMRC in tax each year, which helps pay for crucial public services.
It also argues that it already redistributes almost a sixth of its income towards good causes and solidarity payments, including £12m each year towards the Football Foundation.
And, they ask, at a time when Financial Fair Play regulations force clubs to maximise revenue, why should they be criticised for making as much money as possible?
The arguments from both sides are by now familiar - and both have merit.
But one thing seems certain: with the Premier League still having only recently broken into the US, Chinese and Indian markets, the money - and the debate over how to spend it - seems set to continue for some time.