Louis van Gaal uses diagrams to defend Man Utd 'long-ball' claims
Last updated on .From the section Man Utd
Louis van Gaal displayed a series of diagrams to journalists as he hit back at Sam Allardyce's claim that Manchester United are a long-ball team.
West Ham boss Allardyce described Van Gaal's side as "long-ball United" after the teams drew 1-1 at Upton Park.
But Van Gaal disputed the assertion.
"Because I expected this question, I have made an interpretation of the data for this game and then I have to say that it is not a good interpretation from Big Sam," said the Dutchman.
"You have to look at the data and then you will see that we did play long balls, but long balls wide rather than to the striker."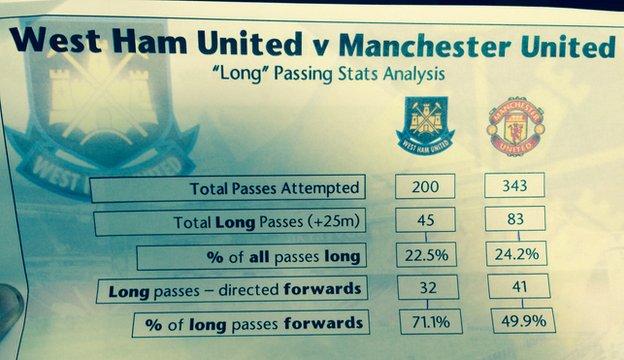 The statistics, contained in four A4 sheets of paper, were put together by Van Gaal's analysis team.
They claim West Ham sent a higher percentage of their long passes forward than the visitors.
According to the figures, West Ham attempted a total of 200 passes during the game and United 343.
Of those passes, 45 (22.5%) of West Ham's were long - more than 25 metres - compared to 83 (24.2%) of United's.
However, United claim fewer than half of their 83 long passes went forward (49.9%), compared to almost three-quarters (71.1%) of West Ham's 45.
Diagrams generated by United showed that many of the visitors' passes went sideways or diagonally, rather than forward.
Van Gaal insisted his team only started playing long balls forward after 6ft 4in Marouane Fellaini came on in the 76th minute of the draw at Upton Park.
Daley Blind rescued a point with a 93rd-minute equaliser after Cheikhou Kouyate's volley put West Ham ahead.
According to Opta, Van Gaal's United do play more long balls - under their definition "launches of the ball by a team that have no clear aim" - than the sides of David Moyes and Sir Alex Ferguson during the previous two seasons.
Long-ball Manchester United?

Season (manager)

Long balls per game

Premier League ranking

2013-14 (David Moyes)

16.4

18th

2012-13 (Sir Alex Ferguson)

18.8

17th

2014-15 (Louis van Gaal)

20.9

13th

Source Opta

Analysis - BBC Sport's Simon Stone
"The four A4-sized stats sheets Louis van Gaal was carrying as he entered the press conference room at Carrington this lunchtime was confirmation he knew the questions about United's style were coming.
"The answers were long and detailed.
"He fundamentally disagreed with Sam Allardyce's view at West Ham on Sunday. He claimed most of United's long passes were sideways, in an attempt to switch play and he had only reverted to a more direct approach when it became obvious a change in tactic was required.
"As he left the room, he advised all journalists to take a copy of the stats - and 'show them to Big Sam'.
"Van Gaal thought he was making a point. He may have ended up making himself look a little bit manic."