Jose Mourinho: Robin van Persie should be charged over 'elbow'
Last updated on .From the section Football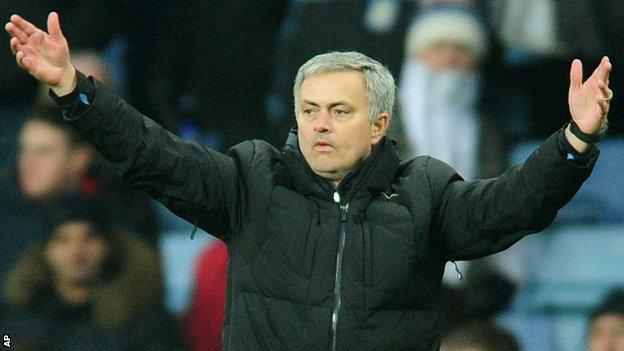 Chelsea manager Jose Mourinho has questioned the Football Association's decision not to punish Manchester United striker Robin van Persie for his clash with West Ham's James Tomkins.
"I need a bit more time to understand why some people are punished, others aren't," Mourinho said.
Van Persie was not charged because the incident was spotted by the referee.
Mourinho was fined £25,000 last month for claiming there was a "campaign" to influence referees' decisions against Chelsea after Blues striker Diego Costa was charged with stamping on Liverpool's Emre Can.
Costa will serve the final game of his three-match ban when league leaders Chelsea face Everton at Stamford Bridge on Wednesday.
Mourinho on disciplinary inconsistencies:
"The same people that suspended my player didn't want to suspend a player this weekend. And they could. I know that if it was one of mine...
"Last season happened the same thing, when Ramires was suspended. It was exactly the same thing.
"A Manchester City player [Yaya Toure] kicked a player on the floor at Norwich [Ricky van Wolfswinkel] and nothing happened."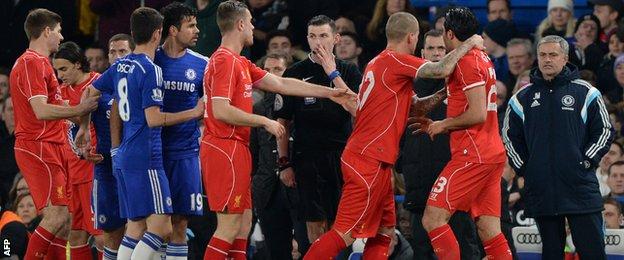 On Chelsea's seven-point lead over Manchester City at the top of the table:
"If it was 14 points with seven matches to go, you are almost, almost, almost there. But seven points with 14 matches to go is a long way to go.
"What is seven points? It's better than zero. In another country I would say it's a lot. In every other country the top teams only lose points in between them. In this country seven points is not a lot."
On the return of former Chelsea striker Romelu Lukaku as an Everton player:
"He proves every weekend that he's a good player. Nobody has doubts at Chelsea that he's a good player. We know Romelu is a good player.
"We don't sell garbage; we sell top players. We sell top players, we get top fees. Without top fees we don't sell them, we keep them.
"That's football. That's life. That's the market. The player wishes sometimes to be in clubs where they become clearly the first option.
"If he's happy, that's good. He wanted to play all the time."