When Premier League managers show the strain under pressure
Last updated on .From the section Football
Pressure can be a funny thing. Some thrive under it, while others show the strain with bizarre behaviour.
Football managers have to deal with intense scrutiny and not all are able to keep their cool.
February has seen a muted moment from Chelsea boss Jose Mourinho, a touchline tussle involving Leicester manager Nigel Pearson and a defensive display from Manchester United coach Louis van Gaal.
BBC Sport looks at how some other managers reacted when the mercury was rising.
'I will love it if we beat them. Love it'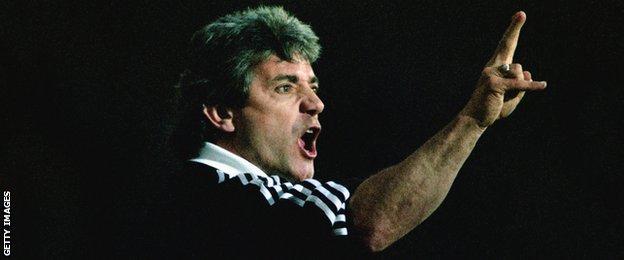 Where else to start but with Kevin Keegan? Voted in 2012 as the most memorable quote in the Premier League era, the then-Newcastle manager's "I would love it" speech from the 1995-96 season was surely the sign of a man on the edge.
Keegan's rant came when Manchester United boss Sir Alex Ferguson suggested other teams might not try as hard against Newcastle as when they face his side.
In a live TV interview, Keegan said: "I've kept really quiet but I'll tell you something, he went down in my estimations when he said that. We have not resorted to that. You can tell him now, we're still fighting for this title and he's got to go to Middlesbrough and get something.
"And I'll tell you, honestly, I will love it if we beat them. Love it."
The Magpies had led by 12 points at one stage that season but finished as runners-up to Ferguson's team.
Benitez's fact-finding mission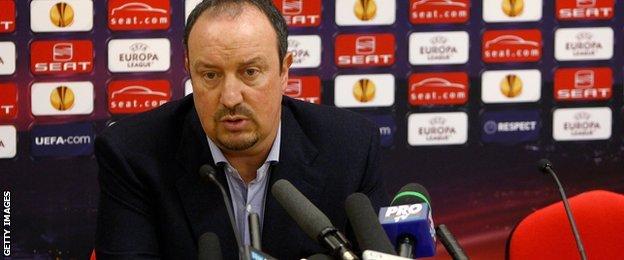 Ferguson was again the source of a rival's ire in 2009 when Liverpool manger Rafael Benitez vented his annoyance with the United manager.
Ferguson had suggested Premier League leaders Liverpool might get nervous during the second half of the season and Spaniard Benitez's response was to produce a list of 'facts' at a press conference during which he accused Ferguson of "killing referees".
Benitez said: "I want to talk about facts.
"During the Respect campaign - and this is a fact - Mr Ferguson was charged by the FA for improper conduct after comments made about Martin Atkinson and Keith Hackett.
"We know what happens every time we go to Old Trafford and the United staff. They are always going man-to-man with the referees, especially at half-time when they walk close to the referees and they are talking and talking.
"We need to know that I am talking about facts, not my impression. There are things that everyone can see, every single week."
Liverpool were leading the Premier League, four points clear of Chelsea, at the time but ended the season in second place - four points behind United.
Brown points the finger
Hull City were punching above their weight during their first season in the Premier League, but manager Phil Brown was far from happy with what he saw during the first half at Manchester City on Boxing Day in 2008. With the Tigers trailing 4-0 at the break, Brown made his players sit on the pitch, close to the visiting Hull fans, to carry out his half-time team talk. The effect was minimal, as Hull lost the match 5-1.
Hull midfielder Jimmy Bullard took great pleasure in re-enacting the moment as Hull held on for a 1-1 draw at the same venue 11 months later.
Di Canio speaks out
As a player, Paolo Di Canio was flamboyant to say the least. He showed little sign of curbing his enthusiasm after taking a step into management with Swindon Town.
He was sent to the stands following his angry protest after his team were not awarded a free-kick during a League Two fixture with Macclesfield Town in 2012.
The Italian said: "I don't stop my culture, I speak with my body language sometimes. English referees have to respect that. I do what I want in the technical area, they can't stop me."
The Robins won 1-0. Imagine his reaction if they had lost.
Wenger the deal-breaker
Most managers would be delighted to hear that they have earned a new contract. Not Arsene Wenger, it seems.
The Arsenal boss's irritation was evident during a tense press conference in February 2013 when asked about reports that he was about to sign a new two-and-a-half-year deal to stay at the Emirates.
Wenger said: "It's the wrong information. I think I deserve a bit more credit than wrong information that has only one intention - to harm."