Lord Sugar: £5.14bn TV rights deal damages England team
Last updated on .From the section Premier League
Former Tottenham chairman Lord Sugar believes the record £5.14bn Premier League TV rights deal will damage the England team.
Lord Sugar helped form the Premier League in 1992 and negotiate early TV rights packages.
He told BBC Sport that young English players will be "starved" of games as clubs buy expensive foreign talent with the extra money.
"We don't have a chance of winning the World Cup again," he said.
On Tuesday, Sky and BT Sport agreed a record deal for live rights for three seasons from 2016-17, a 70% increase on the current £3bn contract.
Premier League chief executive Richard Scudamore said the deal would make English clubs "more competitive" in Europe.
It also means all 20 Premier League clubs will break into the top 30 richest clubs in the world by revenue.
Speaking on BBC Radio 5 live on Wednesday, Scudamore responded: "There's nobody more than us that would like the England team to be successful. That's why £340m in this current television deal has been spent on youth development and youth development systems.
"We're not set up for charitable purposes, we're set up to put on the best possible football competition. The fans want the best players coming to their club.
"That doesn't mean to say the clubs haven't got responsibilities that they live up to enormously in terms of what else they do with the money and there's a whole lot of positive things they do with it as well."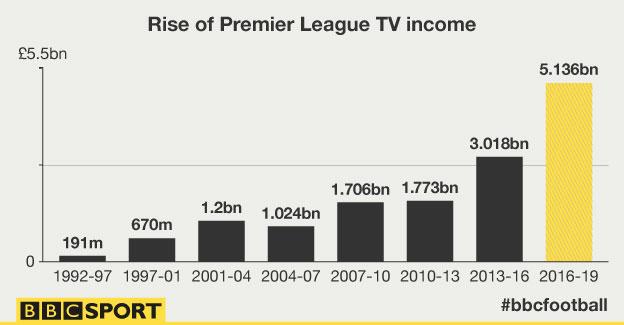 But Lord Sugar said the money would "go in one end and go out the other" on transfer fees, player wages and paying agents - what he calls the "prune juice effect".
"In a way, it's positive for the teams, but I think it's pretty negative for the future of international football for England.
"The Premier League hierarchy have done a good deal in squeezing the most amount of money out of the TV broadcasters in the UK and worldwide. I suppose yes, they're happy.
"Will they be happy in year's time when they realise all the money they have got, they've given to players and players' agents is another story."
Lord Sugar added that clubs spending the extra money on foreign imports would do nothing for the national team, saying England needed more players like 21-year-old Spurs striker Harry Kane instead.
"Football was never started as a business. We don't have a chance of winning World Cup or European Championships again, it's because of money thrown into the league in order for Premier League clubs to survive by hiring in players from abroad and not allowing young players to come and learn their trade," he said.
"If you take Tottenham at the moment, we have this young man Harry Kane, it's bit of a phenomenon.
"Young boy, from local area, loves his club and now become key player - but he is an exception to the rule. We need more of that if we are going to put out a proper English team in the future."
What does record TV deal mean for fans & clubs?
Is £10m per game good value? Will clubs now pay for fans to attend games? How will this affect TV viewers?
BBC Sport answers the key questions
Lord Sugar said he was involved in the negotiations that resulted in Sky paying £191m for its first five-year Premier League rights deal.
According to Deloitte, in 1991-92, the season before the inception of the Premier League, top-flight clubs generated less than £15m in broadcast revenue.
In 2013-14, the first season of the current three-year cycle, the 20 top-flight clubs shared broadcast distributions totalling £1.5 billion.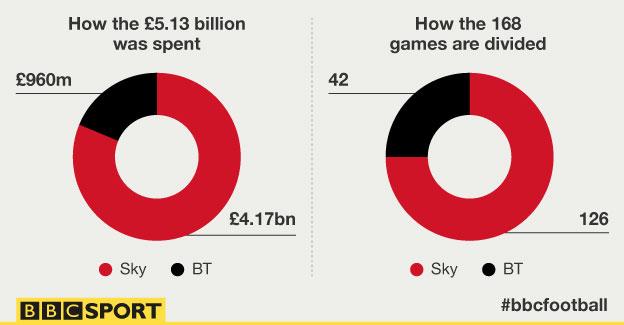 Former Football Association chief executive Mark Palios is now executive chairman at League Two side Tranmere Rovers.
He told BBC Radio 5 live: "As club sport gets more lucrative and you have foreign owners, there's less allegiance to England, but I still believe the England team does have a special place for a lot of fans."