JS Kabylie win appeal against ban imposed after death of Ebosse
Last updated on .From the section Football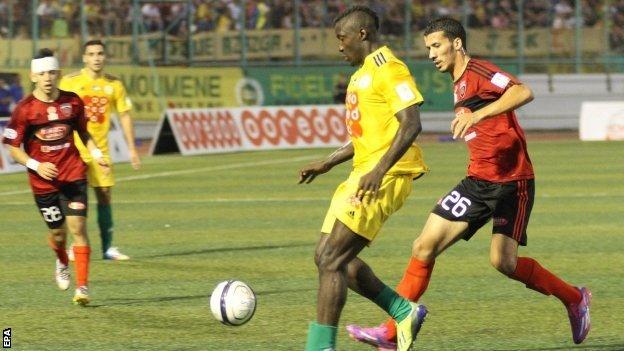 Algerian club JS Kabylie have won their appeal against a two-year ban from African competitions imposed after the death of their striker Albert Ebosse.
The Court of Arbitration for Sport (Cas) "annulled with immediate effect" the ban imposed by the Confederation of African Football (Caf) in October.
It ruled that Caf "did not comply'' with its own rules in banning the club.
"The (decision to ban) was taken without the representatives of the club JSK having been heard or even informed of the procedure in progress,'' the court said in a statement.
It was initially thought that Ebosse died after being hit by an object thrown by fans after his side's 2-1 home defeat by USM Alger - in which he scored.
But post-mortem tests indicated Ebosse died as a result of a beating rather than being hit by a projectile.
Kabylie qualified on merit for the African Champions League preliminary round by finishing second in Algeria's league.
They are scheduled to host St. George of Ethiopia in a preliminary round, first-leg match.