Arsenal methods caused Aaron Ramsey injury, says ex-coach
Last updated on .From the section Welsh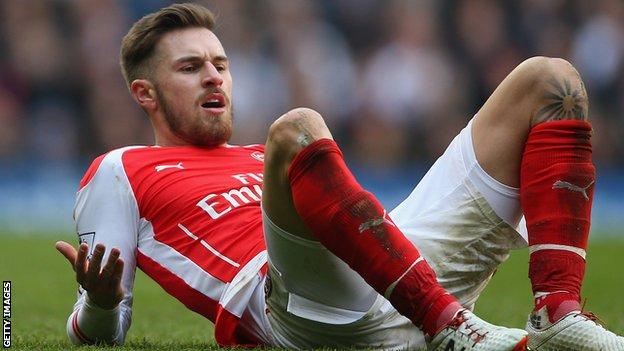 Former Wales assistant coach Raymond Verheijen says Aaron Ramsey should leave Arsenal if they do not change their training methods.
He could be a doubt for Wales' Euro 2016 qualifier in Israel on 28 March.
"There are two solutions. Either Arsenal sort themselves out or Aaron has to go to a club... where training is more balanced," said Verheijen.
"It's one or the other. The medical staff can only cure the problem but football coaches cause the problem because they are responsible for football training sessions."
As well as a stint with Wales during Gary Speed's reign as manager, Verheijen has worked at three World Cups and three European Championships with Netherlands, Russia and Korea.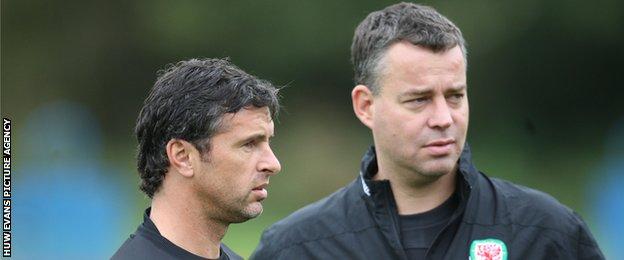 The Dutchman is an outspoken critic of Premier League sides' training methods and recently referred to Arsenal as "amateurs" for Ramsey's injury record.
The former Wales captain suffered his latest injury just nine minutes after coming on as a substitute in Arsenal's victory over Leicester, and Arsene Wenger admitted he was "worried" about Ramsey's setback.
The ex-Cardiff midfielder injured his hamstring against Galatasaray in early December, keeping him out for six weeks, but he did start four games after returning on 18 January before the visit of Leicester.
Verheijen believes Ramsey's injury problems are due to "the context in which he is working".