Why Manchester City have missed Yaya Toure so much
Last updated on .From the section Football

In his regular BBC Sport column, Robbie Savage looks at how poor signings, an absence of young talent and Uefa's Financial Fair Play ruling all contributed towards Manchester City losing ground on Premier League leaders Chelsea while Yaya Toure was away at the Africa Cup of Nations.
Yaya Toure's return to Premier League action this weekend cannot come soon enough for Manchester City, but a club with their resources should not have missed one man so much in the first place.
Before last week's much-needed win at Stoke, the defending champions went four league games without victory and went from being joint-top with Chelsea to seven points behind Jose Mourinho's men.
That slump in form coincided with Toure being away at the Africa Cup of Nations with Ivory Coast, leaving City without any drive in midfield in his absence.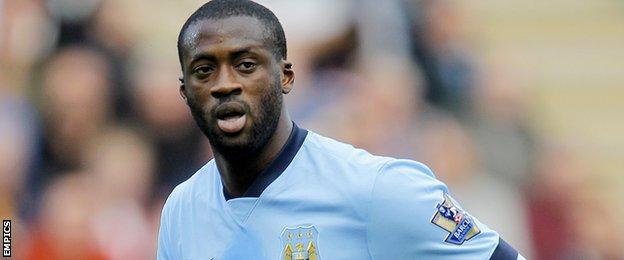 City boss Manuel Pellegrini must hope Toure and new £25m striker Wilfried Bony make a difference against Newcastle at the start of a massive week that also sees them play Barcelona in the Champions League then take on in-form Liverpool at Anfield.
Signings have improved squad, not first team
Bony is a proven Premier League striker but City badly need him to be a player that pushes them on - not a back-up, but someone who makes it almost impossible for him to be dropped.
That has not happened anywhere near often enough with their recent buys and what we have seen over the past six weeks shows that it is City's first team which needs strengthening, not their squad.
Yes, they have been hit by injuries and loss of form by other key players during the same period.
But Toure was also their star man last season and the biggest reason they rely on him so much stems from the fact their signings since they won their first Premier League title in 2012 have not been as good as they should have been.
Man City's signings: May 2012 to September 2014

Player

Fee

PL starts this season

Eliaquim Mangala

£32m

14/25

Fernandinho

£30m

16/25

Stevan Jovetic

£22m

9/25

Alvaro Negredo

£20m

Loaned out

Javi Garcia

£16m

Sold

Jesus Navas

£14.9m

16/25

Matija Nastasic

£13m plus Stefan Savic

Loaned out

Jack Rodwell

£12m

Sold

Fernando

£12m

16/25

Scott Sinclair

£6.2m

Loaned out

Willy Caballero

£6m

2/25

Martin Demichelis

£4.2m

18/25

Maicon

£3.5m

Sold

Bruno Zuculini

£3m

Loaned out

Frank Lampard

£0

3/25

Bacary Sagna

£0

6/25

Richard Wright

£0

0/25

Total = £194.8m
Not including Bony, who is yet to kick a ball for the club, City have made 17 signings at a total cost of almost £200m, but not a single one has made a significant difference to their strongest XI.
The only two out of the above list who could be described as regular starters in City's strongest line-up are Martin Demichelis and Fernandinho.
Both of them have had spells where they have played well but I would not describe either as a huge upgrade on the players they have replaced from City's 2012 title-winning side, Joleon Lescott and Gareth Barry.
I saw Fernandinho as more than just a defensive midfielder but he did not step up and do much for the attack while Toure was away. It was the same with Fernando, who has had four shots, one goal and one assist in 19 league games.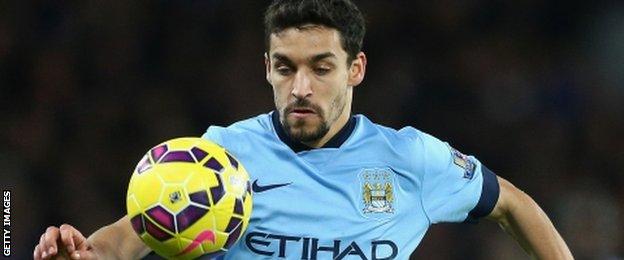 Jesus Navas has played a lot recently but he only ever really starts if one or more of Silva, Nasri and Toure are unavailable.
His pace will always get him in good positions but, whether it is shooting or crossing, his final ball is just not good enough.
In fact, the last new players to dramatically improve City's first team were Sergio Aguero and Samir Nasri, who both arrived in the summer of 2011.
Their best buy since then is probably Frank Lampard, who is normally used from the bench, and he cost nothing at all.
Financial Fair Play stops 'X-Factor signing'
After signing Bony, City are the third biggest gross spenders in the Premier League since the summer of 2012. Elsewhere in Europe, only Real Madrid and Paris St-Germain have spent more.
Top gross spenders in the Premier League: Summer 2012 to Feb 2015 (Data: Deloitte)

1. Chelsea (£315m)

2. Man Utd (£280m)

3. Man City (£220m)

4. Liverpool (£215m)

5. Tottenham (£200m)

6. Arsenal (£180m)
Looking at what they got for their money, it is easy to criticise City's transfer record, but their hands have been tied in terms of who they are able to bring in.
They would have spent a lot more during Pellegrini's time in charge if not for Uefa's Financial Fair Play (FFP) ruling, which has limited their budget.
Pellegrini hinted at that when he talked about how much he admired Arsenal forward Alexis Sanchez before City lost to the Gunners in January, but said he was not able to try to sign him.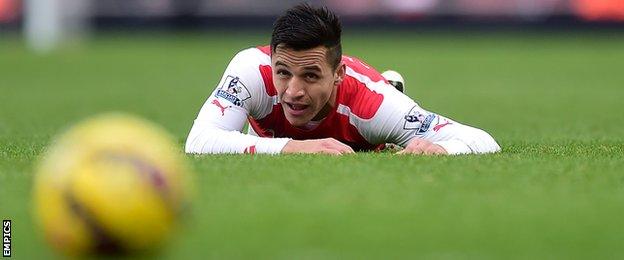 Instead, Pellegrini weakened his attacking options when he sold Negredo because of the restrictions that an FFP penalty had put on the club.
He spread the spending money he had on £32m centre-half Eliaquim Mangala and several other players to try to improve a problem position and enhance the rest of his squad.
But City could not do that and also sign another expensive star player with the same sort of X-Factor as Toure and Aguero - or Sanchez.
Bony does not fall into that very top category yet either.
It will be interesting to see how he copes with his price tag and the pressure of playing for a big club, where he will be expected to score and win every week.
Squad players have not stepped up this time
Another reason I would not say City have simply wasted a lot of that £194.8m is the way they won the league last season.
The strength of their squad was a big factor in that success, particularly in attack.
When the goals dried up for Aguero and Alvaro Negredo in the second half of last season, Edin Dzeko weighed in at some vital moments.
Man City's strikers: 1 Feb to 11 May (Data: Opta)

Premier League 2013-14

Negredo

Aguero

Dzeko

Jovetic

Games

11/15

6/15

14/15

9/15

Starts

5

5

12

1

Minutes

400

340

1,039

228

Goals

0

2

9

2
Their back-up players have not stepped up this time, though, with Dzeko a case in point.
Aguero's two goals against Stoke were his first in his six games since returning from injury. During that time, nobody else delivered either.
Dzeko was injured soon after Aguero in December but by then he had already gone 10 matches without scoring.
He has not found the net since returning to action and his drought now stands at 15 club games - including seven starts - his longest since he joined City in January 2011.
Man City's strikers: 6 Dec to present (Data: Opta)

Premier League 2014-15

Aguero

Dzeko

Jovetic

Games

6/11

5/11

6/11

Starts

5

1

2

Minutes

367

130

227

Goals

2

0

1
Jovetic has also been short of fitness and form. The big blow for him was being left out of City's Champions League squad to make way for Bony and that probably says it all about his future prospects.
Few fresh faces from City's academy
As well as Dzeko and Jovetic, Bony's arrival is also bad news for any young strikers at the club. But, whatever their position, any talent coming through is not being given a chance.
Pellegrini is two-thirds of the way through his second season in charge but has handed a Premier League debut to only one academy product, Jose Pozo, 18, who has made three appearances and started only one game.
That came against Leicester in December, and only because Dzeko was injured in the warm-up.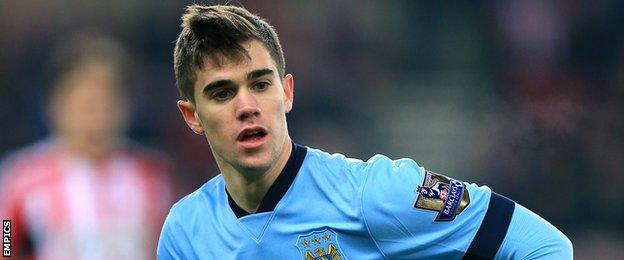 The only other academy graduates whom Pellegrini has used in the league are 26-year-old midfielder Micah Richards, who played twice last season and is now on loan at Fiorentina, and 24-year-old defender Dedryk Boyata.
Boyata made his league debut in January 2010 but has made only nine league starts for City in five years. Two of those have come under Pellegrini, which does not suggest he rates him particularly highly.
Standing still not good enough to retain title
All of that together means that when key players like Toure, Aguero or Vincent Kompany have been unavailable, injured or out of form, City have not had any new faces to call upon who are good enough to make a difference.
Whatever your level, if you do not buy players who are better than the ones you have already got, then it will always catch up with you in the end.
What has happened to City does not necessarily mean they have gone backwards - they have only got two points fewer than at the same stage of last season when they went on to win the Premier League.
But even standing still is not good enough for a team trying to retain the title, because their rivals who missed out will almost certainly be stronger next time around.
Look at Chelsea, who signed two players in the summer - Diego Costa and Cesc Fabregas - who went straight into their first team and improved it too.
Robbie Savage was speaking to BBC Sport's Chris Bevan