Paul Lambert: Aston Villa had little choice but to sack manager

By Phil McNulty
Chief football writer
Last updated on .From the section Football345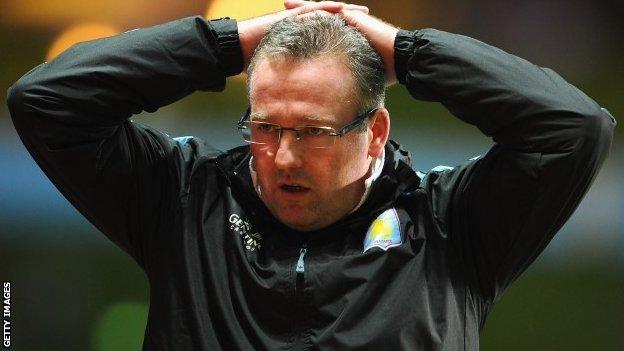 Aston Villa's chief executive Tom Fox claimed just two weeks ago that he struggled with "the whole false narrative" of taking the easy way out and sacking manager Paul Lambert as results threatened to fall off a cliff.
The flaw in Fox's admirable argument is that the reality of relegation - and the subsequent loss of status and the billions of pounds now pouring into the Premier League - always trumps the false narrative of endless loyalty.
And so it proved as Lambert was dismissed amid open revolt from the club's fans and a dismal 2-0 loss at Hull City that put them in the bottom three.
So why were Villa's hierarchy, led by Fox and owner Randy Lerner, forced to move their position so dramatically and what led to the downfall of a manager who had previously enjoyed unswerving and public support?
No goals, no points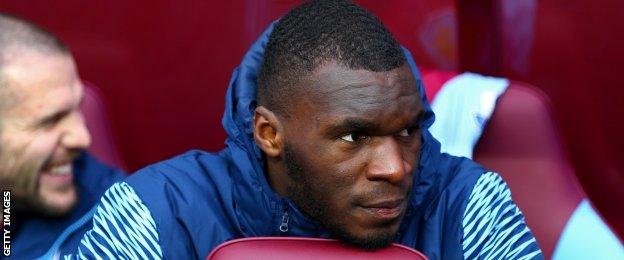 When Jores Okore equalised for Villa in the 2-1 home defeat by Chelsea on Saturday, it was their first Premier League goal for 659 minutes (a little more than seven games) and the conclusion of a run that was the source of much black comedy as well as great concern.
Villa's fans brandished cardboard signs pointing their strikers in the direction of the goal while movie buffs pointed out the drought had lasted longer than the entire epic trilogy of The Godfather.
Behind the quips lay the pivotal reason for Lambert's downfall. Not only were Villa losing, they were deadly dull.
Amid the results that took them towards the Premier League's relegation zone, Villa's fans were not given any hope of improvement as they were almost bored into submission.
Villa's tally of 12 league goals after 25 games is the lowest in Premier League history. If they keep up their tally of 0.48 goals per game, it will be a record low by any team in the 127 seasons of English league football.
Throw in that they have only kept two clean sheets in their last 11 Premier League games and there was no good news for Lambert to fall back on.
Christian Benteke was always the big hope of an end to the drought but the giant Belgium striker has struggled to regain form and fitness after rupturing an Achilles tendon; and injury that kept him out for almost six months.
He has scored only three goals this season, with rare flashes of his former power, and as the goals dried up so did Lambert's hope of keeping his job.
Former Aston Villa striker Peter Withe, who scored the goal that won the European Cup against Bayern Munich in 1982, said: "I think it was inevitable, the way results were going, with the club not scoring goals."
Withe also believes Lambert should have tried an assistant with fresh ideas after the short experiment with Roy Keane failed, saying: "He should have brought someone in with more feeling for the club and that has cost him. Someone else to bounce ideas off. Once Keane left he has not had anyone to do that."
What was the tipping point?
Results always shape the manager's future and the manner of the defeat against relegation rivals Hull City, played out against the backdrop of serious fan unrest with banners unfurled demanding Lambert's sacking, was the final straw.
It may just be an unhappy coincidence that Lambert was shown the door the day after the announcement of a new £5.14bn Premier League TV rights deal - but such mind-boggling figures would certainly concentrate the mind of any chairmen concerned about their long-term top-flight prospects.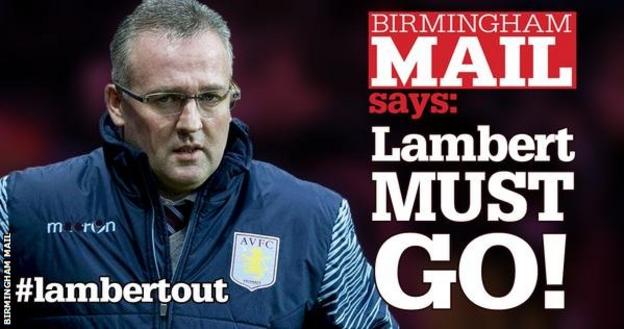 Another significant development was the decision of the second city's local newspaper, the Birmingham Mail, to run an editorial demanding Lambert be sacked to give Villa fresh impetus to stop their slide towards relegation.
This is not a decision any local newspaper takes lightly given the importance of the relationship with the club, and of course its figurehead, the manager, but it is also a reliable barometer of opinion and the Birmingham Mail would have been in no doubt it was reflecting the feelings of the majority of the club's fans.
Again, this may not have been the deciding factor but it was a clear indicator of how Lambert was losing the support of Villa's fans on an industrial scale.
BBC Sport's Pat Murphy, who conducted that headline-grabbing interview with Fox, said: "Randy Lerner is nothing if not obdurate - billionaires can afford to be so can't they? He was determined to ride out the storm and with Paul Lambert he had the best relationship he has had with any Villa manager.
"Two weeks ago the club were bullish but I think what's happened involved the remarkable TV rights deal. That will have played on Randy Lerner's mind."
Murphy added: "I still believe he'll sell up in the summer. He still wants to sell and to a certain extent he's protecting his investment here. He'll be terrified about Villa going down."
Who will succeed Lambert?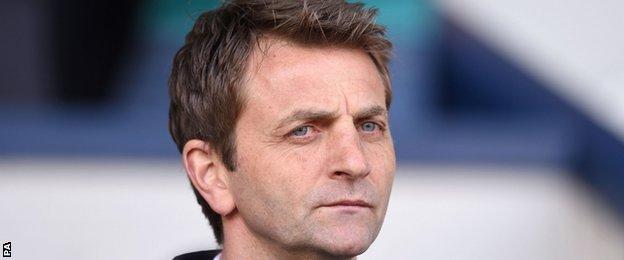 Lambert himself, in a final show of defiance, claimed Villa had "13 cup finals" to save their Premier League status. Now Lerner must find the man to win those cup finals.
Tim Sherwood has been lurking on the margins of many managerial vacancies of late and his name was one of the first mentioned - but it would be a gamble on his and Villa's part, and the former Spurs manager does seem to want particularly exact terms of reference before taking a job.
Steve McClaren has done an outstanding job at Derby County but it is highly unlikely he would walk away from a potential promotion from the Championship into a Premier League relegation fight. He may also remember how he was scheduled to have an interview to succeed Gerard Houllier as Villa manager in June 2011 but suffered the disappointment of seeing the talks suddenly cancelled at short notice and Alex McLeish appointed ahead of him.
Bournemouth's Eddie Howe has a burgeoning reputation but would fall into the same category as McClaren - and as a mischievous rank outsider, what about David Moyes, sacked ignominiously by Manchester United but now trying to rebuild his reputation and career at Real Sociedad?
This season may be too soon for Moyes but if Villa make a short-term appointment and survive, it might be worth a call to San Sebastian in the summer.
BBC Sport's Pat Murphy says: "It could be Sherwood. If he reined in one or two of his tendencies that irritate chairmen he could be very good because he knows all about youth teams and academies. I feel Villa need a modern coach - look at the top three teams in the Championship.
"There are 13 games to go and the key thing is to keep Villa up. Brian Little is only 61 and lives in Stafford. They need someone who can hold the fort, who knows the DNA of the club. Why not Brian Little?"
Aston Villa's recent managers

Manager

In charge

Played

Won

Goals for/against

Win %

Paul Lambert

Jun 12 - Feb 15

101

25

98 / 164

24.75%

Alex McLeish

Jun 11 - May 12

38

7

37 / 53

18.42%

Gerard Houllier

Sep 10 - Jun 11

33

10

42 / 50

30.3%

Martin O'Neill

Aug 06 - Aug 10

152

61

220 / 179

40.13%

David O'Leary

Aug 03 - Jul 06

114

37

135 / 151

32.46%
Can Villa stay up?
Lerner's emergency action in sacking Lambert is designed to do exactly that. He will hope the removal of the toxic atmosphere surrounding the Scot will deliver an instant lift to morale and that a fresh face will clear the air around Villa Park.
The same problems remain. Whoever takes charge must find a cure for a Villa side that appears to suffer an allergic reaction near the opposition goal and find a supply of football's other precious commodity - confidence.
Villa looked like a team with relegation stamped through them at Hull and it was this that meant Lerner and Fox had to rip up their plans to stick with Lambert through thick and thin. Or in this case thin and thinner.
There is a natural break offered by the FA Cup fifth round tie at home to Leicester City this weekend but action needs to be taken swiftly because the rest of their league campaign includes tough away trips to Manchester United, Spurs, Manchester City and Southampton.
Much will depend on their form at home, where they play the likes of QPR as well as Burnley on the last day of the season.
If the new man can solve the goals puzzle, particularly the enigma that is Benteke, then Lerner's gamble on sacking the manager he regarded so highly may just pay off.