Man Utd: Ed Woodward hopes TV deal cash won't just go to players
Last updated on .From the section Football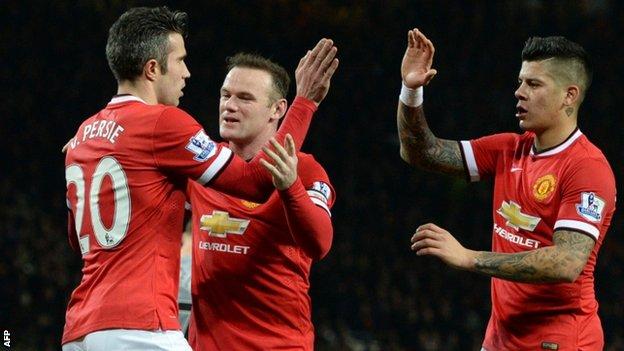 Premier League clubs are determined to ensure the new £5.1bn domestic TV deal does not go straight into the players' pockets, according to Manchester United executive vice-chairman Ed Woodward.
Ex-Spurs owner Lord Sugar compared the new deal with prune juice, saying it will "go in one end and out the other".
But Woodward has indicated a desire among clubs to avoid that scenario.
"The general mood in the Premier League is that clubs are determined not to be continually loss-making," he said.
United's staff costs, which include player wages, were £48.7m in the three months to 31 December, 2014, a decrease of £2.9m (5.6%). Wages now represent 50.5% of total revenue.
The rising cost of Premier League TV rights

1992-93 to 1996-97:

£190m

2007-08 to 2009-10:

£1.706bn

1997-98 to 2000-01:

£670m

2010-11 to 2012-13:

£1.782bn

2001-02 to 2003-04:

£1.2bn

2013-14 to 2015-16:

£3.018bn

2004-05 to 2006-07:

£1.024bn

2016-17 to 2018-19:

£5.1bn
Sky and BT Sport have agreed to a massive 70% rise on their present contracts in the new three-year deal, which takes effect from the 2016-17 campaign.
The Premier League has also secured £204m from the BBC for the Match of the Day highlights programme over the same period.
However, Woodward has cautioned against an expectation that similar increases can be anticipated when the overseas rights - currently worth £2.23bn - are sold later this year.
"We have seen a big uplift in domestic rights," he said.
"But I don't think you should use that as a guide for 200 countries around the world. In terms of the UK market there were some specific reasons why that has happened."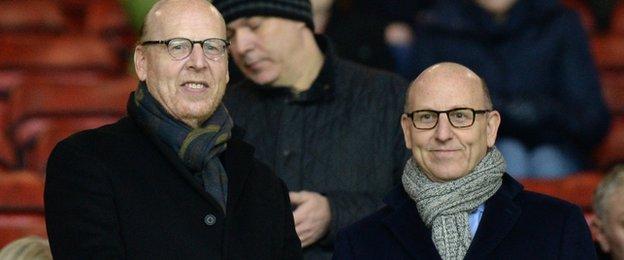 Woodward was speaking in a conference call with investors after United had announced a 12.2% reduction in revenue from £221.4m to £194.4m for the six months to 31 December, 2014.
The loss of Champions League income was the major reason for the fall, although the strength of the dollar against the pound was cited as the reason why the club's debt increased 6.7% to £380.5m.
United executives remain positive about their future direction.
A day after the 3-1 win over Burnley, watched by co-chairmen Joel and Avram Glazer, that took Louis van Gaal's team into third spot, Woodward said United were "well positioned" for a top-four finish.
And amid speculation about new contracts for goalkeeper David de Gea, experienced midfielder Michael Carrick and a number of young players, head of corporate finance Hemen Tseayo said: "There are a number of renegotiations that still need to be done on player contracts which will have an impact on this year."