Karl Robinson claims 'referee decisions against MK Dons'
Last updated on .From the section MK Dons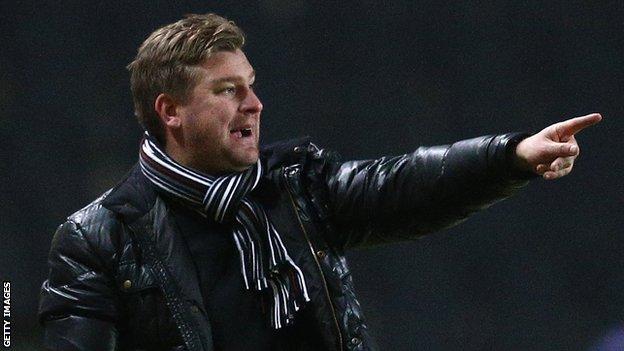 MK Dons boss Karl Robinson has said the more successful his side become, the more they suffer from poor refereeing.
The Dons missed two chances to go top of League One in the last week.
But Robinson believes his side have been on the wrong end of unfavourable refereeing decisions in four of their last five games.
"It always seems the closer we get to the top, decisions start to go against us," he told BBC Three Counties Radio.
"I don't know why that is."
Robinson, 34, said he would be asking the body responsible for referees in the Football League - Professional Match Game Officials - for an explanation for the decisions.
In a list of grievances with referees, Robinson claimed his side:
Were denied a goal with an offside decision against Will Grigg in a 2-0 win over Barnsley on 24 January

Were not given enough free-kicks in a 5-0 win over Crewe on 31 January

Were denied a penalty for handball in the 0-0 draw against leaders Bristol City on 7 February

Lost to a goal that had a handball in the build up in the 2-1 defeat by Bradford on 9 February
Robinson added: "It's OK in the Premier League where it gets scrutinised, but people's careers at this level are just as important. Why are we any different?
"I don't think the key decisions are scrutinised enough at our levels. We're going to close ranks and make sure nobody stops us. We can't rely on decisions."
Asked whether it was down to a poor standard of refereeing across the board, Robinson said: "No. I can't say any more.
"We have to keep going and we will. The players know the more and more this happens, the stronger we become."