Mark Warburton: The ex-city trader aiming for the Premier League

Last updated on .From the section Football
A week is a long time in football. Just ask Brentford manager Mark Warburton.
Much has changed since BBC Sport was granted behind-the-scenes access to the inner workings of the Championship club. The snow which fell in London on that day may have melted away but a flurry of headlines and controversy have taken its place.
Warburton's future is now far from certain beyond the end of the season. It is thought the 52-year-old is unlikely to remain at the club even if he leads this previously unheralded football club into the top-flight for the first time in almost 70 years.
Whatever the summer brings, the news has thrust the city trader-turned-football manager into the spotlight, a place he readily admits he does not like. "I get a bit embarrassed by the attention," he says. "I am just here to do my job. That's it."
That job begins at 6am most mornings, when Warburton drives his 4x4 through the gates of Brentford's Jersey Road training ground. His assistant, David Weir, follows closely behind.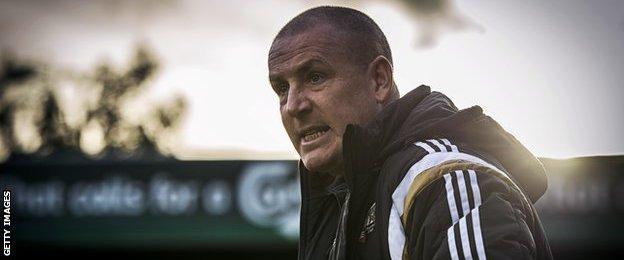 The men open up, switch on the lights, have coffee, plan the day ahead, discuss players, tactics, training. Early mornings are nothing new for Warburton. For more than 20 years, the former city trader's alarm clock went off at 4.32am, he left the house at 4.52am, got the 5.02am train to London's Liverpool Street station and was sitting at his desk 43 minutes later. "I traded Yen," he says as he settles into a Brentford red sofa in a room just off the office he shares with the rest of his coaching staff.
"It was demanding, yes, but I was well rewarded. The work ethic was a given and on a good day it was great - a team of traders working together, the teamwork, the communication, the desire. That feeling when you have a good day was in contrast to that horrible one, when your budget has been hit and you had to work to get it back the following day. But it was all about that camaraderie. The similarities to the dressing room are quite incredible."
Pressure, risk, reward, money - the parallels between football and trading are all there. Football has, however, always been in Warburton's blood. As a young boy, he was an apprentice at Leicester City, a year below one Gary Winston Lineker OBE. But professional terms did not come his way and he found himself playing part-time football for Enfield in the Conference when he saw a job advert: 'Wanted - a competitive animal, good with figures.'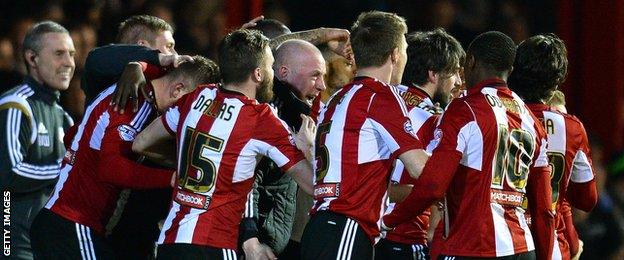 "I responded and suddenly found myself in the world of the currency markets and trading," says Warburton. "It was just as competitive as football - and a new market for me to learn at the time. It changed as I got more senior, the amounts of turnover increased, the level of responsibility increased, the risk increased. I worked with some really good people, managers and colleagues. You learn a lot from them. As a junior, I was working in ones, twos and three millions. Then suddenly 10, 20, 30 millions. Then suddenly a whole new world opens up. It is a lot of risk reward and responsibility, but you thrive on it."
At the age of 41, Warburton felt a calling. With money in the bank and his house paid for, he took a 90% pay cut to go back to his first love - football. "Of course it was a risk, but you live once and I had to do it," he says. "I was back on the bottom rung of the ladder, pumping footballs up, driving kids around in a minibus. Of course there were times when I thought: 'What on earth am I doing here?' But it worked out."
His arrival at Brentford came after a period working alongside Brendan Rodgers and Sean Dyche at Watford. He had also started the hugely successful NextGen series for the best young players at Europe's biggest clubs. Young players are at the heart of what he is doing at Brentford. On the day of our visit, the youth team are shovelling the snow off the first-team pitch. Before the session gets under way, a camera is hoisted into the sky outside the changing room to film every pass, shot and dribble in training. An analysis session takes place after lunch.
Mark Warburton at Brentford
Joined Brentford as first team coach in February 2011
Appointed sporting director in June 2011
Appointed manager in December 2013
Brentford promoted to the Championship in April 2014
Brentford currently sixth in the Championship
Has won 55% of the 60 games he has been in charge (won 33, drew 11, lost 16)
Each day is carefully planned and laid out for the players on a white board outside the dressing rooms. Report at 9am, breakfast together at 9.30am, injury screening and physical testing comes after that, training begins at 10.45am. Lunch at noon. Analysis at 1pm. Communication and clarity are paramount in Warburton's regime.
"I don't know if I am the new breed or the old. I just do what you think is the right thing to do," he says. "I believe in certain things. Discipline is important, respect… these are big words, critical words for me, as are honesty and approachability.
"My job is all about man management," he adds. "More and more, the biggest challenge for a manager is dealing with the players. The coaching side for me is the easy part. You have to look after people. You can have a tough time in the city, you can have a tough time in football. Players want to play, dealers want to trade. It is about being fair. Sometimes you tell them what they don't want to hear, but at least they know you are being honest. The moment you start being dishonest with a player or a trader, you've got a problem."
McParland is standing by the side of the pitch watching training, casting an eye over the highly-rated Jack O'Connell, who he has just signed from Blackburn. "We want hungry, hard-working young footballers here and the manager has shown he will give them a chance," says McParland, who was Liverpool's academy director, overseeing the development of Raheem Sterling and Jordon Ibe among others. So what is the secret of Brentford's success? "The manager deserves an awful lot of credit," says McParland. "He is unusual, a very clever fella and a very hard worker. He is in here with David at 6am. He lives and breathes the game."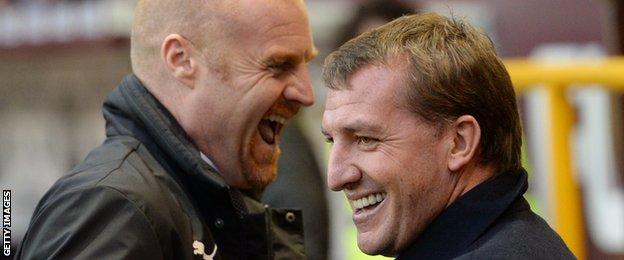 McParland is no different. On the walls of his office, just across a narrow corridor from where the players eat lunch, are reminders of his time at Anfield, photographs of him with Rafael Benitez and Kenny Dalglish. It is further evidence that Brentford are building a formidable bank of football brains alongside the analytical mind of their manager. Weir is another example of that.
Out on the training field, the former Everton and Rangers centre-half works with the strikers, passing on valuable knowledge to the likes of Andre Gray. "It is great to be part of what is happening here," says Weir. "Mark was a player, maybe he didn't play at the level he wanted to, but the experience he brings from outside of football is undoubtedly benefitting the way we do things. His man management is a huge strength. We are honest with the players. They know where they stand and that's really the be and end all for us."
Brentford have more in their locker, however. Their sports science set-up, conditioning, medical team are widely regarded as being among the best in the Championship, their players are among the fittest. But you won't catch Brentford's players running miles, or clambering up sand dunes. The work is done with the ball so the players don't notice the miles going into their legs, the players have bought into the methods of the manager, they believe anything is possible.
"At the start of the season, after we had just come up, I couldn't have said to you that I expected to be in the top six," Warburton says. "But equally I was never going to say to the players that we were aiming to just survive in the decision. We made a pact to prepare well for every game and let that take us where it has."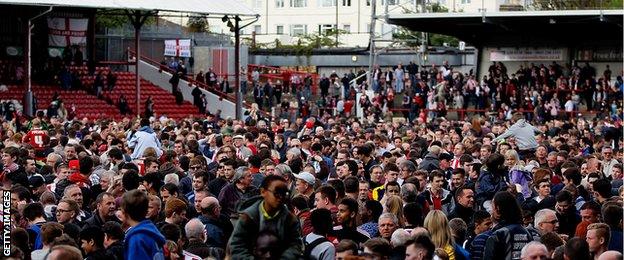 So is talk of the Premier League banned around the training ground. "On the contrary, we talk about it all the time," says Warburton. "They are good enough to go up. Our players have to believe that. They know what they can achieve and if they get the rub of the green and some of the random calls go our way, we will be in a good place come May 2."
In the next two years, Brentford will move into a brand-new 20,000 seat stadium. Like the club's famous Griffin Park, it will also feature a pub in each corner, the only ground in the country to do so. But that also presents a challenge. "Our job, as the football department, is to fill that stadium," says Warburton. "We work closely with the community. We are closer to our fans that any club I know and we are now playing a style of football that is filling Griffin Park every week. The challenge will be to do that when we have 20,000 seats to fill. But that is something we are all aware of."
It remains to be seen if Warburton will be around to see the home dugout of that stadium, but what does Warburton think the future holds? "I want to go as far as I can in the game," he says. "This is one long education for me. I'm loving every minute of it."