Arsene Wenger says Gabriel's lack of English 'a problem' for Arsenal
Last updated on .From the section Football
Arsenal manager Arsene Wenger says £11m signing Gabriel Paulista's English is "very bad" and "a problem", but may still give the Brazilian his debut against Middlesbrough in the FA Cup.
Wenger previously said that Gabriel's poor English could cost his side goals.
"When you don't speak English and you don't understand 'Come out, come back, right, left', it is a problem for a defender," Wenger said.
"You need to know the key words. Offside. Referee. Foul."
The Gunners host the Championship leaders in Sunday's fifth-round tie (kick-off 16:00 GMT).
German defender Per Mertesacker could be rested for the game, with Gabriel expected to play in his place.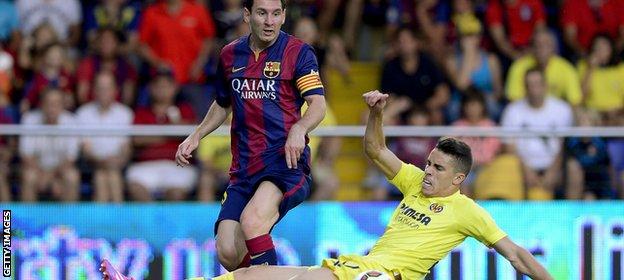 Wenger says the Brazilian has "the physicality and motivation" and "an opportunity to show that now".
The Frenchman, who managed Japanese club Grampus Eight immediately before becoming Arsenal boss in 1996, sympathised with Gabriel's communication difficulties and added that not understanding the local language can actually have an advantage.
"The players are always under tremendous pressure because everything they do is analysed by the pundits and the press," Wenger added.
"The modern player has to live with that - resistance to stress has to be stronger than it was 10 years ago.
"He (Gabriel) will not read the press. He will just focus on his game - that is one of the advantages.
"When I was in Japan, people could say what they wanted."