Europa League: Premier League hopes damaged by competition
Last updated on .From the section Football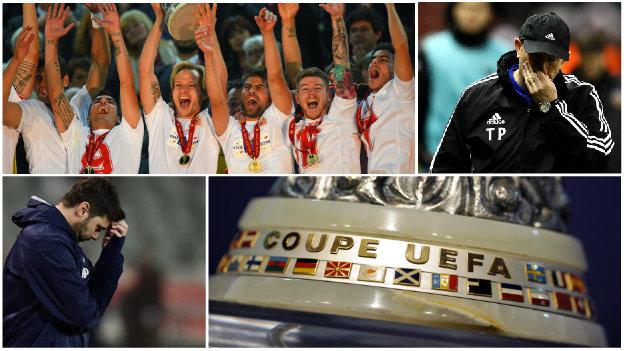 No-one wants to play in the Europa League, right?
Common theory paints the competition as a hindrance, but does it actually harm a club's Premier League hopes?
As Everton, Tottenham and Liverpool prepare for ties in the last-32 on Thursday, BBC Sport has studied 10 seasons since the Europa League introduced group stages to find exactly what impact a campaign has on league performance.
We crunched every season-on-season position change and analysed each league result which followed a Europa League fixture and found the following: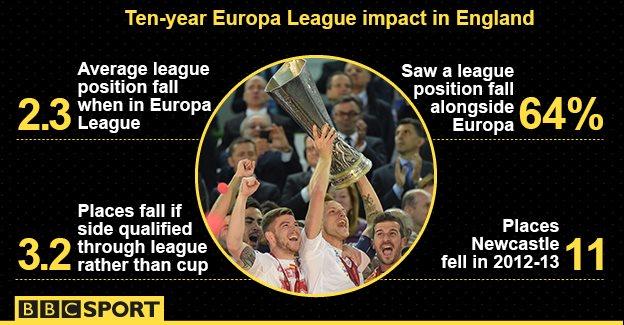 Liverpool excelled domestically when void of Europa distraction last season, Manchester United's league form has improved without any European action this, so is the Europa League worth the hassle?
BBC Sport spoke finance, routine and strategy with former Everton captain Phil Neville, Preston striker Kevin Davies, who played in two campaigns for Bolton, West Brom boss Tony Pulis, manager of Stoke in the competition in 2011-12, and Swansea chairman Huw Jenkins, following their involvement last season.
Thursday to Sunday: Breaking the routine
Phil Neville: "A totally different feeling'
"Thursday nights, Channel 5" was a taunt directed by fans at clubs forced to 'slum it' in the Europa League, while former Chelsea defender Ashley Cole reputedly almost provoked a fight in the Stamford Bridge tunnel when he shouted it at Manchester City players after they were knocked out of the Champions League in 2011.
Footballers often cite they are a breed which "loves routine", but since the tournament began moving fixtures to Thursdays in 2006-07, those involved have been afforded anything but.
And that will not change as Uefa has told BBC Sport the Europa League matchday will not change anytime soon, with schedules set until 2018.
"Playing on a Thursday and then on a Sunday is a totally different feeling to playing on a Wednesday and a Saturday," says Neville.
"The fact you get home on a Friday, then you're in a hotel on the weekend for the Sunday game so your weekend is gone, that plays a part psychologically."
BBC Sport's study of 33 club campaigns from 2004-05 shows an average 2.3 place league fall when balancing Europa League demands.
But Sunday fixtures in the aftermath of Thursday commitments are not the root cause of a troubled season.
Sides average 1.41 points in matches immediately following a European game, compared to 1.43 in their other league games in the same season - a miniscule difference.
Such findings suggest a decline in league fortunes is not down to games which follow a European fixture, but fatigue amassed over an entire season could be the cause.
"The recovery process is much harder," adds Neville. "Normally you get a Sunday off, but your recovery from the Sunday game knocks into the following week and has a cumulative effect. That builds up. The first couple you're fine but it's the third, fourth, fifth game in the group stage that hits you hard.
"It doesn't just affect players but staff members and managers."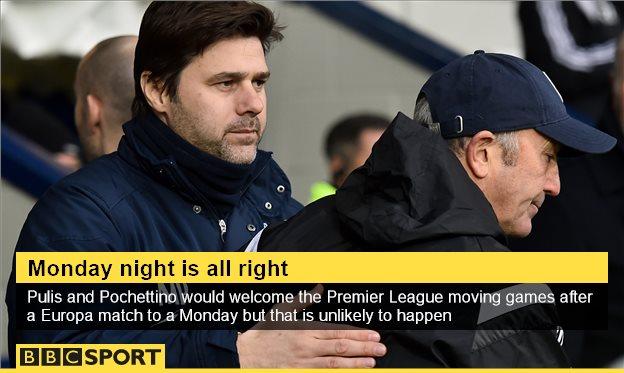 How do managers view it - a hindrance?
Tony Pulis: "It has to be looked at..."
The intrinsic planning that goes into a Premier League fixture calls for time on the training ground.
But extra fixtures starve meticulous managers of time.
The average Europa League run for an English side since 2004 lasts nine games.
Tottenham boss Mauricio Pochettino has suggested the Premier League moves domestic fixtures to a Monday night to allow for an additional recovery day.
"If the Premier League is serious about English clubs doing well, I really think they need to do something about it," Pulis told BBC Sport. "It has to be looked at. A Monday game would help massively."
But the Premier League is keen for all 20 of its teams to abide by a schedule which gives no side an advantage.
Add in the fact the league has just sold over £5bn of television rights - all split into pre-determined time slots until 2018-19 - and ad-hoc Monday fixtures look about as likely as the FA Cup final being held on Mars.
BBC Sport's study suggests the competition hinders a side trying to break through the glass ceiling that exists in trying to reach the Premier League's top four.
Only two sides, Manchester City in 2010-11 and Tottenham a year later, have competed in the Europa League while ending a season in the coveted Champions League qualification places.
Sides finishing fourth to seventh in the table have fallen an average 3.2 places the following season with the additional Europa workload.
Pulis's Stoke side in 2011 - in the Europa League thanks to an FA Cup final defeat - dropped just one league place but encountered long league trips to Norwich after a flight home from Switzerland and Sunderland after visiting Ukraine.
"I usually pick my team on a Tuesday so the lack of preparation was a real disadvantage," added Pulis, who guided Stoke into Europe for the first time in 37 years. "You can't get lads out on the training field to do what you need.
"At Stoke I thought our lads enjoyed the freshness of the competition a lot because we were new to it. Some Premier League games after it, I almost got the sense we were on a downer, the league game was devalued."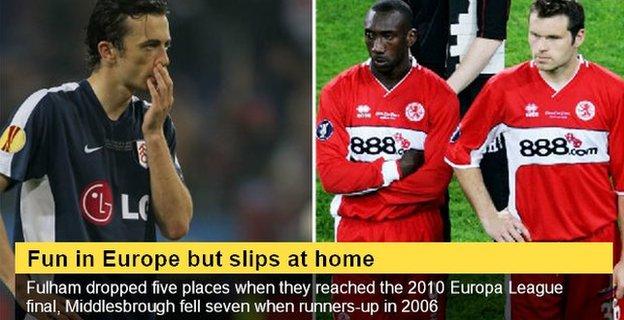 So what's the best approach?
Kevin Davies: Play, sleep, train, fly
A tonic of meticulous preparation and a full-blooded commitment to the Europa League are needed to balance a push for European success with progress at home.
Newcastle are a side who have seemingly struggled with the balancing act, falling nine, six and 11 places in the league respectively in the last three seasons they were involved in the Europa League - called the Uefa Cup until 2009.
"When the game was a few hours away rather than a short flight, we stayed over after it, did a recovery session in the morning and then flew home. I think that really worked," said Davies.
"I think there can be a mental fatigue, but it is a different story when you're winning, games come thick and fast but you can't wait for them."
Fatigue - physical or mental - can be managed with "skilful rotation" by a manager according to Swansea chairman Huw Jenkins, who is conscious of players being sucked into a negativity surrounding the Europa League.
"If there is an excuse why you don't play well, people are quick to focus and that has crept into football," Jenkins told BBC Sport.
"Everybody talks about the downside of the Europa League before you kick a ball. Yet to play regularly in the Champions League, players are doing the same thing and it's never discussed."
Neville added: "I think I saw Roberto Martinez in a study once say managers get back from Europe and change the team for the next game, when actually you should change your team the game before Europe, then pick a team for the Europa game and keep it the game afterwards.
"He has done that a lot this year and what I guess he is trying to say is look, don't use this as an excuse.
"It annoys me you may work for nine months, get into Europe, celebrate and then come back for pre-season and the Europa League has become a noose around the neck. We embraced the competition at Everton and that is what you have to do."
Is it worth it financially? Can you make a profit?
Swansea chairman: "Most clubs will profit"
The Europa League hands out prize money in every round, not to mention ticket-sale revenue, so the competition offers a fresh income stream.
"In general, it's highly likely that most clubs would make a profit," added Swans chairman Jenkins.
The Welsh side reached the round of 32 in 2013-14, a feat which would net £1.2m this season without accounting for ticket sales or the financial rewards earned per win (£148,000) and draw (£74,000) in the group stage.
Prize money comparison

Revenue stream

Europa League

Champions League

Prize for reaching group stage

£958,000

£6.3m

Prize for a win

£148,000

£737,000

Prize for draw

£74,000

£369,000

Prize for reaching last 16

£258,000

£2.6m
The competition's winners will generate over £7m throughout the tournament in prize money alone. Throw in the bounty generated from a full home stadium in each fixture, new sponsorship opportunities and this competition is far from a place for Europe's paupers.
And with tournament victory offering a place in the Champions League qualifying rounds for the first time, a second pot of gold could await the winners.
"The important one is to maximise the income with the home games," added Jenkins, who said Swansea profited financially from participating.
"The players had a share of what profit we made. That makes sure there is incentive there so they can share in any success."
Jenkins estimates sending a team to a fixture abroad runs up an average bill of £150,000 in travel and additional costs.
So surely this is a financial no-brainer? Get stuck in. But a drop of one Premier League place in 2013-14 cost £1.2m in prize money. Swansea fell three.
Like every other team analysed, their Europa League involvement may not have been the cause of a league demise, football is rich in variables after all.
But in an era of growing rewards in the domestic game - fuelled by increasing television deals - maybe your team could do without those trips to the far corners of Europe after all.
| | | | |
| --- | --- | --- | --- |
| Club | Europa League games played in season | Change in league position (places) | Season |
| Newcastle | 14 | -11 | 2012-13 |
| Newcastle | 12 | -9 | 2004-05 |
| Bolton | 10 | -9 | 2007-08 |
| Everton | 2 | -7 | 2005-06 |
| Middlesbrough | 15 | -7 | 2005-06 |
| West Ham | 2 | -6 | 2006-07 |
| Newcastle | 12 | -6 | 2006-07 |
| Tottenham | 10 | -6 | 2007-08 |
| Portsmouth | 6 | -6 | 2008-09 |
| Fulham | 19 | -5 | 2009-10 |
| Blackburn | 8 | -4 | 2006-07 |
| Everton | 10 | -3 | 2009-10 |
| Swansea | 12 | -3 | 2013-14 |
| Aston Villa | 2 | -3 | 2010-11 |
| Bolton | 8 | -2 | 2005-06 |
| Manchester City | 16 | -1 | 2008-09 |
| Fulham | 14 | -1 | 2011-12 |
| Stoke | 12 | -1 | 2011-12 |
| Tottenham | 12 | -1 | 2012-13 |
| Millwall | 2 | 0 | 2004-05 |
| Tottenham | 10 | 0 | 2006-07 |
| Everton | 2 | 0 | 2008-09 |
| Aston Villa | 10 | 0 | 2008-09 |
| Aston Villa | 2 | 0 | 2009-10 |
| Everton | 10 | 1 | 2007-08 |
| Liverpool | 14 | 1 | 2010-11 |
| Tottenham | 8 | 1 | 2011-12 |
| Liverpool | 12 | 1 | 2012-13 |
| Manchester City | 12 | 2 | 2010-11 |
| Blackburn Rovers | 4 | 3 | 2007-08 |
| Tottenham | 8 | 3 | 2008-09 |
| Middlesbrough | 10 | 4 | 2004-05 |
* Wigan and Birmingham have not been included in calculation for averages as they competed in a lower league than in the previous season alongside Europa League competition.
** Teams studied played in Europa League qualifiers or first round proper. Those entering the Europa League after playing in the Champions League group stages are not included.
***All prize money sums calculated as of exchange rate on 12 February.