Boiler-suit fans clash with police on Gladbach pitch
Last updated on .From the section European Football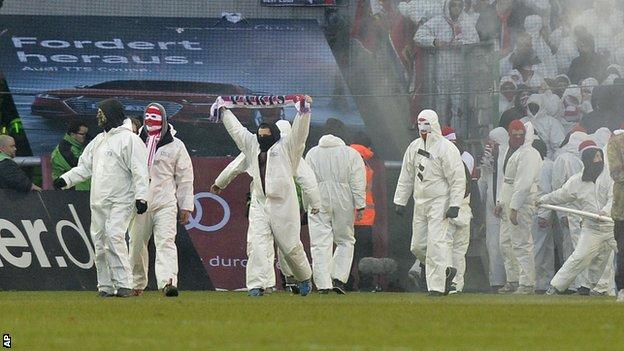 Fans wearing boiler suits had to be led off Borussia Moenchengladbach's pitch by police following the side's 1-0 win over Cologne.
They were seen entering Stadion im Borussia-Park and then lit flares in the section they were congregated in.
But after Granit Xhaka headed in an injury-time winner, a handful of them invaded the pitch.
Peace was soon restored with the result moving Gladbach up to third spot in the Bundesliga at the expense of Schalke.
A Borussia statement read: "Negative emotions erupted in the away section after the final whistle and a handful of anarchists got out over the fence and into the interior of the stadium.
"There were arrests and the acquisition of personal data."
The German Football Association said they have opened an investigation into the incident, but did not specify what sanctions could potentially be applied.
Cologne meanwhile, said they were "disappointed and annoyed" by the incident, adding that those involved had committed "massive damage" to the club and its fans.