Swansea City: Club director hopeful on American investment
Last updated on .From the section Football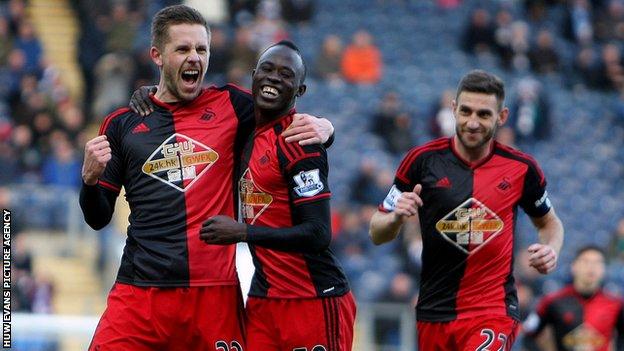 Swansea City director Huw Cooze is hopeful the club will receive American investment but insists the Supporters' Trust shares are not for sale.
The Swans have been in talks with American businessmen John Jay Moores and Charles Noell since last autumn.
The former owners of Major League baseball team the San Diego Padres may make a significant cash injection in return for a 30% stake.
"Talks are on-going and there's nothing on the table yet," said Cooze.
"But I would imagine they would make that offer and be coming in here in the next month or so."
There has been no overseas investment in Swansea since the club was bought from Australian Tony Petty in 2002 when the Swans were struggling near the bottom of the Football League.
The supporters' trust - who own 21% of the club - has in the past voiced its concerns about foreign ownership and club chairman Huw Jenkins said in November that any investment would need the approval of supporters.
"The Americans and our own shareholders know the Supporters' Trust shares are not for sale," added Cooze, the supporters' trust representative on the Swansea board.
"They never will be and they appreciate that, and we will work with them if it (the deal) happens.

"The club's lawyers are dealing with things as we speak but people here still feel they have a big part to play even if the Americans come in.
"It is only 30% of the shareholding they are interested in purchasing at this present time, but the Supporters' Trust will not sell any of its shares and it will be others that get slowly diluted.
"We feel we're a community club and we don't need outside investment, individuals will say different and that's up to them."
Cooze also revealed talks with Swansea City Council over the purchase of the Liberty Stadium have reached an advanced stage
The Premier League club are currently in negotiations to buy the ground they share with the Ospreys rugby region and have held "positive, exploratory" talks with the city council.
Plans have been approved to expand the existing capacity to 33,000 with more than 8,000 currently waiting for season tickets.
"We know we're possibly losing a generation by not expanding," Cooze said.
"We've been in the Premier League for four years and it is likely we're going to be here next season.
"We're selling out every game but those eight-year-olds when we came into the Premier League will be 13 before you know it, and the danger is they've gone to other sports and you've lost them for good."