Wolves: Kenny Jackett says timeouts would help coaches
Last updated on .From the section Football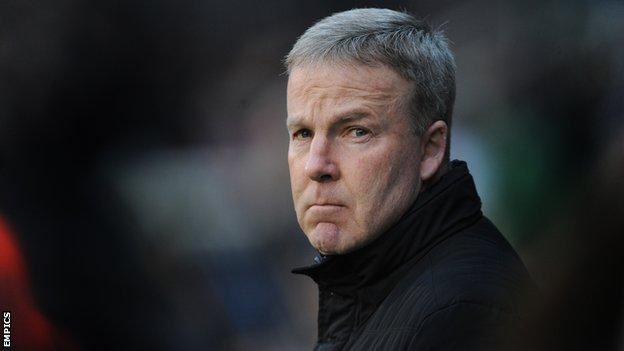 Wolves boss Kenny Jackett says the introduction of timeouts in football could be a good idea - but only from a coach's point of view.
The 53-year-old head coach admits it might spoil the game for fans but would give team bosses a tactical advantage.
"I'm sure other coaches will tell you that it wouldn't be too bad if you could have a timeout now and then.
"As we went 2-0 up at Huddersfield last week, I could have done with a timeout to reorganise," he told BBC WM 95.6.
"At times, just after our second goal, we were camped in our own box, but we came through it and scored two further goals."
Americans have time for timeouts
Timeouts are a feature of mainstream sport in the United States, being used in basketball, baseball, ice hockey and American football.
Wolves failed to follow up their impressive win at Huddersfield when they lost 2-0 on Saturday at promotion rivals Norwich City.
And, although Jackett could probably have done with timeouts in the wake of the Canaries' goals, he admitted they would not help in terms of football's responsibility to entertain.
"Timeouts would spoil the game definitely," he said. "It wouldn't be as good as a spectacle. But being a spectacle, as well as entertaining and attacking, it is part of our obligation. We are in the entertainment industry.
"We get paid for getting results and winning games, which is always the aim, but to have good structure and attacking flair is important as well."