Swansea City director Huw Cooze: Use TV billions to cut ticket prices
Last updated on .From the section Football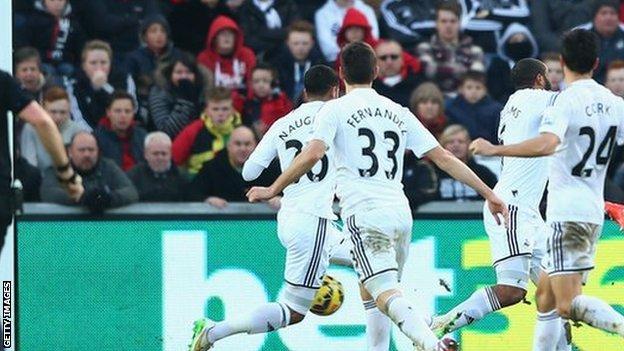 The Premier League's £5.14bn TV rights deal starting in 2016 should prompt a ticket price cut for fans, says the Swansea director representing supporters on the club's board.
Swansea City supporters society owns 21.1% of the club's shares.
"It's an area of high unemployment and we need to try and get as many supporters through the turnstiles as we can," said Cooze.
All-seater stadiums have been compulsory in the Premier League and Championship since an inquiry into the 1989 Hillsborough disaster, which claimed the lives of 96 Liverpool fans.
Supporters' trusts for the four main clubs in Wales - Swansea, Cardiff City, Newport County and Wrexham - have backed the call for a rethink by the UK government.
Safe-standing areas, featuring retractable seats, have been introduced abroad, most notably in Germany.
Cooze wants to bring in more fans and says leading clubs: "need to look at the pricing and rail seating that has come from the German model.
"And we know that the German model price system is fantastic.
"We are never going to get there unless everybody gets there, but we can certainly look at our pricing. That's one of the things I'm keen to stress and push through at our board level."
A 2014-15 Swansea season ticket has cost fans from £429-£499 with individual tickets ranging between £35-45.
However not everyone supports the idea of reducing ticket prices and Hull City owner Assem Allam is not in favour of such a price cut at his club.
Michael Brunskill of the Football Supporters' Federation said many fans "love" to stand, claiming it can "vastly improve the atmosphere and camaraderie" at games.