Wayne Rooney: Simon Grayson says Man Utd striker did not dive
Last updated on .From the section Man Utd
Wayne Rooney did not dive to win a penalty in Manchester United's 3-1 FA Cup win at Preston, according to North End manager Simon Grayson.
The England striker went down in the box after a challenge from Preston goalkeeper Thorsten Stuckmann appeared to make little or no contact.
"I am not saying it wasn't a penalty. I'm saying there was no contact," said Grayson.
"It wasn't a dive. He's gone to get out of the way and taken evasive action."
Rooney converted from the penalty spot for United's third goal in the fifth-round tie - his first strike in nine games - as United came from behind to set up a quarter-final match at home to Arsenal.
But BBC pundits were split
Former Republic of Ireland midfielder Kevin Kilbane said Rooney did dive - because the United forward could have "hurdled the challenge" of the German keeper.
"There's no contact. Wayne tried to leave his leg in there a little bit, just looking for it," said Kilbane. "It's still a dive. I really do think that.
Phil Neville backed his ex-United team-mate: "If he left his leg there it would be a leg-breaker. He had to dive to get out of the way."
Rooney's international manager Roy Hodgson said: "If you are a referee in the run of play without replays I don't think any of us would have said it is not a penalty.
"The goalkeeper has gone with both feet. Wayne has touched it past him."
The ex-pros were more conclusive on Twitter
Former Crystal Palace striker Mark Bright: "Can't wait to hear what Rooney says as the captain of Man Utd about that penalty. #Dive all day long."
Ex-Southampton forward Matt Le Tissier: "It was entirely feasible to have stayed on his feet and avoid the poor challenge from keeper. He chose to dive and conned the ref."
Trevor Sinclair, former England, Manchester City and QPR winger: "Rooney dive but every right to #suicidalkeeping #gameover"
Former Aston Villa, Liverpool and England forward Stan Collymore: "Blatant dive. No contact whatsoever. Sad to see."
Keith Gillespie, ex-Manchester United and Newcastle winger: "Let's be honest Rooney took advantage of the situation. He made an instant decision and had to stand by it. Happens every week."
So what is the law?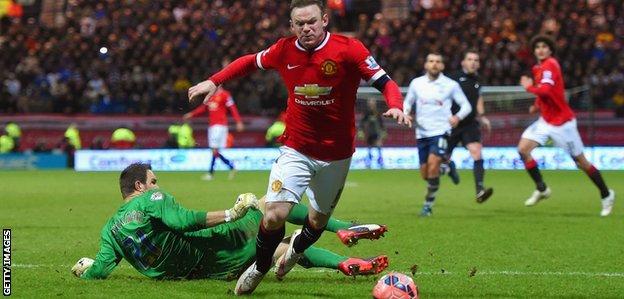 According to the FA's rules, a penalty is awarded if an opposition player commits the following offences "in a manner considered by the referee to be careless, reckless or using excessive force":
- kicks or attempts to kick an opponent; trips or attempts to trip an opponent; tackles an opponent
The FA's guidance on simulation is that the referee "must be convinced" there has been "no physical contact whatsoever" and that the referee "should be 100% certain that a player has simulated (feigned) an unfair challenge" before booking them for unsporting behaviour.
So what next for Rooney?
Hodgson confirmed the 29-year-old will continue to feature as a striker for the national side, while again suggesting Tottenham's in-form striker Harry Kane could be named in his squad for next month's double-header with Lithuania and Italy.
Rooney has been used in midfield by Manchester United for fixtures in both league and cup this season and his 88th minute penalty was his first goal of 2015.
Hodgson said: "He's scored the bulk of our goals, he's the captain of our team, so it would take a lot before I start to think along those lines.
Rooney has scored six goals in his last six games for England, taking his tally to 46, just three behind United and England World Cup winner Charlton.
Rooney said in 2013 that he considered his future at United after being played in midfield by then manager Sir Alex Ferguson.