Former Italy coach denies 'too many blacks' comments are racist
Last updated on .From the section European Football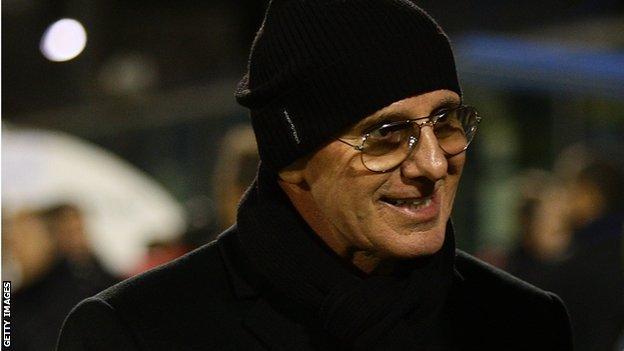 Former AC Milan and Italy coach Arrigo Sacchi has denied he is racist after claiming Italy's youth set-up features "too many blacks".
Sacchi, 68, criticised the number of "foreigners" in the lower leagues at an awards ceremony.
According to Italian media reports, Sacchi said: "In our youth sector there are too many blacks."
He later clarified: "I just wanted to underline the fact that we're losing our national pride and identity."
Sacchi attended the Viareggio Tournament this month, which is regarded as the most prestigious youth tournament in Italy.
He is reported as saying at Maestrelli awards ceremony in Tuscany on Monday: "I'm not racist and my history as a coach shows that, but watching at the Viareggio Cup makes me think there are too many coloured players.
"Business interests now come first. Italy has no dignity, it has no pride: you shouldn't have squads including 15 foreigners."
Sacchi, who won back-to-back European Cups with Milan in 1989 and 1990 with a team featuring Dutch attacking trio Frank Rijkaard, Ruud Gullit and Marco van Basten.
When asked to clarify his comments by La Gazzetta dello Sport later on Monday night, Sacchi said: "I have been misrepresented, do you really think I'm racist?
"I was just saying that I'd watched a match in which there was a team that included four coloured boys. My history speaks for itself, I've always trained teams with diverse coloured players and they won a lot, both at Milan and in Madrid.
Sacchi was Italy coach when they were World Cup runners-up in 1994. His last role in the game came as director of football at Real Madrid 10 years ago.
In October, the president of the Italian football federation, Carlo Tavecchio, was banned for six months by Uefa for making racist remarks.
The 71-year-old apologised after referring to "banana eaters" when discussing foreign players during his election campaign in July.
Inter Milan were fined 50,000 euros in February 2013 after their fans were found guilty of racially abusing former Inter striker Mario Balotelli in a derby against AC Milan.
Two months later, AC Milan's Kevin-Prince Boateng walked off the pitch against Italian team Pro Patria after he was racially abused by their fans.