Algerian FA president Raouraoua withdraws from Fifa vote
Last updated on .From the section Football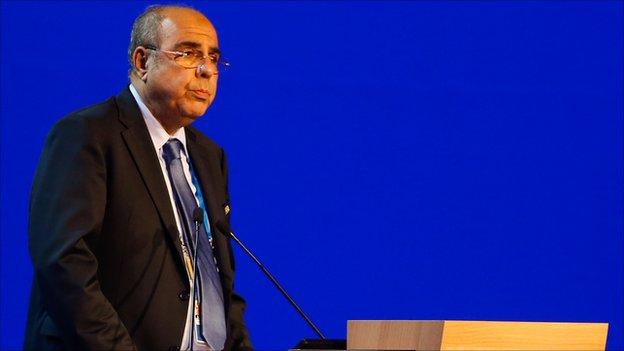 Algerian Football Federation president Mohamed Raouraoua has withdrawn from Fifa's executive committee elections.
The 67-year-old will now lose his place at football's top table in a dramatic fall from grace.
The former boss of Algerian television was elected as one of Africa's four Fifa representatives four years ago.
It marked a swift rise up the ladder of football politics and marked him out as a potential future leader of the Confederation of African Football.
Raouraoua was due to be one of four candidates in the running for two places on the committee to be decided at Caf Congress in Cairo on 7 April.
Jacques Anouma of Ivory Coast, Tarek Bouchamaoui of Tunisia and Constant Omari Selemani of the DR Congo are the three who remain in the race.
Anouma is an incumbent while the other two are attempting to win a place for the first time.
Each of Caf's 54 member countries will vote in Cairo.
Raouraoua was elected in 2011 to a seat traditionally held by a candidate from the southern region of the continent in a surprise flouting of previous convention.
Although it was not written into its statutes, Caf had previously chosen its executive committee members for Fifa from various geographical regions with one seat automatically held by the organisation's president.
However, such was Raouraoua's initial appeal that this tradition was dispensed with.
The Algerian was touted as a possible successor to long-standing Caf president Issa Hayatou but has since been frozen out.
In April, Caf are to formalise rules on the election of Fifa executive committee members.
From 2017 they will reserve one seat for the Caf president, one for a French speaker, one for a candidate from an English speaking country and one to be shared among the Arab-speaking and Portuguese-speaking countries.