John-Joe O'Toole Day: Red card 'unlucky' says Cobbler's boss
Last updated on .From the section Northampton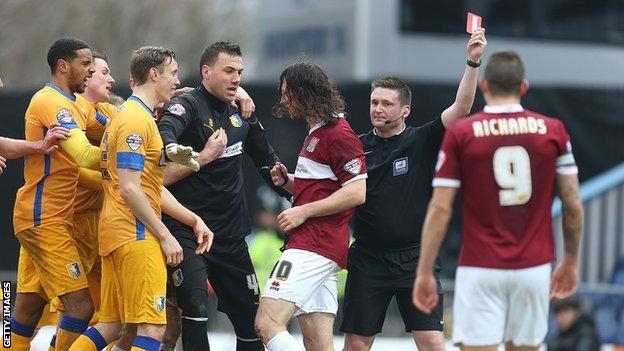 Northampton boss Chris Wilder believes John-Joe O'Toole was unfortunate to be dismissed at the weekend.
"We've told him to realise he's a good player at this level and he might come in for provocation and gamesmanship," Wilder told BBC Radio Northampton.
"I think he's been extremely unlucky."
More than 1,200 Cobblers supporters had made the trip to Field Mill, many donning long, dark wigs and headbands to display their affection for O'Toole following his starring role in his side's six-game unbeaten run, which came to an end last week.
But the midfielder saw red after tangling with Sutton in the Mansfield penalty area, although the Cobblers managed to salvage a draw with a late Marc Richards penalty.
And Wilder believes the Stags made a concerted effort to unsettle the former Cheltenham Town man.
"John-Joe has retaliated. He was gripped in a headlock and if a penalty is given, the second bit doesn't happen," he said.
"If somebody grabs me around the neck, I'm going to try and push them off.
"I understand the opposition's tactic, because of the build-up to the day. They probably thought they might do bits and pieces to provoke John-Joe."