Linfield unhappy about Friday night fixture scheduling
Last updated on .From the section Football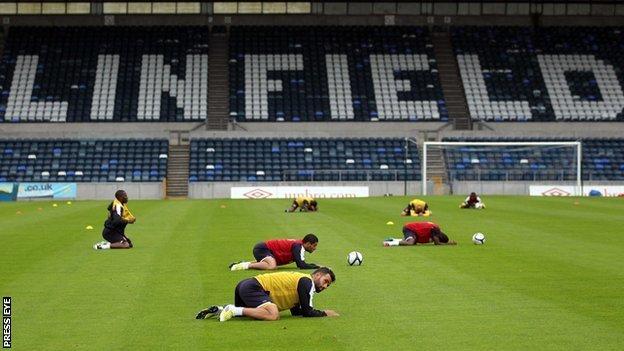 Linfield say they have been forced to play their Premiership game against Portadown on Friday night, rather than Saturday, against their wishes.
The club have stressed they rescheduled the game after being told to do so by the Northern Ireland Football League "with great disappointment".
"This decision has been imposed upon the club," read a club statement.
"It is contrary to the wishes of the club's board of directors and also of many of our supporters," it added.
"Many of these supporters travel faithfully from various destinations across the country and further afield."
The NIFL have rescheduled a number of top-flight fixtures for Friday nights on a trial basis this season in a bid to boost attendances and are keen that all Premiership clubs take part in the experiment at some stage.
However Linfield say the fixture change was thrust on them at short notice, causing significant inconvenience to supporters.
"My understanding is that clubs have to be given 28 days' notice of a rearranged fixture but we were only informed of this switch about a fortnight before it," Blues chairman Jim Kerr told the Belfast Telegraph.
"It's only right that clubs are treated in a courteous manner and there is no reason why, if both clubs can agree, the game cannot be switched well in advance.
"Clubs and supporters need sufficient notice with regard to any proposed changes and Linfield fans come from all over the province.
"We feel let down by this decision and it was the lateness of it which rankles. I would take the traditional view that Saturday afternoon is the most convenient time for the fans," he added.
The Windsor Park club lie three points behind Crusaders in the league table.