FA reveals why Giuseppe Bellusci was cleared of racial abuse
Last updated on .From the section Leeds United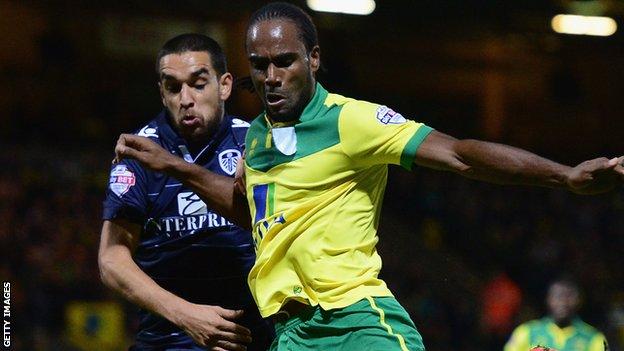 Leeds defender Giuseppe Bellusci was cleared of racially abusing Norwich's Cameron Jerome because he actually threatened to give him "a black eye".
Bellusci, 25, was accused of calling Jerome a 'negro' during the 1-1 draw between the sides in October.
But the FA panel accepted he said the word 'nero' in relation to a black eye.
The document published by the FA said: "On the balance of probabilities, we find that Mr Bellusci used the word 'nero' once, in the context that he claims, and that Mr Jerome misheard or misinterpreted what was said as 'negro'.
"Once that misapprehension was planted in his mind, Mr Jerome's reaction to it was entirely understandable. It inevitably set off an inquiry that was properly pursued and which culminated in this hearing."
It continued: "In arriving at our decision, the commission reiterates that we found Mr Jerome to be a truthful witness who honestly believed that he had been racially abused. He may well continue to do so.
"We were satisfied that at all times he sought to assist the commission, but that he was mistaken in his hearing and understanding of what Mr Bellusci said to him."
Speaking at the time of the hearing, Norwich and Jerome said they were "disappointed" with the verdict.
"I'm glad the commission has said that they believe I truthfully reported what I genuinely believe I heard," said 28-year-old Jerome.
"While I'm obviously disappointed with the not-proven verdict, now I'm just focusing as always on my next game for Norwich City.