Fawaz Al Hasawi: Forest owner clarifies Dougie Freedman contract
Last updated on .From the section Football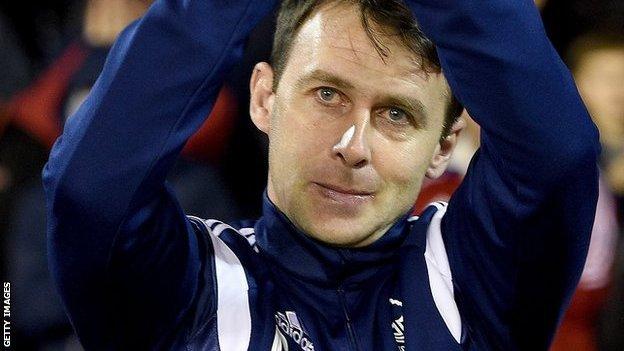 Nottingham Forest owner Fawaz Al Hasawi has moved to clarify his previous comments that manager Dougie Freedman's contract was only for three months.
But in a BBC Radio Nottingham interview on Wednesday Al Hasawi said: "We signed only for three months."
He has since said the deal is 18 months and would be "reviewed in the summer".
The statement read: "When Dougie and I discussed the role we mutually agreed an 18-month deal, which is what is currently in place.
"Within that deal we agreed a clause which presents both parties with the opportunity to review their position in the summer.
"This is merely a formality and it is something which is very common in sport."
Al Hasawi commented he was "disappointed" and "saddened" with the way a series of interviews held on Wednesday evening had been reported and would "restrict interviews to the club's website from now on".
He had said on Wednesday: "In the end we will decide for both of us if he will continue for next season.
"But to be honest, he wanted it to be like this, that we sign three months."
The Reds chairman said his relationship with the former Crystal Palace and Bolton boss was good.
Forest are unbeaten under Freedman, winning their first two games under him and then drawing at Blackpool on Saturday.
Al Hasawi said he had been impressed and hoped his manager would remain at the City Ground next season.
"He said to me 'Fawaz, we're going to work with each other and then you're going to tell me if you really like my work'," added Al Hasawi.
"I'm talking on a daily basis with him on the phone. It seems like he's doing a good job and I would like him to stay. I would like to see good results for Forest. This is the most important thing to me."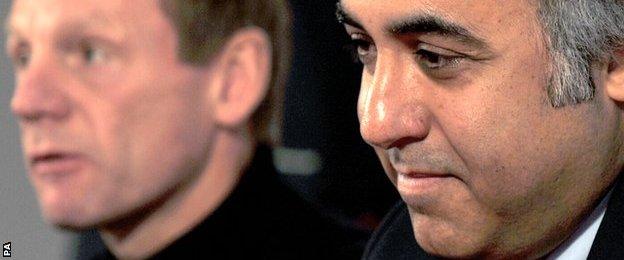 Al Hasawi also revealed that Forest legend Pearce could still have a role with the club in the future, despite turning down the chance to stay in an alternative role after his dismissal.
The Reds chairman said Pearce, 52, was reluctant to be seen to be interfering, adding: "I told Stuart to stick around to be a consultant or an advisor at the club.
"I told him about his role. He came back to me and he said 'Fawaz, I've thought about it and I've decided not to take this job now, maybe later on'."