Swansea boss Garry Monk backs Louis van Gaal in long-ball row
Last updated on .From the section Football
Swansea City boss Garry Monk has dismissed the idea that Manchester United are a "long-ball" team, before their Premier League game on Saturday.
But Monk thinks United use a variation of tactics and that this is a sign of their quality.
"You can't just have one set way of playing and Manchester United have done that well this season."
He added: "Let's not forget they've only lost one of their last 15 league games so they're very effective whatever way they play.
"In this game nowadays you have to be adaptable."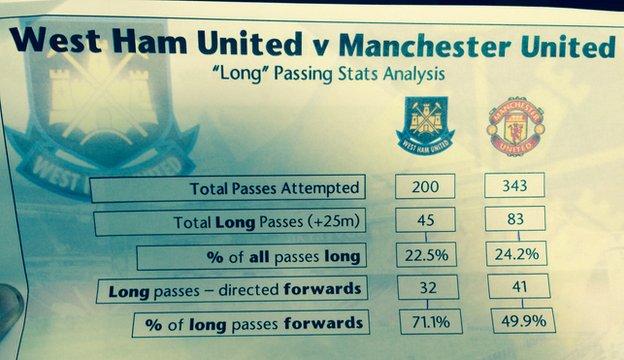 Allardyce's comments prompted a remarkable response from Van Gaal, who displayed a series of diagrams and statistics to journalists as he defended his methods in the face of the Hammers manager's criticisms.
According to sports data company Opta, Van Gaal's United do play more long balls than the United sides under the leadership of former Red Devils managers David Moyes and Sir Alex Ferguson during the previous two seasons.
"You have to look at the data and then you will see that we did play long balls, but long balls wide rather than to the striker," Van Gaal said.
The former Barcelona boss has guided United to a current third place in the Premier League table, six spots above Swansea.
When the sides met on the opening day of the season, the Swans claimed a first league victory at Old Trafford as they won 2-1.
United have since recovered from a poor start to the campaign, and Monk expects Van Gaal's team to pose a significant threat whatever their tactical approach.
"They can adapt their style for any given moment or period of the game. That was the case against West Ham," added Monk.
"I watched that game and I think the long balls I saw were in the last five minutes, which quite rightly they used to their strength with [Marouane] Fellaini in a forward position.
"There's no problem with that whatsoever. It actually shows good strength that they can be adaptable.
"Manchester United play fantastic football and they've got great, world-class talent all across the pitch and that's something we have to be wary of."