Rangers: Nicky Clark denies board issues are affecting players
Last updated on .From the section Rangers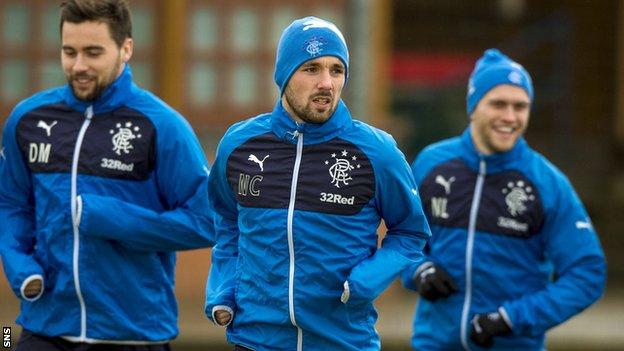 Nicky Clark insists Rangers' off-field issues are not responsible for the team's recent slump in form.
And despite having gone three games without a win, striker Clark insists the players have not lost focus.
"We can't let it affect us, we need to listen to the coaches and try to keep that stuff out of our heads," he said.
"We see everything in the papers like everyone else does, but we just need to make sure we concentrate on the training field to be ready for the games that are coming up.
"The results have been disappointing in the last couple of weeks. It's a bit of a hard time on the pitch just now but I'm sure if we keep working hard on the training ground the results will turn round again."
Third-place Rangers are currently 22 points behind Championship leaders Hearts, and two points adrift of Hibernian, although the Ibrox outfit do have three games in hand over both Edinburgh clubs.
And Clark is adamant his side are not gripped by fear that promotion is now beyond their reach this term.
"At the start of the season we knew it was going to be hard with the teams that are in the league, and it's turned out that way," he added.

"Obviously we'd love to be at the top of the table, pushing to win the league, but we just need to keep concentrating, taking each game as it comes and try to finish as high as we can.
"I wouldn't say there's a fear but we're looking at the table knowing we need to perform better in games to get promotion.
"Hearts have a lead just now but we need to keep going and keep telling ourselves we can catch them. It looks unlikely but you never know, Hearts could go on a streak of losing three or four games in a row so we need to make sure we keep winning games."
Clark and his team-mates shared their Murray Park training ground with Inter Milan on Thursday, ahead of the Italians' Europa League meeting with Celtic.
And Rangers' interim manager Kenny McDowall insisted the decision to provide Inter with facilities was not aimed at helping them to victory over Celtic.
"There is no doubt (some people will think that) but that's not the case at all," he said. "We welcome any team, the game can't be that bad that we don't invite people in.
"As coaches we travel all over the world and we ask teams if we can come in and watch training, and they allow you to come in with open arms when they know where you're from, so it's nice to be nice."