Football and racism: How are ethnic minority fans treated?
By Nick Royle & Phil Harlow
BBC Sport
Last updated on .From the section Football520
The issue of racism in football has returned to the headlines this week after footage emerged of Chelsea fans preventing a black man from boarding the train on the Paris Metro.
Prime Minister David Cameron has described the incident as "extremely disturbing and very worrying", while the Football Supporters' Federation, the Football Association and Chelsea have all condemned the behaviour shown in the video.
BBC Sport has spoken to fans from black or ethnic minority backgrounds to examine their experience of going to football in 2015.
Nikhil Mulane, 29, Chelsea fan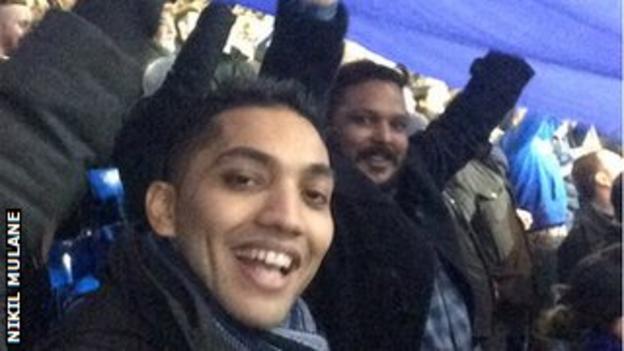 "I've been going to Chelsea games for about 11 years and I've never had a bad experience inside the ground or on the way on the train or the bus.
"I've sat in different sections of the ground and I've always been made to feel welcome. In the last few years I've gone more often and I've made friends with people that have been season ticket holders for years. I just feel part of the club.
"For me, going to the football has been something really positive since I moved to England from India about 13 years ago."
Ridwana Wallace-Laher, 36, Bradford fan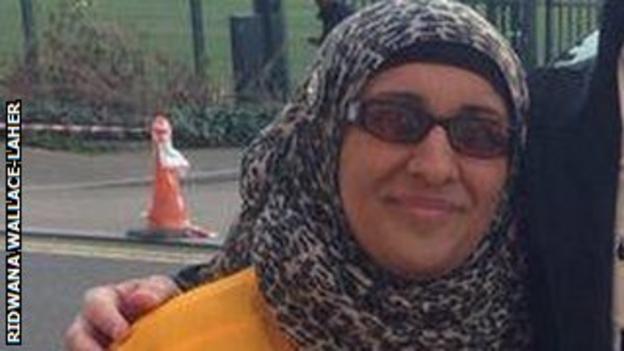 "I've been a season-ticket holder for the last three or four years - we have two little girls and they have started coming with us.
"We go to the majority of away games as well and it is normally a very positive experience. I don't think I have ever heard any racist chants. You also feel the stewards or the police are there to protect you if need be.
"I wear a hijab when I go to games. I do get some funny looks sometimes from people, but I have had no comments."
Kapil Kakar, 31, Arsenal fan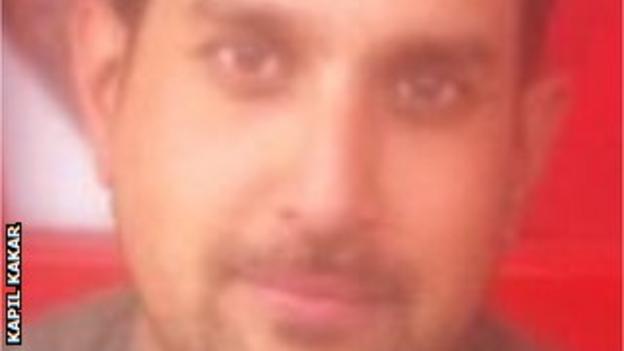 "There was one incident in the 'Invincible' year of 2004, when an old chap started shouting the n-word, saying there were too many black players in the team.
"It made everyone uneasy - no-one supported him and a complaint was made to a steward. He was a season-ticket holder and I did not see him at the next game.
"With England at Euro 2004, the Portugal fans were fine but some England fans turned on a Sikh supporter, chanting 'You're not one of us, you're never going to be'.
"But I have so many different friends because of football. If I had too many problems with racism, I wouldn't go back. That hasn't happened."
Gil Okai, 47, Newcastle fan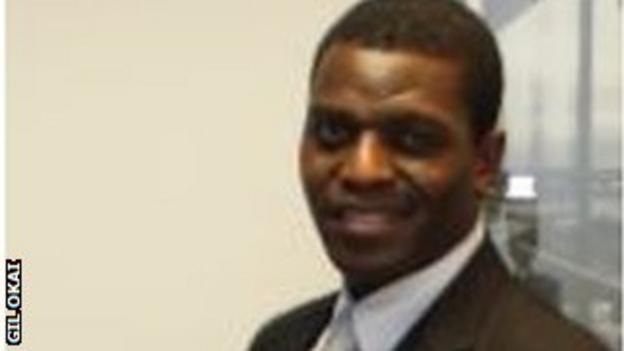 "When I first started going in 1976 I didn't find any major issues, but things definitely darkened in the mid 1980s when there was definitely a strong link with the far right. I can remember being warned off going to matches by the police in the late 80s.
"We've had players like Andy Cole, Les Ferdinand and Ruel Fox here and Newcastle fans took them to their hearts as great players and gentlemen. We've practically kidnapped Faustino Asprilla, such is the love we have for him here.
"I haven't got rose-tinted spectacles and if you move around the ground, you do get pockets where it isn't as positive but the fact white-skinned fans are draping the Senegal flag (in tribute to striker Papiss Cisse) over the side of the stadium is a great symbol."
Perminder Bassi, 43, Wolves fan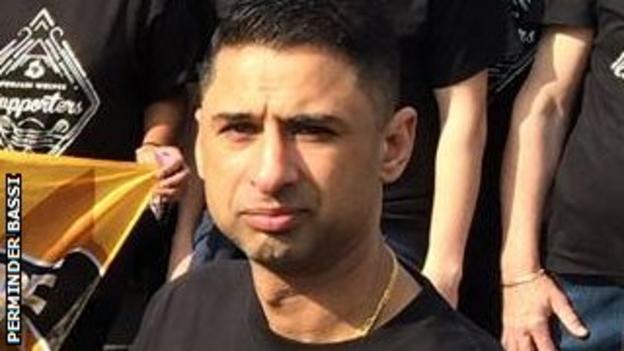 "When I first started going to Wolves games around 1987 there was the odd incident but it was sporadic - there'd be racist chants about other teams' fans, that sort of thing.
"I don't think racism is entirely eradicated and I don't think it ever will be, but over the years I've definitely noticed things getting better. Asian fans were very few and far between but Molineux is properly multicultural now, just like Wolverhampton is.
"There is definitely more of a family atmosphere and the experience of going to games is good. You don't get fights or things like that any more."
Taz Saleem, 46, Sheffield United fan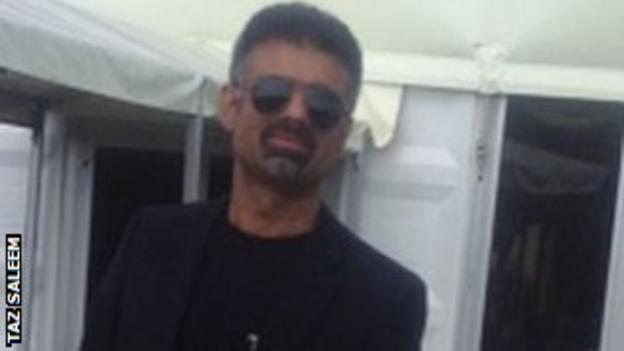 "I feel I've been very fortunate. We all know racism happens but I haven't been on the end of any myself.
"In my work with Football Unite, Racism Divides, I've handed out thousands of anti-racism leaflets outside the ground and in all that time there was only one person who refused to take one - and refused in a way so I knew why he didn't want to take it.
"I am sometimes a bit wary, but nobody's ever used any racist language against me."
Saif Ali Akbar, 19, Liverpool fan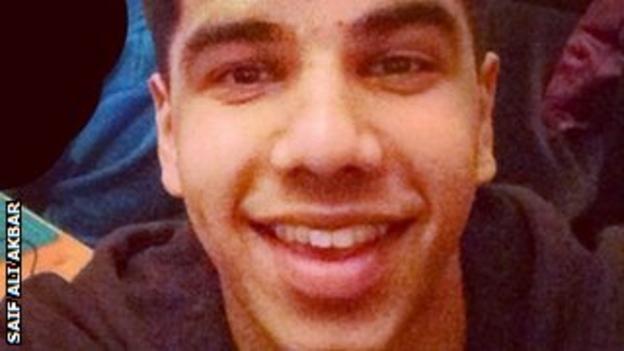 "I have never come across anything. We turn up for a game, find a parking spot, hang around the stadium for a bit. It's all completely normal.
"I have been a member of the club for over a year now, and the lack of racism encouraged me to become a member.
"Any worries I might have had have completely gone."
Nicole Khisa, 16, Tottenham fan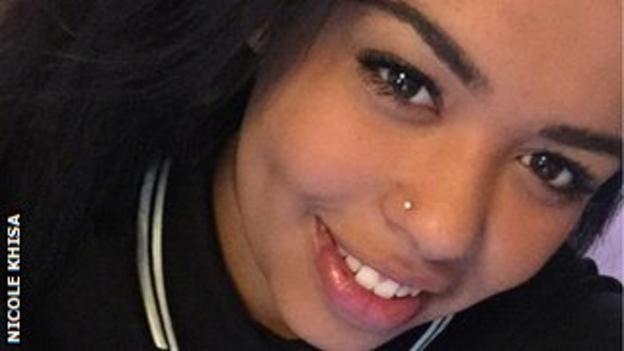 "I watch Tottenham home and away and I have done for the past five years.
"Nothing has happened to me personally, but I heard hissing when Tottenham went to West Ham and to Chelsea. I haven't seen the stewards do anything about it.
"In English football, racism gets followed up. There are pictures that get posted on Twitter and the internet, and that's how people find out. When they are abroad, they maybe feel they are away from the media."
Abul Qasim, 29, Bradford City supporter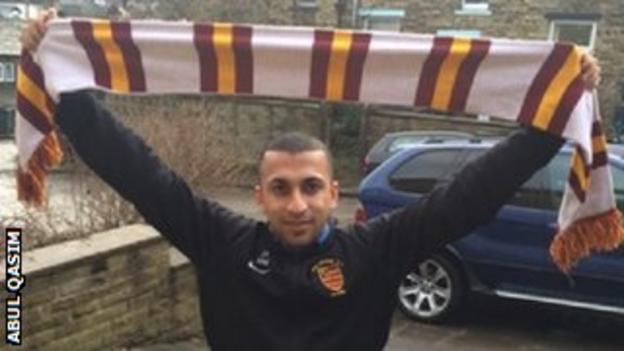 "I go as and when I can to Bradford City and I have never experienced or come across racism within the stadium.
"In the past, we might have felt a bit intimidated because we looked different - we might have got a few looks here and there because of our different skin colour.
"But nowadays you get some Asian supporters in the ground, and you even have the Bangla Bantams supporters' group.
"You also have a lot of Asian stewards, local people from the community working at the club."