Mario Balotelli showed disrespect to Henderson - Steven Gerrard
Last updated on .From the section Liverpool
Steven Gerrard accused Mario Balotelli of showing "disrespect" by taking Liverpool's winning penalty against Besiktas ahead of Jordan Henderson.
That came after a disagreement with captain Henderson and Daniel Sturridge over who should take it.
Gerrard said: "Henderson is the captain and Balotelli showed Jordan a bit of disrespect there."
The midfielder, who is currently injured, was working as a pundit on ITV's coverage of the game.
Gerrard said that Balotelli was being "a bit mischievous" after the Italian striker took the ball off Henderson, who was set to to take the spot kick.
Henderson stood in as Liverpool's captain against Besiktas, and Gerrard believes he should have taken the penalty.
"Rules are rules," he said. "Credit to Mario, he's scored, but it's not nice to see when footballers are arguing. I think Jordan has handled the situation very well."
Liverpool boss Brendan Rodgers would not clarify who should have taken the penalty after the game.
How the incident unfolded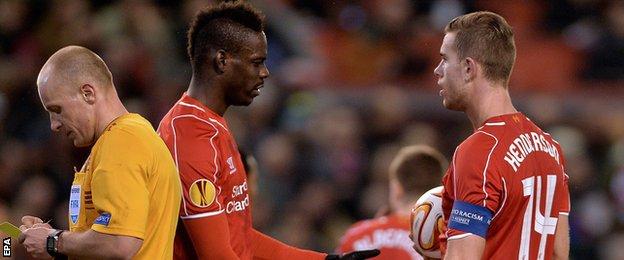 With less than 10 minutes to go, the impressive Jordon Ibe was fouled inside the area and referee Szymon Marciniak immediately awarded the penalty.
Henderson picked up the ball and walked towards the spot...
What now boss?
...Balotelli took the ball from Henderson and appeared to get in a disagreement with both the Liverpool midfielder and striker Daniel Sturridge. Henderson looked over to the bench...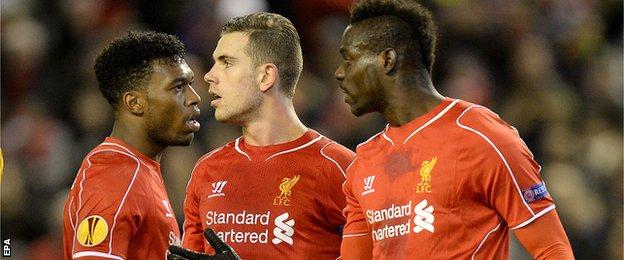 I've only missed two
...Balotelli had scored 26 of his 28 penalties before Thursday's game and appeared determined to take the spot kick, placing the ball on the penalty spot...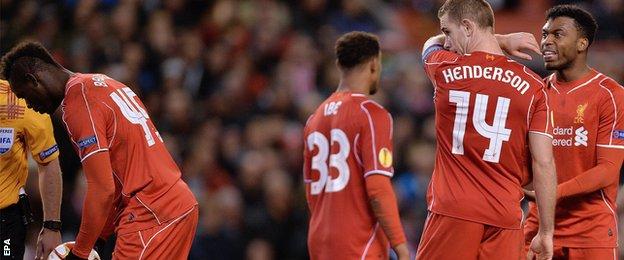 ..and scored.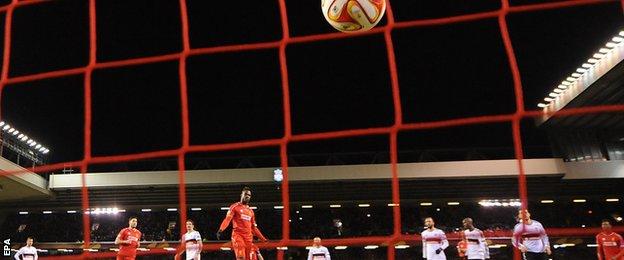 Best of friends
Balotelli celebrated with his team-mates including Henderson, who initially acknowledged the goal by tapping the striker on shoulder, before Balotelli pulled him back for a hug.
"It was a big goal," Henderson told ITV.
"I wanted the penalty, Mario felt confident and he has taken big penalties before. Everyone wants to take them. I felt confident in Mario, he has taken big penalties before and he got the nod."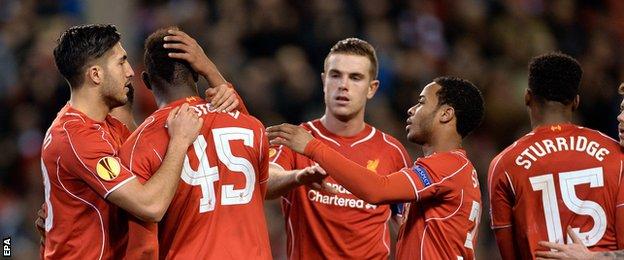 Balotelli posted on Instagram after the game: "Thank you hendo for let me take the penalty.. Stop drama now. We won that's what it count. We are a team and especially we are Liverpool. Come on guys."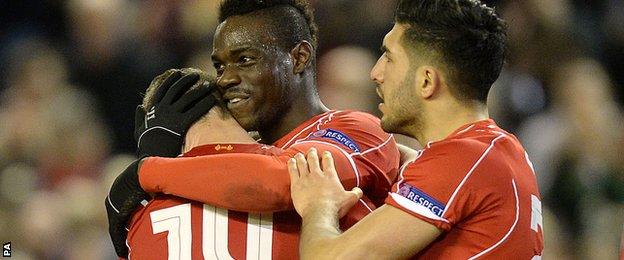 Asked to clarify who should have taken the penalty after the game, Rodgers said: "I am clarifying we won the game 1-0.
"I have a number of outstanding penalty takers with Jordan [Henderson] and Mario [Balotelli] and Rickie Lambert.
"It was the perfect result and sets up for the second leg next week."