Celtic 3-3 Inter: Ronny Deila must add stability to flair

By Tom English
BBC Scotland
Last updated on .From the section Football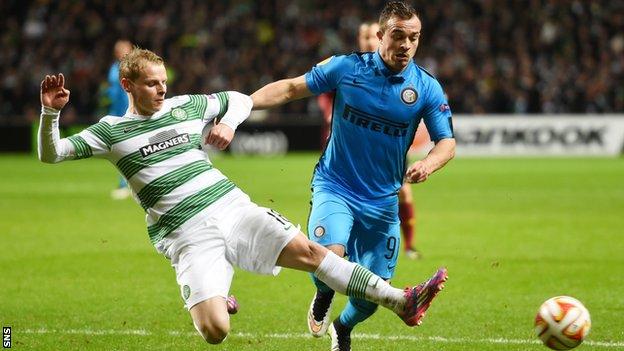 It's just as well the Lisbon Lions have hearts as strong as steel for Celtic's 3-3 draw with Inter Milan was a tumultuous occasion that would have tested the tickers of the old maestros - not to mind blowing their ear-drums to kingdom come.
It was a barmy night, a Europa League contest but with all the noise and intensity of a Champions League knockout. The stadium rocked and then fell silent, then rocked anew before the hush descended once more as the impetus lurched madly one way and then the other.
There were 30 attempts on goal, split evenly at 15 apiece. Twenty of the 30 attempts found the target, eight for Celtic and 12 for Inter. There were six goals and there could have been more.
If Helenio Herrera, the godfather of catenaccio and iconic former manager of Inter in their 1960s pomp, was watching up there in footballing heaven, he would have been a bad man to be around.
"We won without getting off the bus," said Herrera when his Inter were at the height of their powers. At Celtic Park, Inter got off the bus, got a two-goal lead and still could not win.
No ground in the country can go from stillness to craziness quite as quickly as Celtic Park on a European night - and here it happened again. On evenings like this, the place is akin to the world's biggest tumble dryer, the senses scrambled from a 90-minute spin cycle.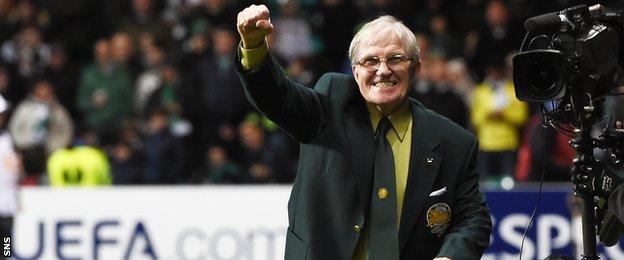 As Celtic and Inter went at it toe-to-toe - and blunder for blunder - in that madcap first half the mind drifted off to a different sport in an attempt to describe what was going on.
It was like two fighters abandoning their defence and throwing punches until their rival fell - the footballing equivalent of Thomas 'The Hitman' Hearns versus Marvellous Marvin Hagler, a storied slugfest of the past.
When John Guidetti fired in the goal that gave Celtic a draw, and a modicum of hope for leg two in Milan next week, the scenes were not far off the finest we have witnessed here in recent times. There was a Manchester United-like euphoria, a Barcelona-esque delirium.
Billy McNeill and his heroes of yesterday have seen it all, and done it all, but even for the history men of Celtic Park this must have been a thriller.
They were feted before kick-off and why wouldn't they be? This fixture evokes certain memories and as soon as these clubs were paired together there was an opportunity - an obligation - for Celtic to revel in in their 1967 European Cup final win over Inter in Portugal.
The Lisbon Lions applauded the current generation on to the field and then sat back and watched them play, like Picasso observing art school.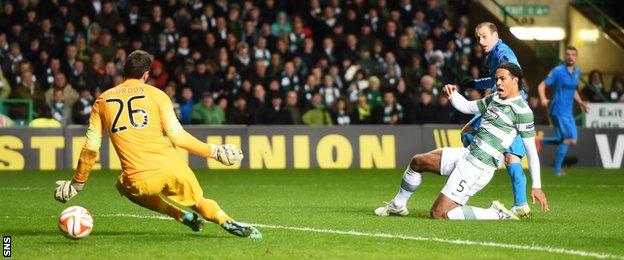 Some of what they saw would have been alien to them - the wretched, and almost ruinous, defensive frailties must have had the captain blinking hard - but other things would have been oh so familiar.
Celtic have troubling deficiencies at this level and they may cost them dear - they have conceded 10 goals in their last three European matches and have won just four out of 13 dating back to Champions League qualifiers in the summer - but a lack of spirit is not an issue.
The fought hard against Inter. They fought right until the end. If it's not heresy to say it, they had something of the refuse-to-lose mentality of the greatest Celtic team and it made for a thunderous evening.
Guidetti's equaliser was about technique and precision but it was also about a team's tenacity and pride and how the home fans responded to it.
The Celtic fans left with smiles on their faces. They were entertained, that was one reason. They saw their team overcome its own shortcomings, that was another.
They can see the side getting better, a side that has menace and bravery and a big work ethic in attack, and they can identify with that. That's feel-good stuff. It's enough to be getting on with.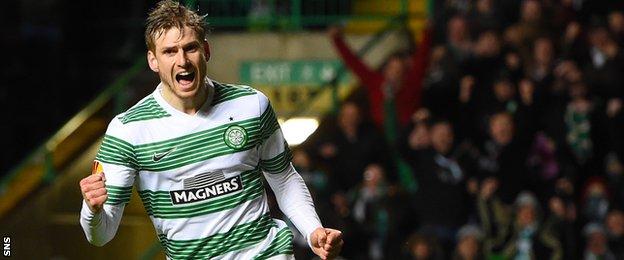 The propensity for giving up soft goals? It doesn't seem too bad when it's accompanied with an animalistic desire to make amends.
Celtic are better now than they were in December, when they finished their Europa League pool stage with a 4-3 defeat away to Dynamo Zagreb.
They are better offensively, if not defensively. Back then, they had Mubarak Wakaso and Callum McGregor out wide and now they have the goals and pace and creativity of Stuart Armstrong and Gary Mackay-Steven.
Back then, they had an unconvincing Stefan Scepovic up front and now they have an in-form Leigh Griffiths and, in his stead, Guidetti, liberated at last from whatever stunted his progress over the last two-and-a-half goal-less months.
Stefan Johansen is getting better all the time. Nir Bitton is becoming a player of substance. Kris Commons has much to contribute.
Ronny Deila's team have been playing with more conviction this past while but it was conviction on a domestic stage and nobody knew for sure what relevance their upturn in form was going to have against a higher class of opposition.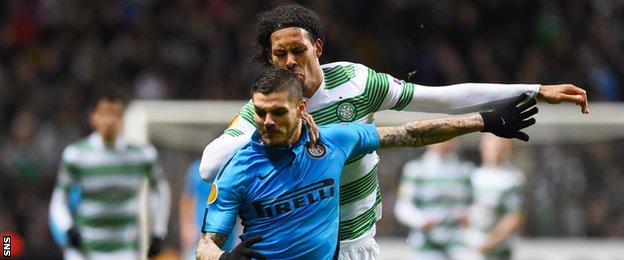 We know now that they have the firepower to trouble a team like Inter. The Italians are not the force of before, far from it. But they are a reasonable gauge at this stage of Celtic's development under Deila.
The word on Inter's defence was that they are jumpy when pressed. Celtic were good enough to expose, and punish, that jumpiness. You would not back against them doing it again next week in Milan.
This is a team of two halves, though. They can score but, boy, they can concede, in all sorts of silly ways. They've scored six goals in their last two European matches and have not won either of them because they've conceded seven. It makes for exciting times, but with a sieve at the back then their European destiny will be to do more entertaining than winning.
This is the challenge for Deila - and he's got precious little time in which to get it right. A balance has to be struck in time for Milan between attacking threat and defensive liability. He's cracked one, but he's made little progress in cracking the other.
At the moment, he's got something of a castle built on sand. There's much to admire on the face of it, but it looks doomed to failure on the bigger stage unless the foundations are more solid.
Deila has got a week to add stability to the flair. A win in Milan in the second leg? It's improbable, but, then, so was the comeback on Thursday night. And what a night.