Jose Mourinho 'could not cope' with Real pressure - Calderon
Last updated on .From the section European Football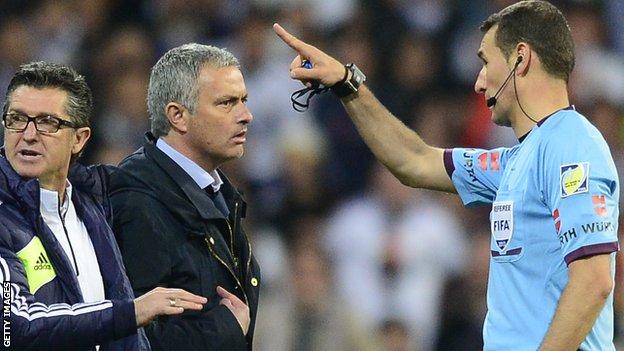 Jose Mourinho could not handle the pressure as manager of Real Madrid, says ex-club president Ramon Calderon.
"To be a manager of Real Madrid is really, really difficult," Calderon told BBC World Service. "See what happened to Mourinho.
"He is someone who is used to coping with pressure and he couldn't."
Mourinho finished second in La Liga in his first season in Madrid - four points behind Barcelona - but won the title a year later, amassing a record 100 points in the process.
Real also lost in the semi-finals of the Champions League in each of their three seasons under the former Porto and Inter Milan boss, who has won Europe's top club competition twice and lifted top-flight titles in four countries.
"When Mourinho left, things were in a really bad situation," said Calderon, who was president from 2006-2009. "He had to leave the club after three years of a lot of problems, a lot of confrontations."
Jose Mourinho's roll of honour
Champions League:
2004 (Porto), 2010 (Inter Milan);
Uefa Cup:
2003 (Porto);
Premier League:
2005, 2006 (Chelsea);
FA Cup:
2007 (Chelsea);
League Cup:
2005, 2007 (Chelsea);
Community Shield:
2005 (Chelsea);
La Liga:
2012 (Real Madrid);
Copa del Rey:
2011 (Real Madrid);
Serie A:
2009, 2010 (Inter Milan);
Coppa Italia:
2010 (Inter Milan);
Primeira Liga:
2003, 2004 (Porto);
Taca de Portugal:
2003 (Porto)
Mourinho's, successor, Carlo Ancelotti, guided Real to their 10th European Cup last season but Calderon says there are no guarantees the manager of the La Liga leaders will be at the club beyond the summer.
"To be here more than two, three years is really a big task," he said. "I think he has done a very good job, not only because he won the Champions League but because things are calm, relaxed and everything is smooth.
"I have read Joachim Low is one manager we would like but it is always rumour and we will have the rumours until the next five months when it is decided whether definitely Ancelotti will be here."
Carlo Ancelotti's roll of honour
Intertoto Cup:
1999 (Juventus);
Coppa Italia:
2003 (AC Milan);
Champions League:
2003, 2007 (AC Milan), 2014 (Real Madrid);
Uefa Super Cup:
2003, 2007 (AC Milan);
Serie A:
2004 (AC Milan);
Supercoppa Italiana:
2004 (AC Milan);
Fifa Club World Cup:
2007 (AC Milan);
Community Shield:
2009 (Chelsea);
Premier League:
2010 (Chelsea);
FA Cup:
2010 (Chelsea);
Ligue 1:
2013 (PSG);
Copa del Rey:
2014 (Real Madrid)