Rangers: Three Bears call for sack of finance chief Barry Leach
Last updated on .From the section Football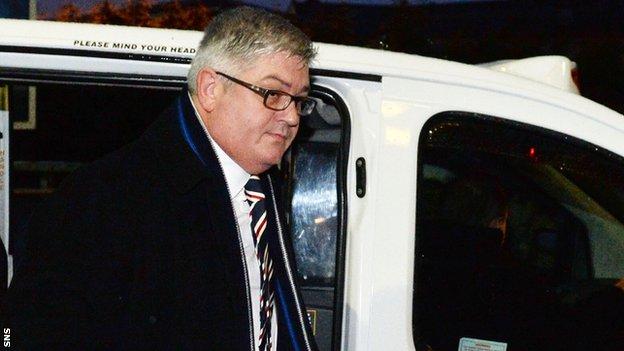 Three wealthy Rangers shareholders have called for the sacking of finance director Barry Leach.
It follows the leaking of minutes from a meeting between club executives and the Rangers Fan Board.
"It is our view that he has brought the club into disrepute," said a statement from the trio known as The Three Bears.
Rangers Fan Board has been disbanded following the publication of the minutes.
Leach, who is head of brands at Sports Direct, the retailer owned by Newcastle United owner and Rangers shareholder Mike Ashley, has already been under pressure to quit.
Shareholder and former Rangers director Dave King has called an extraordinary meeting, to be held on 6 March, where he hopes Leach and chief executive Derek Llambias, another Ashley ally, will be voted off the board.
Leach's remarks were made in reference to a £6.5m funding offer made by The Three Bears to the club, which instead accepted a loan from Ashley.
"The insulting and uncomplimentary language used by Barry Leach towards our group, consisting of three major shareholders, defies belief on so many levels," the group said.

"Barry Leach is in no position whatsoever to make any comment on our behaviour since he has not at any time had any contact with Douglas Park or George Taylor and has only had brief contact with George Letham on one occasion.
"The minutes of the meeting show the comments of both Lambias and Leach to be littered with untruths and or inaccuracies in relation to the funding offers as well as several other matters.
"Although we have yet to speak to one person who believes the nonsense offered by Leach, we find his comments to the Rangers Fans Board fall well below the standard we would expect from a senior employee."
The Three Bears group suggested that Leach had been guilty of "damaging and unprofessional behaviour and as such should become subject to his employers disciplinary processes and ultimately dismissed for gross misconduct".
The Scottish businessmen took exception to Leach's suggestion in the minutes that their consortium was not serious in its attempt to fund the club.
"During the negotiations to provide a funding package, we hoped the board would view our proposal on its merits when compared to the alternatives and, indeed, improved our offer on three separate occasions to try to convince them to accept our proposal," the group added.
"We were extremely disappointed when our offer was rejected as we believe it would have been much better for the company than the Sports Direct loans."
Nobody from Rangers was available for comment.