Racism in football: Rio Ferdinand warns against complacency
Last updated on .From the section Football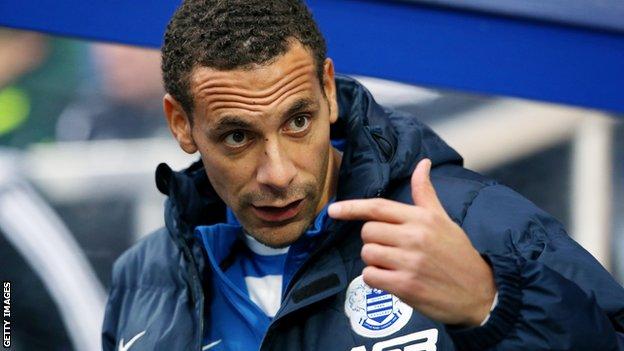 QPR defender Rio Ferdinand says the incident in which Chelsea fans stopped a black man boarding a Paris train shows football cannot be complacent about tackling racism.
Chelsea have banned five fans over the incident before their Champions League game at Paris St-Germain.
"We've started to think 'football has cured it' and put the whole issue on the back-burner," the former England captain told The Sun on Sunday.
"It is a rude awakening for the game."
The former West Ham, Leeds United and Manchester United defender, 36, admitted that he had "been guilty of complacency" himself.
Chelsea manager Jose Mourinho said he was "ashamed" by the conduct of the club's fans in the French capital.
Amateur video showed a man being pushed from a train at the Metro station while a group chants, "we're racist, we're racist and that's the way we like it".
"It is a rude awakening for the whole game and now it's essential that there has to be a continual effort," said Ferdinand, who is a member of FA chairman Greg Dyke's commission looking at how to improve English football.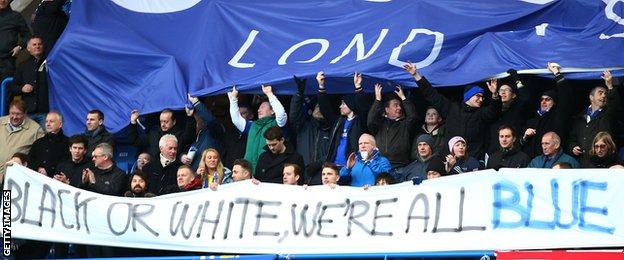 European football's governing body, Uefa, and Fifa, the sport's world governing body, have initiatives set up to tackle racism but Ferdinand believes they should do more.
"To be fair to the FA, they have done more than most to try to eradicate racism from the stands," he said. "But the game as a whole has to take a zero-tolerance approach.
"For years it's been clear that Fifa and Uefa have shied away from doing what they needed to do.
"They have let football down, time and time again."
Professional Footballers' Association trustee Brendon Batson has called for assault charges to be brought against the Chelsea fans involved in the incident in Paris.
"This guy on the Paris Metro was assaulted, he was pushed violently a couple of times, and I think if there are any criminal laws to be enforced then that should be done as well," Batson told BBC Radio 5 live's Sportsweek programme.
"I was very shocked when I saw the pictures and extremely upset, not just for the individual concerned but for football in general because I thought those days were long gone.
"Within stadiums, they just don't have a voice, these people - I wouldn't even call them supporters - but it manifests itself in what we saw in those pictures from Paris.
"I think there's a totally different behaviour [when fans go abroad] because they know they can't get away with it over here, that's for sure."