Luis Suarez shines as Barcelona provider for Lionel Messi & Neymar
By Andy West
Spanish football writer
Last updated on .From the section European Football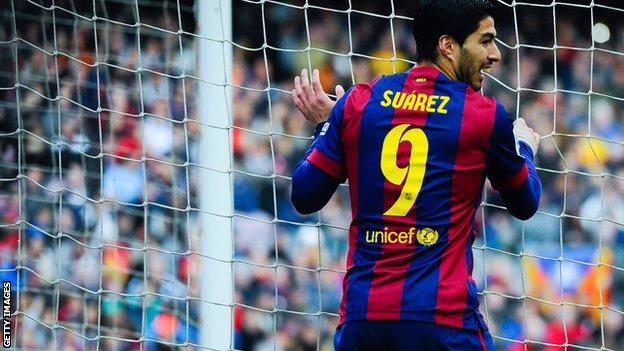 With just seven goals in his first 22 games for Barcelona, at first glance it appears former Liverpool striker Luis Suarez is struggling to adapt to life with his new club as he prepares for Tuesday's Champions League last-16 first leg at Manchester City.
Indeed, with just four goals from 15 La Liga appearances, in terms of scoring this has been the least productive domestic campaign of Suarez's career.
But the numbers do not tell the full story. Suarez has actually rapidly established himself as a key member of a team who had won 11 consecutive games before Saturday's shock 1-0 home defeat by Malaga.
Rather than his lack of goals, a more appropriate statistic to illustrate the 28-year-old's first few months in Spain - and hint how his role has changed since he swapped Anfield for the Nou Camp - is the 12 assists he has provided for team-mates in all competitions.
This is a new Luis Suarez. The one-man goal machine who finished last season as the Premier League's leading scorer by 10 clear goals has gone.
He has been replaced by a hard-working, selfless team player whose primary function is to service the considerable talents of his team-mates Lionel Messi and Neymar rather than find the back of the net himself.
And he is also playing a central part in an intriguing reinvention of one of football's greatest teams.
Death of tiki-taka under Suarez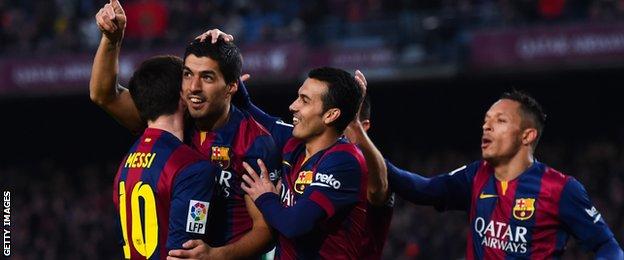 When Suarez arrived in Barcelona last summer, it was far from clear how new boss Luis Enrique intended to use him, considering Messi's stranglehold on the deep-lying 'false nine' central attacking position.
Even after Suarez served his four-month ban for biting Italy defender Giorgio Chiellini at the World Cup and made his debut against Real Madrid in October, it remained uncertain whether he would play as a centre forward or a right winger, as he oscillated between the two during his first few appearances.
Ever since 2015 began with a 1-0 loss at Real Sociedad to spark a Nou Camp mini-crisis, however, Enrique has ditched his previous policy of relentless tactical tinkering and settled upon a system with Suarez in the centre, Messi on the right wing and Neymar on the left.
Until Saturday's loss, the results were highly impressive as Barca won 11 successive games with Messi, in particular, performing brilliantly and netting 14 goals in 10 outings.
And after years of so-called 'tiki-taka', these last few weeks have featured a subtle yet definite shift in playing strategy for the Nou Camp club.
Whereas in the past Barca's approach was based around patient possession in midfield, they now focus on getting the ball as quickly as possible and as often as possible to their superstar trio of forwards.
La Liga 2014-15

Minutes played

Goals

Assists

Lionel Messi

2,114

26

13

Neymar

1,533

17

4

Luis Suarez

1,148

4

8
To illustrate the change, in the era-defining Champions League final victory over Manchester United in 2011, the magnificent midfield trio of Xavi, Andres Iniesta and Sergio Busquets had a combined total of 380 touches of the ball.
But in an exhilarating 5-2 away victory over Athletic Bilbao earlier this month, there were only 286 touches for midfielders Xavi, Busquets, Ivan Rakitic and substitute Rafinha.
Even more notably, whereas Xavi attempted 148 passes as he conducted Barca's orchestra in the 3-1 victory over United at Wembley (1.6 per minute), in Bilbao he made just 61 passes before being replaced by Rafinha with 17 minutes remaining (0.8 per minute).
Those numbers reveal how Barcelona's playing style has significantly changed and suggest tiki-taka really has died, with Messi's days as a false nine also appearing to be over.
Instead, the Catalan club now rely on their forward trio and Suarez's positioning as a traditional central striker is integral, with his dynamic movement in the penalty area creating space for Messi and Neymar to cut inside from the wings and wreak havoc.
A poor team performance in Saturday's loss against Malaga showed the new system is still very much a work in progress, but it is a fascinating shift of emphasis and Suarez is playing an important role.
What do the Spanish media think of Suarez?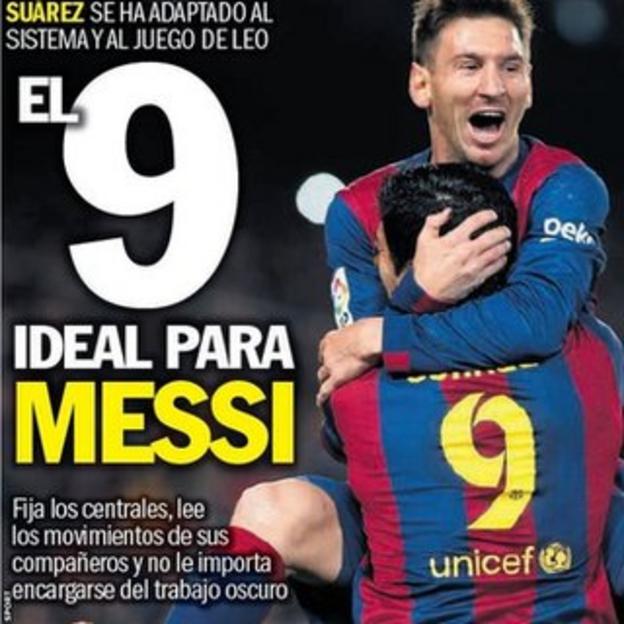 To demonstrate the level of happiness with Suarez in Barca-land, last Wednesday the Catalan daily newspaper Sport (in Spanish) devoted its front page to him under a headline which proclaimed: "The Ideal 9 For Messi".
The paper declared that Suarez "has adapted to Leo's playing system," and raved that he "sets [positionally] the opposing central defenders, reads the movements of his team-mates and doesn't worry about having to do the hard work".
On the same day, another Barcelona-published newspaper, Mundo Deportivo, featured a similarly effusive interview with former Barca and Sporting Gijon striker Quini, who was La Liga's top scorer on five occasions between 1973 and 1982 and remains greatly respected in Spain.
"I honestly think he is the ideal number nine for Barca because of everything that he brings to the team," Quini enthused.
"You only have to see him in action to understand his quality in the area, how he moves, the spaces he creates for his team-mates, and how he can shoot from any position."
Coach Enrique is also a big admirer, repeatedly defending the striker during his barren spells in front of goal and specifically praising his ability to create openings for Messi and Neymar.
"Even when he's not scoring, he is still offering a lot to the team," the Barca boss said last month.
"There aren't many players in the world who offer the same kind of movement inside the penalty area and I value that highly."
Why the fans love 'the new Suarez'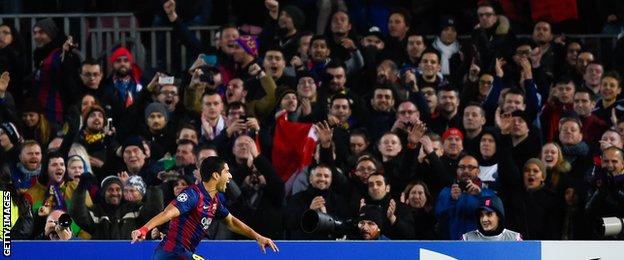 A neat encapsulation of Suarez's spell with Barca to date came in the first leg of the Copa del Rey semi-final against Villarreal at the Nou Camp a fortnight ago.
With the game goalless, Suarez pounced on a defensive error to win possession in midfield and raced into the penalty area before looking up and unselfishly squaring the ball to the onrushing Messi for a simple finish.
As Messi ran to his team-mate to thank him for the pass, the Uruguayan's name rang around the stadium with Barca fans showing their appreciation of the man who had made the goal rather than the scorer.
Those few seconds neatly sum up the new Suarez: he won possession through hard work, did not score himself but ensured Messi did, and was rewarded for his selflessness with the adulation of the crowd.
Another indication of Suarez's popularity came last weekend, when he was rested from the starting line-up for a home meeting with Levante and was greeted with a huge ovation when he appeared from the substitutes' bench midway through the second half - and those cheers became even louder when he scored a spectacular overhead volley a few minutes later.
Reformed character or ticking time bomb?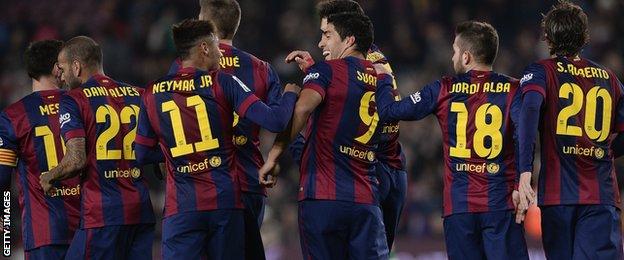 It may come as a surprise to Premier League followers to learn that another box ticked by Suarez is in the disciplinary column, which has remained close to unblemished.
Despite playing with his usual commitment, he has received just three bookings in his first 22 games for Barcelona and has not been involved in any of the ugly flashpoints which so infamously marred his spell on Merseyside.
In this respect, Suarez's cause is significantly aided by the fact that he now has a far lower profile than the endlessly scrutinised status he endured during the latter stages of his stay in England.
In the Premier League he was a marked man: quite literally on the pitch against defenders who recognised him as Liverpool's greatest goalscoring threat, and metaphorically off the pitch by media and fans who eagerly seized upon his reputation as a pantomime villain.
But in this Barcelona team Suarez is a secondary figure, with Messi grabbing the lion's share of attention from opposing teams while Neymar's flamboyant style and perceived propensity to exaggerate challenges have made him the chief target for grandstand boo-boys at away grounds.
With Barca also surrounded by a plethora of behind-the-scenes controversies - a transfer ban from FIFA, premature presidential elections, allegations of tax evasion, reports of a bust-up between Messi and Enrique - there is more than enough material to keep everyone occupied while Suarez quietly gets on with his job in the background.
Whether the Uruguayan is truly a reformed character remains to be seen, and he has refused to talk about his past problems beyond admitting he has received professional help to manage his inflammable temper.
But for now, he is perceived in Spain as Luis Suarez the footballer rather than Luis Suarez the hot-headed troublemaker.
And although these are still early days, the footballer is doing rather nicely indeed.