Jose Mourinho anger at 'criminal' Barnes tackle on Nemanja Matic
Last updated on .From the section Football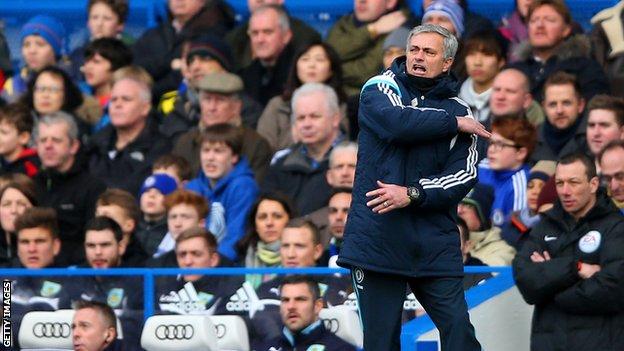 Chelsea manager Jose Mourinho claims a "criminal" challenge by Burnley striker Ashley Barnes could have ended midfielder Nemanja Matic's career.
Matic was sent off in Saturday's 1-1 draw at Stamford Bridge after the Serb reacted angrily to the tackle.
Mourinho made the comments in a wide-ranging interview on Sunday with Sky Sports, reportedly at his own request.
"It could be the end of Matic's career. A criminal tackle. Matic is a very lucky guy," Mourinho said.
"Another club would have the power to appeal Matic's red card."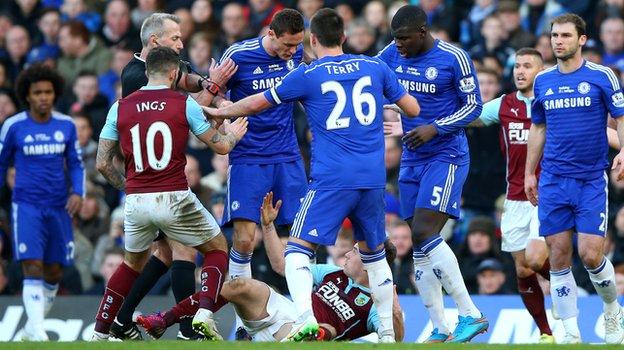 Mourinho defended midfielder Matic, 26, for his pushing 25-year-old Barnes to the ground after the late tackle.
"Football is about emotions and clearly Nemanja Matic had a reason to lose his emotions," Mourinho said.
"What are the consequences of his push? Nothing. The consequence for Matic from the tackle? It could be the end of his career.
"If you call Diego Costa's actions against Liverpool a crime, the minimum you have to say is this is a criminal tackle."
Match of the Day pundit Alan Shearer
"This is a horrific tackle by Ashley Barnes, it really is. It's dangerous, it's naughty, it's a terrible tackle. I understand that reaction from Nemanja Matic. It's not right, but I understand it, because Ashley Barnes could easily have broken his leg there. It's a terrible tackle, and Matic, for that, is going to miss the League Cup final next week. Barnes doesn't even get a yellow card."
Here's the best of rest of Mourinho's interview with Sky Sports:
Chelsea v Burnley
"I said clearly that at half-time Burnley should be playing with 10 men and Chelsea should have had two penalties. Normally we would win 3-0. The reality is in the end we have 10 men and we lost two points."
On the handball incident, when Branislav Ivanovic struck a first-time shot from the edge of the area that hit the raised arm of Michael Kightly, who was turning away: "The referee's opinion is wrong. The arms stopped the ball from hitting the target. There is no space for interpretation. He is far away, he is not one metre. The ball hits the target if it doesn't hit his hand.
"Players should be taught to keep their balance in different situations in the box, by putting their hands behind the body. This is a penalty. You can say what you want, for me this is a penalty everywhere."
Campaign against Chelsea
On perceived injustices against his side: "I am not attacking the honesty, the dignity of anyone. I am not trying to - and in this country you love this sentence - 'bring the game into disrepute.' I am trying to be honest.
"If we are in a normal situation when decision sometimes go for us, sometimes go against us, we could be five points clear, we could be 12. It could be 12 points.
"The best players in the world make mistakes. This gentleman [Martin Atkinson] is one of the top referees in European football, he can also make mistakes. He clearly made four important mistakes yesterday. He is like the lawyer who is consistent because he lost 15 of 15 cases. You don't want that lawyer."
On the Diego Costa penalty appeal, after the Spain striker appeared to be pushed by Burnley's Jason Shackell: "The Diego Costa penalty story started on day one of the season. He should have had a penalty against Burnley in the first game of the season and he got booked for a dive. We have this history since day one. I remember one decision all season that went our way and that was a doubtful one.
"I am risking my place in the dugout for the [League Cup] final by having this discussion. I cannot go too far. But the reality is that week after week we are having these decisions [against us]. Football is football, but I think it is too much. I think my players don't deserve that. Yesterday I was calm in the press conference but my players are not getting the respect they deserve."
On the standard of refereeing generally
"The referees are trying, of course they are trying, but they are not doing well. It is not fair. That is not my opinion, that is in the eyes of everyone.
"How would I improve it? If the referee cannot see a penalty three metres in front of him, some official in front of a screen cannot miss it. If we want to protect the integrity and the honesty of referees, if we believe that mistakes - and I believe it - are because of the unpredictability of the game, then technology can help. If I was a referee I would welcome it.
"I spoke to the referee after the game. Mr Atkinson told me he didn't have the chance to see on TV the incidents. I asked him if he had any contact with people from outside of the ground - he said he had no feedback at all. He said that he didn't see any of the four incidents. He saw no reason for a penalty or a card in any of the actions."
On Paris Metro racist incident
"Our reaction couldn't be better. Chelsea's reaction as a club was fantastic; we could not do more than we did.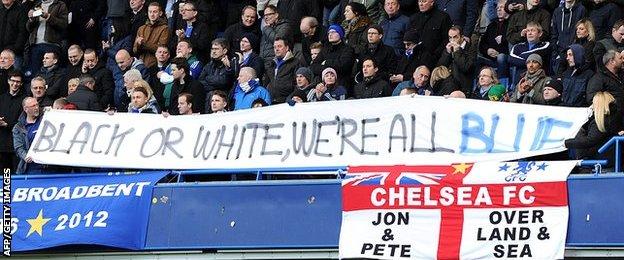 "Should I be ashamed of what two or three persons did? Are these persons representing my club? Is Chelsea this? But I am very sorry to be connected to this.
"I don't know if the gentleman has accepted our invitation to come and see a game."
On Manchester United boss Louis van Gaal
"He is a fantastic coach and it's easy for me to say as I know him so well and he is a fantastic person. But he has been in so many years of his career before he came to England. In the same way a player needs time to adapt to understand things to perform at the highest level it is the same for Louis.
"He will have time to make Manchester United win titles again. This season they still have a chance to do that with the FA Cup and they also have the opportunity to finish in the top four and go back to the Champions League, which is the minimum for a team like them.
"When you see the titles he has won and his experience, I don't see any reason why they can't be pushing for titles."
On Arsenal and Arsene Wenger
"I don't understand why they are not up there with Chelsea and Manchester City. Arsenal are a team I like very much. They have very good players and Alexis Sanchez is a very important player to add to what they have got. They are a team for more.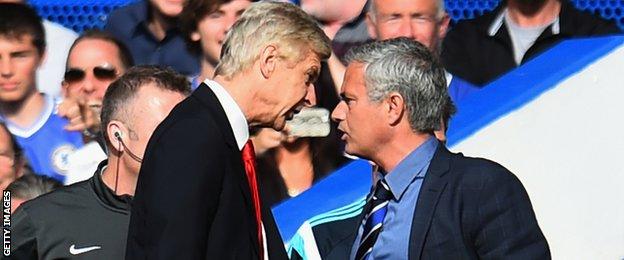 "[Wenger] has a dream job. Everyone would love to have the security he has of being manager year after year after year. He won so many titles in a certain period and that gave him that credibility he deserves. He is obviously a fantastic manager. He has a fantastic situation to be successful.
"When you look at the players in the squad, they are capable of playing very good football."
Chelsea team of 2004-05 v this season
"The team in 2004-05 had finished and we have just a couple of players left from then. Chelsea needed to build a team for the next decade and that was great motivation.
"I refuse to compare a team that won everything with a team that has won nothing. But I think if we have the chance to win then we have the potential to play more beautifully than the other team.
"The only similarity is the oxygen we breathe in the dressing room and the relationship between the players and the manager and the players and the assistants. After that, the profile of the team is completely different. Now we try to control the game by having the ball and having more possession."