Noel Gallagher picks his fantasy band of footballers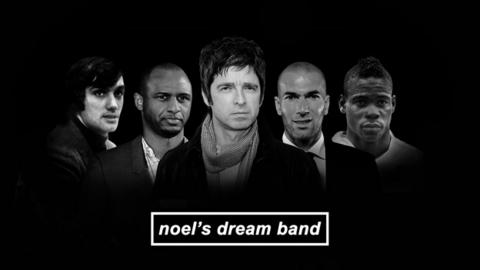 Flamboyance, arrogance, and outrageous talent - some famous footballers down the years have undoubtedly had a lot in common with rock stars.
But how would your favourite players fit into your dream band, where other qualities are needed?
Before his appearance on Sunday's Match of the Day 2, former Oasis lead guitarist and famous Manchester City fan Noel Gallagher chose his fantasy line-up.
"A lot of footballers these days are squares - to get in my band you need some charisma," Gallagher, whose latest band High Flying Birds are set to release their second album, told BBC Sport.
Eric Cantona and Roy Keane do not make the cut, for various reasons, but George Best is one Manchester United hero who does.
He is joined by Zinedine Zidane (lead guitar), Patrick Vieira (bass guitar) and Mario Balotelli (drums) in an eclectic line-up that Gallagher says he would love to manage.
Lead guitar - Zinedine Zidane
Noel: The lead guitarist has got to be a wizard and that wizard has got to be Zinedine Zidane.
He would give the band a bit of French flair and, as a player, he was an absolute genius.
Watching him play was like watching a conductor of a symphony and, if push comes to shove, he might be my favourite ever player.
I went to the 2006 World Cup final and people remember his red card, but what they don't remember is the penalty he scored in that game.
He chipped the keeper and it went in off the bar - now that takes some courage.
I was also there when he scored a penalty to beat England at Euro 2004.
There is footage showing where, just before he runs up to take it, he vomits on the penalty spot. Unbelievable.
He was either hungover or he had a bad prawn at half-time, but I can respect him puking up then lashing the ball into the bottom corner.
All that and he smoked 20 cigs a day. He was rock 'n' roll to the core, man.
Bass guitar - Patrick Vieira
Noel: The bass player has got to be solid and reliable - an immovable rock.
I would have Patrick Vieira, because he would have the rhythm as well.
I thought Vieira's old rival Roy Keane was one of the great Premier League players but he is just turning into a major pain now.
Do you reckon he ever laughs out loud? I reckon if he ever belly laughed at anything then he would have to check himself into rehab.
Keane was a great player and what United are missing now, that's for sure. Someone to take the game by the scruff of the neck and drive them on.
But I wouldn't want him in my band - he's not jolly enough. Music is supposed to be fun and you cannot have a miserable git in your band. Oh no, no way.
These characters have got to gel offstage, the same as a football team needs spirit in the dressing room.
And you could not go on tour with Roy Keane. No way would you get on the same bus.
Both of us could not be in the same band. It would be me or him. I'd have to leave.
Drums - Mario Balotelli
Noel: You have got to have a headcase on the drums and Mario could also join in with a rap every now and again.
He's like a modern-day rock star anyway.
Is he the nearest thing we have got to the Liam Gallagher of the Premier League? Oh, for sure.
He's a little bit crazy, a little bit unreliable and a little bit flamboyant. You never know what his hair cut is going to be doing from one day to the next.
Plus he enjoys his social media and is clearly very bad at writing songs - put all of that together and he could be Liam's double.
Mario is a great character but when he played for City, you could never really hang your hat on him and expect to change games for you.
He was more likely to score the third and fourth goals in a 5-0 win. One off his shoulder and the other where he backheels it past the keeper.
I loved him anyway, and I still do. I still have thoughts about him coming back to City at some point.
Vocals - George Best
Noel: In any band, you want a good-looking lad as the singer.
Georgie is my frontman because he was the greatest footballer of all time and he looked cool as well - he was football's first superstar.
I remember he used to have this glass house just outside of Manchester, which became a tourist attraction.
My mum and dad took us there one Sunday and there were loads of people standing on this country road looking over his fence at him watching TV.
Yes, he played for Manchester United but I could never hate him. Everyone loved him.
It was the same with Eric Cantona. All City fans loved him too, he was one of those you wished played for you.
I loved Eric because he was psychedelic. If he was an album, he would be Sgt. Pepper.
Attitude is a rare commodity in football or music and he was a character who had character. You barely get them in society any more, let alone football.
Personality matters as much as who they play for when it comes to the players I like - well, sort of.
When I stood back and admired Cantona, I appreciated his greatness.
But when he was on the pitch I loathed him. When he was scoring the winner against City I wanted to break both his legs.