Sam Allardyce angry at 'NFL timekeeping' in Spurs draw
Last updated on .From the section West Ham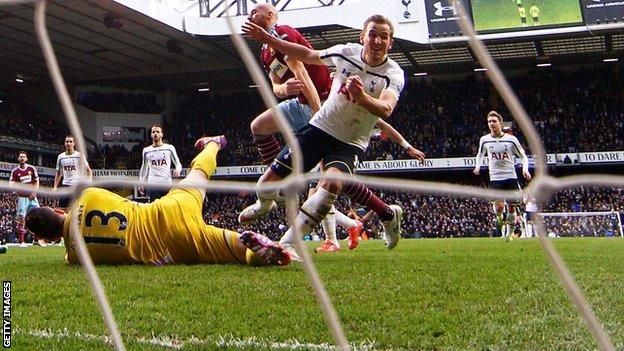 West Ham were denied a win at Tottenham because the referee played too much added time, says manager Sam Allardyce.
Spurs drew 2-2 after Harry Kane's late penalty was saved and he scored the rebound with the last kick of the game.
But asked if the whistle should have gone immediately after Adrian's save, Allardyce said: "The answer is yes. But he [referee Jon Moss] wouldn't be brave enough to do that at home would he?"
"So we're doing NFL now aren't we. I'd like a timekeeper to be honest."
In American football's NFL, the clock stops when the ball goes out of play, meaning a 60-minute game lasts much longer and the game can also run on after the final whistle until the ball is dead.
"He [the referee] will say there was still two seconds to go," the Hammers boss said. "He will say when the penalty was taken, there were five seconds left, when the rebound came off there were three second left."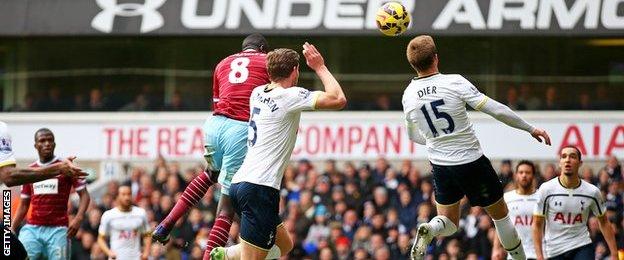 West Ham, looking for a third straight win at Tottenham, were leading 2-0 with just 10 minutes remaining thanks to goals from Cheikhou Kouyate and Diafra Sakho.
But Danny Rose struck to reduce the deficit before Kane, who scored his 24th goal of the season, was brought down in the box by Alex Song in the last moments of five minutes of stoppage time.
Allardyce claimed Kane had "fallen over" as Spurs were "desperate" to win the penalty, but said Song had been foolish to give Moss a decision to make.
"From our point of view, Alex has to keep his hands off him because he's going to feel that contact and take to the floor. He's got to.
"Whether it's the right decision or not, it's the way football is today. If we're to learn anything by it, we have to do the same as what Tottenham do more often, because we stay on our feet and don't get fouls and they get touched and go down and they do get fouls. In the end it's make a difference."
The result keeps West Ham eighth in the Premier League table, five points behind sixth placed Spurs.