Parma's uncertain future: Former Uefa Cup winners rack up debts
By Jonathan Jurejko
BBC Sport
Last updated on .From the section European Football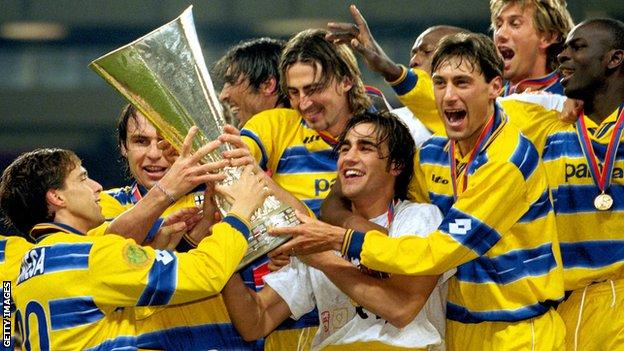 In the late 1980s, Parma was best known for producing thin-sliced prosciutto ham and hard, dusty cheese you sprinkle on bolognese.
But over the next decade, Italy international Gianfranco Zola and South American stars Faustino Asprilla and Hernan Crespo helped ensure the Italian city became synonymous with football as well as food.
In three months' time, the club will celebrate the 20th anniversary of its maiden Uefa Cup success. In three months' time, it might just be extinct.
Last weekend's home game against Udinese was called off because cash-strapped Parma officials could not afford to pay for stewards.
The club's players have not been paid all season and there is not even hot water for a post-training shower.
"Time is running out," warned Parma captain Alessandro Lucarelli.
What has gone wrong?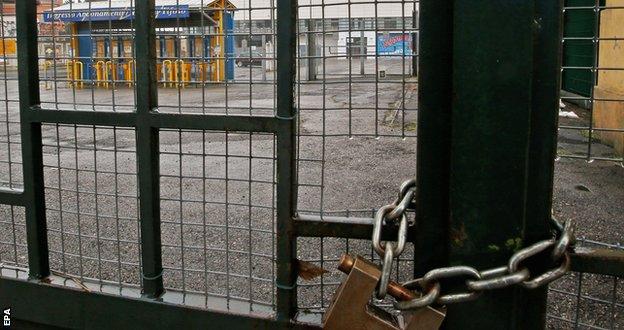 Parma finished sixth in Serie A last season, under the guidance of former Italy midfielder Roberto Donadoni, to secure European qualification for the first time since 2007.
But they were prevented from competing in the Europa League for not meeting Uefa's club licensing criteria because of unpaid bills.
Ownership of the club has twice changed hands in the past two months, and current president Giampietro Manenti had claimed he was confident of sorting out the problems.
Then came Sunday's postponement, while players and staff continue to go without their salaries.
"It's an untenable situation, there's no credibility," said Parma mayor Federico Pizzarotti. "Either they pay the wages or they allow somebody else to take over."
How bad is the situation?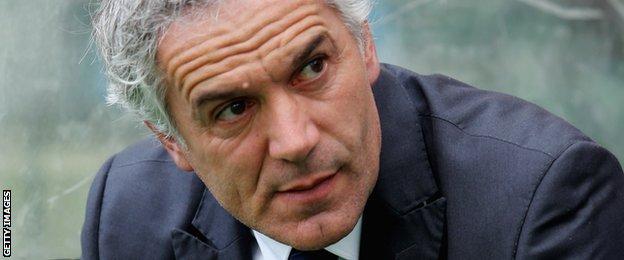 Italian football journalist Mina Rzouki believes Parma are "very close" to going out of business.
The club's latest financial results show they have a gross debt of 197.4m euros (£145m) and the Italian authorities have set a bankruptcy hearing for 19 March.
"Right now everyone is pointing the finger at everyone," Rzouki told BBC's World Service. "But if we look at the root of the problem, how it started and how it developed, one cannot overlook former owner Tommaso Ghirardi.
"Ghirardi took over in 2007 when there was a gross debt of 16.1m euros (£11.8m). Seven years on, Parma have a gross debt figure of 197.4m euros. Take away outstanding credit, it has a net debt of 97m euros (£71.2m).
"Between the summer of 2013 and the summer of 2014, Parma took part in over 450 player transactions - purchases, loans, co-ownerships and sales. How can he not be the man to blame?"
Ghirardi sold the club to Dastraso Holdings, a Cyprus-based conglomerate, in December, before Slovenian-based group Mapi - led by Manenti - took control earlier this month.
What do the players think?
Parma's players are prepared to pay for their transport to Sunday's Serie A match at Genoa if the club cannot afford a bus, says Lucarelli.
"It's like being in a film. We've seen everything you could possibly imagine, with four different presidents this season," adds the 37-year-old centre-back.
"When we didn't play on Sunday, it left me with a bad feeling.
"If there isn't a bus to go to Genoa we'll get five or six cars together and travel in them. We're prepared to pay for the trip ourselves."
Former Argentina striker Crespo - now the club's youth-team coach - recently told the Italian media players had to have cold showers after training because the club could not afford to pay for hot water.
How have fans reacted?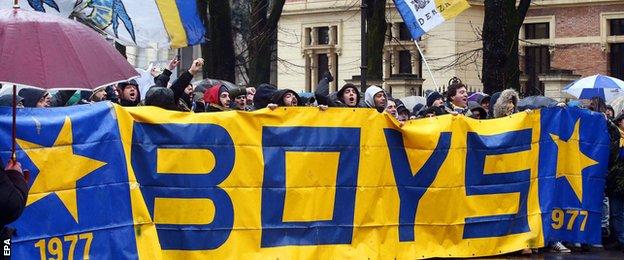 Exactly as you would imagine. Angrily, vocally and en masse.
About 1,000 fans turned up at the Stadio Ennio Tardini on Sunday, when their heroes should have been playing Udinese, to protest about the chaotic situation.
Supporters posted signs which read 'Closed for robbery' on the stadium gates as they gathered for a peaceful protest ahead of the scheduled kick-off time.
And other Serie A clubs?
Sampdoria president Massimo Ferrero believes the other Italian top-flight clubs should help Parma finish the season.
"Italian football cannot remain indifferent to the serenity, the professionalism and the maturity with which the Parma players have faced an extremely difficult situation," he said.
"I congratulate the players and all the people who work at Parma - I consider them to be heroes."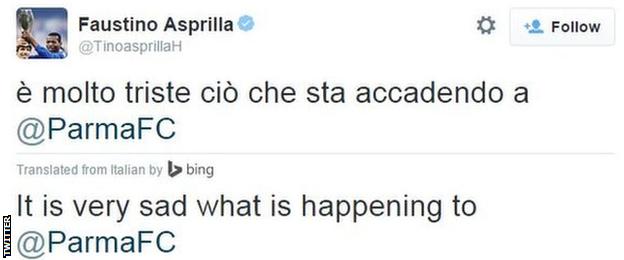 Is there a saviour in sight?
Parma have two possibilities of avoiding liquidation and surviving until the end of the season, believes Milan-based journalist Luca Ferrato.
One possibility is they will be handed a loan, believed to be about 5m euros (£3.7m), from the Italian Football Federation (FIGC) and Serie A to cover their outgoings until May.
Alternatively, the city's mayor has indicated the local authority could provide financial assistance until the summer.
"Pizzarotti is looking for local investors to buy the club in the summer. He has lost patience with Giampietro Manenti and has asked local businessmen to buy the club," Ferrato told BBC Sport.
Just how good were Parma at their peak?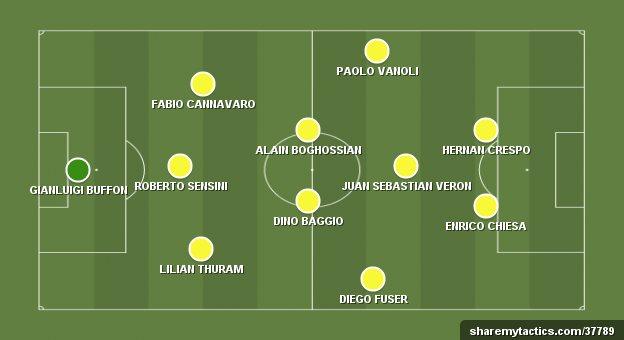 Parma's footballing reputation was virtually non-existent outside of Italy until they won four European trophies in the 1990s to become a name feared across the continent.
The small club from the Emilia-Romagna region had scratched around in the lower leagues until Calisto Tanzi - founder of the Parmalat food and dairy firm - started pumping money into his hometown club.
That led to promotion to Serie A for the first time in 1990 - and silverware quickly followed. Parma won three Italian Cups, one Italian Super Cup, two Uefa Cups, one European Super Cup and one Cup Winners' Cup, also finishing as Serie A runners-up on two occasions.
But darker days were around the corner. Following the collapse of Parmalat in Europe's biggest bankruptcy - Tanzi was later given an 18-year jail term for fraud - the club was declared insolvent in 2004.
Eleven years later, they again face an uncertain future.