Steve Kittrick: AFC Telford United not good enough, says manager
Last updated on .From the section Football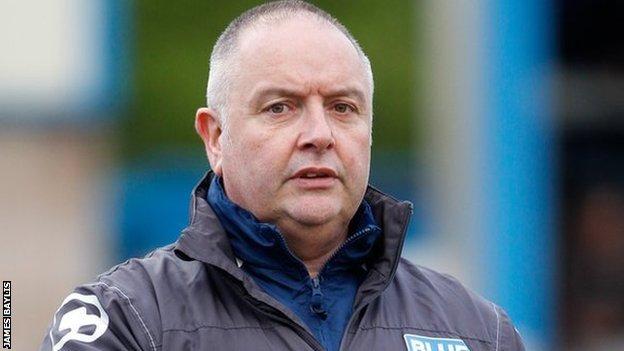 AFC Telford United boss Steve Kittrick says the players he inherited are only good enough to play a division below in the Conference North.
"The players aren't good enough. We have too many Conference North players. Like it or not, that's the truth."
Having been unbeaten in their first five games under him, Kittrick's side are now winless in five league matches.
They face an uphill battle to avoid a swift return to Conference North, which they left as champions under Liam Watson in April.
AFC Telford still in relegation trouble
Since crashing out of the FA Trophy at Fylde, Telford have picked up just one draw from four league games. Steve Kittrick's side are now 10 points adrift of safety with 14 games left to play.
"I don't want to manage in the Conference North," said former Guiseley boss Kittrick. "I've managed there enough.
"There's one or two players you won't be able to change because they don't know what it takes to play in the Conference.
"There are too many players who it doesn't hurt enough to lose but it hurts me and I'm not a loser so it's frustrating."
He also admits that tensions with former player-coach Andy Todd, who left the club 12 days ago, had worsened matters at the Bucks Head.
"To say Andy was my assistant manager is probably a bit far from the truth because I saw him as a player," added Kittrick.
"When I decided he had to go it was because he wasn't singing off my hymn sheet. I've got great respect for him but he can't change his personality."